It's been four months since Los Angeles Lakers legend Kobe Bryant died in a helicopter crash, and former Kansas forward Tarik Black has thought a lot about him since that day in late January.

Teammates with the Lakers for two seasons from 2014-16, Black had a front-row seat for some of the most memorable moments of the final days of Bryant's Hall of Fame career.
But none of them can top April 13, 2016.
That was the date of Bryant's last NBA game. And Black said he remembers every detail of that night at Staples Center.
"Allen Fieldhouse was one of the most electrifying places I've ever played in my life," Black told the Journal-World during a recent phone interview from Los Angeles. "But everything else pales in comparison to that night of Kobe's last game. I've never experienced a feeling or been a part of a sports moment like that in my life."
Black did not exactly predict Bryant's 60-point outburst that night. But he and his teammates made darn sure something memorable would be a possibility.
Black remembers being with Julius Randle, Larry Nance Jr. and Jordan Clarkson the afternoon of that game when he first saw Bryant arrive at Staples Center.
Together, they approached the man they affectionately called "O.G." and gave him a simple message.
"We walked up to him and said, 'You're going to take every shot tonight,'" Black recalled. "And he was like, 'No I'm not. Just play basketball.' And we were like, 'No, O.G. You're going to take every shot. If we get an offensive rebound, it's coming to you.'"
It didn't play out quite like that. But it was close. Bryant's 60 points and 50 shot attempts were the most ever for a player playing his final NBA game.
The fact that he started 0-for-5 from the floor and had 37 points heading into the final quarter merely added to the script.
Trailing by 14 early in the fourth, and still down by 10 with 2:37 to play, Bryant's heroics led L.A. to a 101-96 victory over Utah. He scored 23 points in the fourth quarter alone, including 17 straight for Los Angeles in the final six minutes.
The stands were filled with celebrities, former Bryant teammates and other Laker legends. And with each basket in that final quarter, the Staples Center crowd went wild.
Even on a stage as big and bright as Hollywood, it was Bryant they all came to see.
"It was artwork," Black said of Bryant's swan song. "It was poetry in motion. That whole last game was just him. You got to see his entire personality. And the arena? Dude, you've never heard anything like it."
From the time he arrived that night to the final words of his postgame speech — "Mamba out" — it was Bryant who had everyone's attention.
Chants of "Ko-Be, Ko-Be" and "M-V-P, M-V-P" filled the arena throughout the night.
The ESPN broadcast shared stories about Los Angeles coach Byron Scott saying he thought Bryant had a 50-point night in him. But Black said Bryant treated the lead-up to his final game like nothing more than another one he wanted to win.
"You could tell he was nervous," Black said. "But the thing about Kobe was he always said you can never get rid of your nerves but you can embrace them and conquer them. He did that. And he went out in style."
Bryant's deep jumper with 31.6 seconds to play put the Lakers ahead by 1. His two free throws, with 14.8 seconds remaining, gave him 60 and put the Lakers ahead by 3. And Black said there was not a soul in the building who wondered whether Bryant would make them.
"Those free throws for sure were going in," he said. "His mental toughness is second to none."
Throughout Bryant's basketball career, one of the biggest knocks on him was his gunner mentality and willingness to keep shooting whether he was on or off. So it goes down in history as at least a bit amusing that Bryant's final statistic as an NBA player was an assist.
That came with 4.1 seconds to play and led to a run-out dunk by Clarkson. It also flipped the celebration into full gear.
After Utah called timeout, Bryant walked back to the bench gasping for air with a look of fire in his eyes. Before he got there, he hugged and greeted many of his teammates. The ESPN broadcast picked up audio from Black saying, "Yeah, O.G. Yeah, O.G. That's the way you do it."
Before play resumed, Bryant subbed out one last time, setting off another rousing ovation and series of hugs and high-fives.
"When I was saying, 'That's the way you go out,' essentially what I was telling him was, 'You just went out the way a top-five all-time player is supposed to go out,'" Black recalled. "You went out the right way."
Black was right there with him, playing 18 minutes in Bryant's finale. The two started the fourth quarter together, and Black finished the night with 4 points and seven rebounds.
His own individual highlight in the game — a stonewall block of a dunk attempt by Utah's Rodney Hood midway through the fourth quarter — helped kick-start the Lakers' comeback.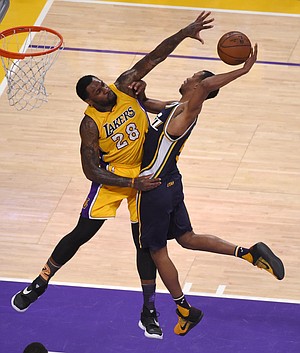 "Seeing that happen live and experiencing it firsthand was incredible," Black said of being a part of Bryant's memorable night. "I always think about the last game and it definitely makes me emotional."
During his two seasons as Bryant's teammate, Black and Bryant became close. As luck would have it, an injury during his 2019-20 season in Israel sent him back to Los Angeles earlier than normal and he was able to see Bryant one final time just a week before the helicopter crash.
It was the first time the two had seen each other since their days as teammates. And Black, unaware of what fate lied ahead, made sure to make the encounter count.
"I actually got a chance to thank him for what he meant for my life," Black said. "And he just kept saying, 'I'm proud of you.' So it rocked me to my core when I heard about his passing."
It was moments like those, on and off the court, and not Bryant's fadeaway jumper, flashy personality or fierce competitiveness, that made Black respect Bryant so much.
And the former Jayhawk who grew up playing music in Memphis and was cut from his middle school basketball teams, said he would never forget his time with the NBA legend.
"This is the thing that's tough to admit," Black said. "But I didn't really like Kobe growing up. He seemed cocky, arrogant. But that's a real testament to him as a man, that he could change my opinion of him like that. I love him now. And I'll appreciate him and everything he did for me for the rest of my life."