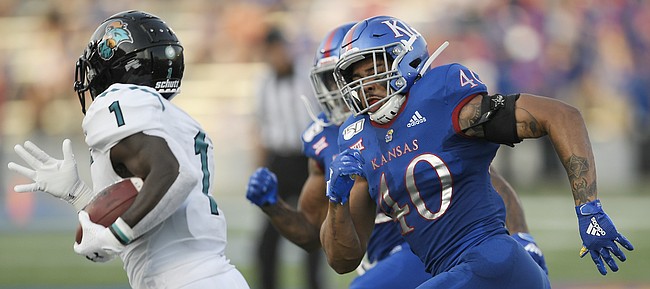 Kansas football coach Les Miles said Friday that linebacker Dru Prox "should play" for the Jayhawks during the 2020 season, whenever it may happen.
"We don't think there will be any hesitation to that," Miles said in a phone interview with the Journal-World on Friday afternoon.
Prox, a senior-to-be from Kaufman, Texas, was on his way to becoming a breakout star during the 2019 season before suffering what appeared to be a shoulder injury in the Jayhawks' Big 12 opener and fourth overall game of the season against West Virginia last September.
After recording 39 tackles in those first four games, Prox did not play another snap for the Jayhawks in 2019.
New NCAA rules stipulate that a Division I football player can still redshirt the season if he plays in four games or fewer during any given season.
Getting Prox back would be a huge lift for the Kansas defense both in terms of talent and experience. His 39 tackles through just four games finished tied for ninth on the team in 2019.

"He was our leading tackler, he's a quiet leader and we want him back," said Miles, who one day earlier said he believed there would be college football this fall on a 610 Sports Radio radiothon. "We're looking forward to his return."
Miles said Prox was off campus spending time with his son and working to finish up the spring semester.
He also noted that KU senior Denzel Feaster, who missed 2019 with a knee injury, was on track to return for the 2020 season.
"He'll be a very significant contributor at the linebacking spot," Miles said of Feaster. "With Dru Prox and Denzel Feaster and possibly some other young guys that have played some snaps, we might be pretty good at linebacker."
Junior Jay Dineen (38 tackles in 2019) and sophomore Gavin Potter (56) are the two other most experienced returning linebackers on the current KU roster.
Corione Harris update
Miles had no news on the status of cornerback Corione Harris, a junior from New Orleans who was arrested in January in Missouri and faces a pair of felony charges — one for delivery of more than 35 grams of marijuana or synthetic cannabinoid, and the other for unlawful use of a weapon.
According to online court records, Harris is scheduled for a preliminary hearing on June 26, when a judge will determine if there is probable cause to bind him over for trial. A hearing set for March was postponed because the courts have been shut down for COVID-19 concerns.
"The only thing I can tell you is we're constantly monitoring what's going on and what's happening and communicating with Corione," Miles said. "Other than that, we'll let you know when we know."
As of Friday, Harris remained listed on KU's 2020 roster and Miles said a decision about his future would be made "once we see how the legal system runs its course."
Fairs to Virginia Tech
Former KU wide receiver Evan Fairs announced Thursday that he was headed to Virginia Tech to continue his playing career.
In Blacksburg, Va., Fairs will be reunited with former KU running back Khalil Herbert and both will be eligible to play immediately.
"After a good talk with my family and the coaches I have decided to commit to Virginia Tech," Fairs wrote in a tweet announcing his decision. "Let's get to work."
He added the hashtag #Thisishome to the tweet that also included a picture of Virginia Tech's home stadium.
After four seasons at KU, Fairs officially entered the transfer portal in early February, joining a handful of offensive skill position players who announced their intended departures from Kansas during the offseason.
A three-star prospect in the class of 2016 per Rivals.com, Fairs played in two games during the 2019 season, which was his redshirt junior year. The 6-foot-3 target from Fulshear, Texas, caught one pass for 21 yards at Oklahoma State, which went down as his total statistical production for the year.
After an injury sidelined him following four games of his junior season, Fairs took advantage of a new NCAA rule and redshirted the 2018 season.
Fairs' best season at KU came as a sophomore in 2017, when he appeared in nine games, started twice and caught 24 passes for 335 yards and a TD.
He played in eight games in 2016 as a true freshman.