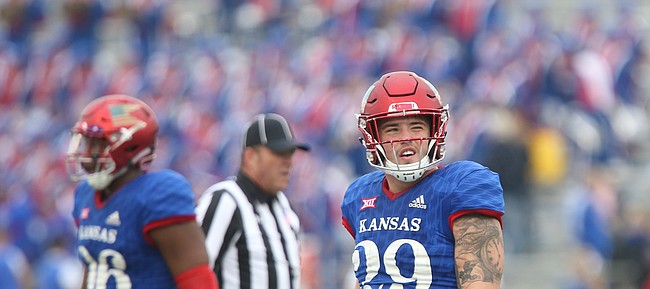 Two years removed from his last game at Kansas, linebacker Joe Dineen Jr. is in the same boat as many of his former teammates — sitting by the phone, waiting for a call and a chance.
The former Free State standout got that chance from the Denver Broncos following the 2019 NFL draft, but a broken hand late in camp ended his chances of making the Broncos' 53-man roster.
"It's frustrating for sure," Dineen said by phone this week from Denver. "When I was there, I felt like I was good enough to make the team. And now that it's kind of a struggle to get back onto a team, that's the part that's frustrating."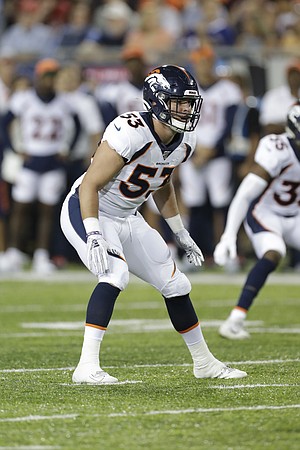 After parting ways with the Broncos, following a four-week injury settlement that made him a free agent again, Dineen received interest from other franchises. Workouts with Kansas City, Cleveland and Green Bay went nowhere, but the Jacksonville Jaguars signed him to their practice squad for the final two weeks of the 2019 season.
On paper, it was a great move for the former All-Big 12 linebacker. It was at least a chance. But Dineen said he felt disconnected nearly the entire time in Jacksonville, always behind and never in position to pick up the defense or bond with his teammates.
"I was really just there to fill a spot in practice," he said.
After the season, the Jaguars let Dineen drift back into free agency and that's where he sits today, waiting for the next opportunity to prove that he can play.
It might come. His agent believes it will. But neither one of them has any idea when.
"My agent has said all along I'd be a post-draft guy," Dineen said referencing last weekend's NFL draft. "But this virus has just kept everything pretty quiet."
During normal years, with rookie minicamps and an abundance of opportunities available for undrafted players, KU has watched at least five or six players get camp invites from NFL franchises after the draft.
This year, just one undrafted Jayhawk got that call and most of the offseason NFL workout schedule has been altered or eliminated.
Though antsy, Dineen said he tries not to think about his situation too much and says he isn't overly stressed. But he also wants to play football again and believes he's good enough to do it in the NFL.
That mindset at least gives him a purpose. And he does daily workouts to make sure he's in the best shape possible in case a call does come.
Dineen said his strength workouts aren't quite like he's used to. He and his girlfriend, Meghan Short, who was a member of the Rock Chalk Dancers at KU and now dances for the Denver Nuggets Dancers, have tried to come up with creative ways to push weight. One such method, which made the rounds on social media, involved Dineen pushing his truck in a parking lot.
"You have to get creative," he said.
Dineen said the conditioning part has been a little easier.
"The running I'm doing is pretty tough," he said. "I try to push myself because I think being conditioned at the start of camp is the best way to give yourself a chance. If you're out of shape when you get there, you'll stick out like a sore thumb."
With the mental and physical side of his journey under his control, Dineen said catching a break is the final piece of the puzzle. His agent tells him Houston might be a possible landing spot. But no one knows if, when or how that might materialize in the current landscape.
"It could be weeks, it could be months. Who knows," Dineen said.
One thing that might give him an advantage is the fact that there are teams and front offices in the NFL that have seen what he can do and have shown that they thought he deserved a chance.
In the current climate, when undrafted rookie free agents have to rely on their college film and connections, Dineen believes his ties in the NFL, however limited, could help him stand out ahead of the rest of the crop of undrafted linebackers looking for their break.
"You hear stories about this all the time," he said. "But I think it's good that other teams in the league know I was good enough to get signed before."
Does Dineen believe the day will come when he signs again?
"Man, I hope so," he said. "There's days I wake up feeling really optimistic and there's days I wake up and I'm like, 'Damn, how long's it going to take?' There's just not much I can control, so I try not to stress about it and just make sure I stay ready."