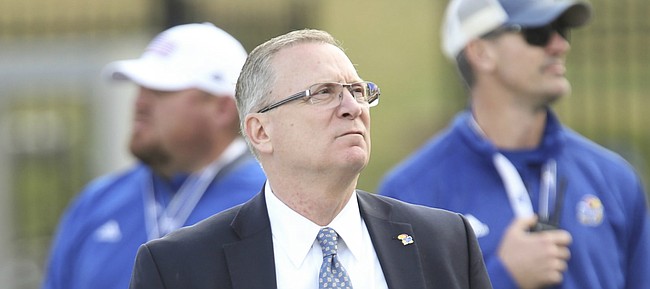 Newly released depositions from former Kansas football coach David Beaty's ongoing court battle with Kansas Athletics Inc. include claims that Athletic Director Jeff Long planned to fire Beaty even before the coach's final season with the Jayhawks began.
Matthew Baty, formerly the director of the Williams Education Fund, while under oath and answering questions from Beaty's lawyers on Feb. 28, testified he met with donors prior to Beaty's firing in order to outlay a plan for the coach's termination and explain the funds KU would need as a result.
Baty said those conversations with donors happened in October of 2018, before Beaty was fired in November. Baty also revealed Long said in private conversations as early as August of 2018, shortly after Long became KU's AD, that he wanted to fire Beaty.
In his deposition, Baty also said it was apparent from those discussions before the season began that Long wanted to hire Les Miles as Beaty's replacement.
In the months that followed, Baty testified, members of the athletic department asked him a lot of "pointed" and "personal" questions about KU's head football coach in order to dig up information on Beaty's personal life, including the coach's "sex life" and "was he a good guy, bad guy" kind of questions.
Baty said Chris Freet, KU's deputy athletics director for external engagement, asked those questions and even asked Baty if he had any knowledge of Beaty cheating on his wife.
Baty testified he is close with Beaty. Baty left his position with the Williams Fund in late November of 2018.
Long fired Beaty in early November of 2018, with three games remaining in the season. It appeared the termination would be without cause, but Beaty never received his $3 million buyout, leading to the lawsuit. KU would eventually send a letter to Beaty a year later to notify him he was terminated with cause because of the alleged violations that occurred during his tenure, involving a noncoaching staff member acting in a coaching role.
Beaty's lawyers also asked Baty whether he ever heard Long make inappropriate comments about KU donors. Baty said Long made a comment "sexual in nature" and "inflammatory" about an older female donor.
During that line of questioning, Baty also said he heard Long make a comment about "jokingly" wanting to have his hotel room for a trip booked next door to a female KU employee.
Regarding the alleged inappropriate comments detailed in Baty's deposition, KU's associate athletic director for public relations, Dan Beckler, stated Tuesday: "As a general rule, the university does not comment on pending legal matters. However, in this instance, we feel compelled to note that Mr. Baty's deposition is full of outright fabrications, lies and false attributions. As we have said all along, we are confident this matter will be appropriately resolved in court."
In a separate deposition unsealed this week, Beaty's lawyers questioned Long on Feb. 27.
Long said he began giving "serious consideration" to firing Beaty after KU opened the season with a home loss to Nicholls.
When asked about the timing of his conversations with potential new head coaches, Long said he "may have" returned calls and given "verbal indications" to inquiries he received regarding the head coach position before Beaty was fired.
KU's AD testified that there "may have" been phone calls he had with Miles in the time before Beaty was fired.
"Clearly Les Miles and his agent had expressed interest in the job should it come open," Long said in his deposition.
Long said he wasn't aware of any NCAA violations at the time he fired Beaty.
The deposition also included questioning about the online series, "Miles To Go," which streamed on ESPN+ and documented Long's coaching search, as well as Miles' first season with the program.
Lawyers asked about one early scene in which there is footage of Miles before he was hired by KU, and whether the show's producers were aware Miles would be hired when that footage was shot in the former LSU head coach's home.
"They took the chance that it was going to be Les Miles," Long said of a camera crew's presence before Miles was hired.
Asked who else he interviewed for the job, Long provided the name of Todd Graham (former head coach at Arizona State), before going into other candidates.
"And then there was the gentleman — and again, I'm struggling with his name. He was working with the LA Rams at the time. I could fins his name, but it's not coming to me." Long apparently was referring to Rams offensive assistant Jedd Fisch.
Long then also forgot the name of the Cincinnati Bengals' defensive coordinator, Lou Anarumo.
Long said he interviewed those three candidates in person, as well as Miles.
At one point during Long's deposition, lawyers asked him if Miles suffers from dementia — prompted by a hypothetical KU fan question posed in an email to Long.
"I'm not a physician and I'm not aware that he does," Long replied.
Long said he thought that dementia talking point ended up in the document because on a Kansas State-related website that theory was put out during recruiting.
"And then it was picked up by a number of people," Long said, "and they started claiming that Coach Miles may have mental deficiencies."
Long said he didn't believe that was the case.