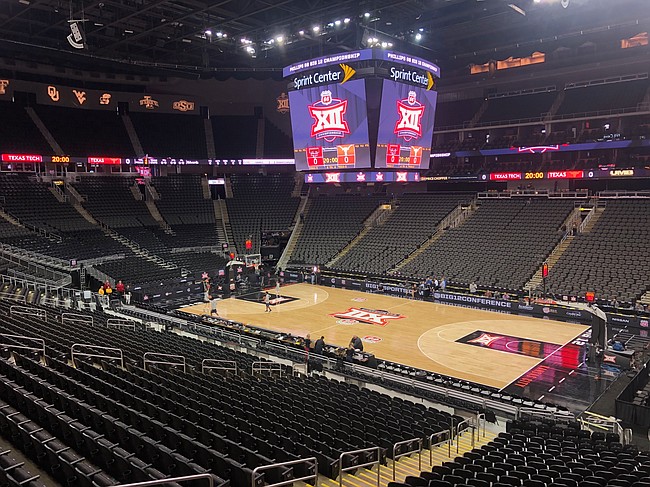 The Big 12 Conference lost two large revenue streams when the coronavirus pandemic canceled college basketball's postseason tournaments, and the financial outlook of the league could look far worse if football games are lost in the fall.
Commissioner Bob Bowlsby revealed during a media teleconference Thursday afternoon the Big 12 lost roughly $6.6 million when its men's and women's basketball tournaments were shut down two weeks ago. Plus, the NCAA announced a little before Bowlsby's session that it will be distributing $375 million less to its members than planned, because of the revenue lost with the cancellation of the NCAA men's basketball championship.
Bowlsby said the Big 12 would normally receive about $24 million from what was budgeted as a $600 million distribution, but instead the conference expects to get roughly $10 million of the reworked $225 million distribution.
"So we're going to take some hits," Bowlsby said, adding the Big 12 is still in the process of determining the reductions it will see in television distributions and sponsorship fulfillments tied to basketball and other sports losing games.
Bowlsby projected the league could see a loss in the $15 million to $18 million range in distributions.
"It's a whole new ballgame if we find ourselves not playing football," the commissioner forewarned, "because it affects everything we do. It affects the largest portion of our TV contract and it affects the largest source of campus revenue, which is live gate, so anything that I say regarding finances has to make the assumption that we're going to be back to playing football in the fall. If that doesn't happen then the underpinning of what we've known as normal goes away and we'll have major changes to make."
There could be monumental ramifications for the Big 12 and its 10 universities if starting the college football season on time becomes impossible. Bowlsby said the sport is "a driver" for athletic departments in terms of fundraising, TV viewership and sales and revenue.
Right now the plan is to play the season as scheduled, and Bowlsby said currently there are too many unknowns to try and cement definitive backup plans. He hopes within the next 60 to 90 days administrators will be able to come up with more conclusive scenarios for the football season.
"We would like to see a little more information," Bowlsby said. "We're two weeks into this (shutdown), and people tell us it's six to eight (more weeks), some say 10 to 12. Some say we're going to get a rebound. I just don't think there's a lot of credibility to putting together anything other than very rudimentary plans."
If it comes to shortening the season, Bowlsby said he and other commissioners of major conferences would need to collaborate.
"I don't think we want to be playing eight games and somebody else is playing nine and somebody else is playing six," he said.
One imaginable scenario for college football games in 2020, regardless of whether a typical 12-game schedule was achieved, could involve massive empty stadiums around the country.
Bowlsby said "it's possible" college athletics administrators could be forced to do what they thought was going to happen during the college basketball postseason, and play games without fans in attendance.
"On the one hand, that allows you to watch it on television, but the environment would certainly be far poorer as a result of not having an enthusiastic crowd in the stands," Bowlsby said. "It's hard to forecast those things, because we have things happening right now that we couldn't have envisioned three weeks ago."
The Big 12's commissioner also wondered whether some fans, due to the pandemic, would give pause to the idea of attending games in packed bleachers if teams are able to sell tickets.
"I think there probably will be lots of people," Bowlsby said, "who give consideration to what kind of public assembly they want to do."
For the Big 12 and other major conferences with potentially massive football decisions in their future, Bowlsby said he doesn't think any should be rushed.
"We all have to stand back and recognize we're managing important games, but they're just games," he said.
Extra eligibility for athletes?
The NCAA has not yet determined whether student-athletes who participate in spring sports and were seniors this season will be granted an extra year of eligibility because the bulk of the spring sports schedule got canceled amid the pandemic.
Bowlsby said there are pros and cons with granting an extra year.
"I think anyone would have empathy for the young people that have worked so hard and haven't gotten an opportunity (to complete their senior year)," he said.
Bowlsby explained that the uncertainty of the future makes him consider many ramifications.
"We might find ourselves with a disruption in the fall and winter next year due to a rebound in the coronavirus," Bowlsby said, "and everybody's telling us it's going to be around for a while, and part of the time it's going to be around without a vaccine. If we have that sort of disruption again, then are we are we going to offer fall sport athletes another year?"
The complexities of continuing scholarships, which also come with further expenses to athletic departments, Bowlsby added, would force the NCAA to alter a number of bylaws to make it possible.