Bryce Torneden isn't the biggest, fastest or most coveted pro football prospect coming out of the University of Kansas this year.
In fact, it's a near certainty that Torneden, a three-year starter in KU's secondary, won't be selected in the 2020 NFL draft.
But after arriving at the program's pro day earlier this month in peak shape and showing off what he brings to the gridiron in front of scouts from 28 organizations, Torneden heads into the next stage of his football life feeling sure of himself.
"I think you have to be confident through this whole process," Torneden said. "There's 32 teams; not everyone's going to like you. You can't hang your hat on that. Some teams may like you, and not necessarily sign you. It's just little things. You can't get too down, you can't get too high. So that's kind of how I'm viewing it moving forward."
Some of that hope for Torneden, who measured out to be 5-foot-9 and 190 pounds at KU's pro day, comes from the paths he has seen recent Jayhawks take to the next level.
During the 2019 NFL season, five of Torneden's former KU football teammates were on either rosters or practice squads after going undrafted: receiver Steven Sims Jr., cornerback Shakial Taylor, linebacker Joe Dineen, defensive lineman Daniel Wise and long snapper John Wirtel.
Torneden, a Lawrence native and Free State High graduate, said he "of course" finds that recent history encouraging, and he's grateful to be in a position where he's still able to chase his childhood NFL dreams.
"I'm thankful for the opportunity," Torneden said shortly after completing his pro day workouts, "and hope I get the foot in the door and I can really continue to work hard and get a chance."
Even if that doesn't turn out to be the case for Torneden, the XFL would be a fallback option.
Another shot for Torneden to impress NFL decision-makers was supposed to come on April 3. That's the date the Kansas City Chiefs had already asked him to participate with other prospects at the franchise's local pro day. That invite came, of course, before the entire sports world got put on shutdown by the coronavirus pandemic. The NFL has since nixed all in-person visits of that sort, prohibited team representatives from traveling to see prospects in person.
It's unlikely Torneden and other players in his position who are under the radar will get another chance to work out in front of NFL coaches or scouts before the draft, which is still on schedule to run from April 23-25.
"I think it obviously potentially hurts," Torneden told the Journal-World this week regarding the atypical circumstances players in this draft class are facing, "just because there's not as much exposure or scouts out there looking and interviewing. But I think it'll all unravel how it should, and I'm not really stressing about it too much. I feel like 90% of teams' scouting is done, being this close to the draft."
Even as the final rounds of the draft play out in a few weeks, on April 25, teams will start lining up deals with undrafted players to fill out their training camp rosters. It was immediately following the 2019 draft that Sims, Wise, Dineen, Taylor and Wirtel found their NFL opportunities.
In his final season at KU, Torneden finished as the team's second-leading tackler (71, to safety Mike Lee's 72), forced two fumbles, recorded one interception and broke up two passes while playing the "Hawk" position, which had him at times serving as a defensive back and in other situations playing more like an extra outside linebacker.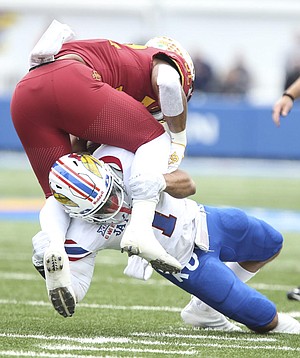 He knew his work couldn't be done when his college career came to a close this past November.
At KU's March 5 pro day, Torneden looked like he might be in the best shape of his life — though he found that concept hard to measure. He posted the best vertical leap (35 inches) among the Jayhawks from this year's draft class, recorded a broad jump of 10 feet, 3 inches, bench pressed 225 pounds 19 times, ran his 40-yard dash in 4.57 seconds and looked fluid in all of his movements during position drills.
"I feel like if you never have to get out of shape you never have to get in shape and getting in shape is not a lot of fun," Torneden said of his stellar physical condition.
He came to the showcase prepared to impress by regularly working out with the help of Joseph Potts, of TopSpeed Strength & Conditioning, and former KU defensive back Cassius Sendish, who also works for TopSpeed. Torneden said he prepped with fellow pro hopefuls Daylon Charlot and Carter Stanley, as well as some professional players.
"I didn't do this by myself," Torneden insisted.
He also utilized a form of training some may not associate with football.
"I'm not a big yoga guy. I feel like I'm pretty stiff in the shoulders and the thoracic region, but it's helped me out a lot," Torneden admitted, after attending sessions at Synergy Yoga, led by instructor Lori Archer. "It's really calmed my nerves and it's a different, more holistic view of preparing your body and it's definitely helped."
It all added up to Torneden feeling convinced he threw all he could into his pre-draft prep, with KU's pro day as a key target date.
With scouts from NFL teams watching him and other Jayhawks up close, Torneden thought he was able to prove some things about his ability, especially with his footwork and technique.
"Just moving around the past two years, playing in two different defenses, I just wanted to showcase that I can do a lot of things and I'm pretty versatile," Torneden said. "I think I showcased that to the best of my ability. I thought I left some out there, but that's just kind of how it goes."