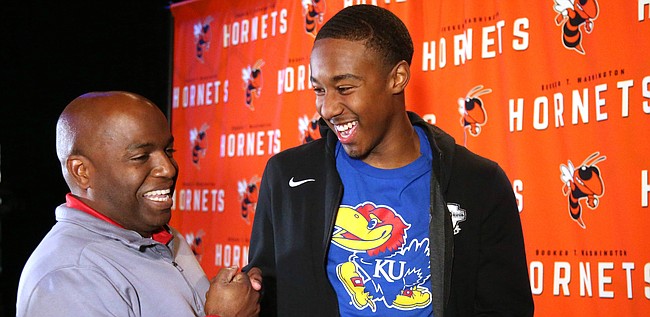 The national Gatorade Player of the Year awards were released Thursday and a future Jayhawk was included among them.
Bryce Thompson, a combo guard out of Booker T. Washington High in Tulsa, Okla., was named the 2019-20 Gatorade Oklahoma Boys Basketball Player of the Year.
The 5-star guard who signed with Kansas last November also won the honor as a junior last year, but he turned in an even stronger senior season to win it again.
Thompson led the Hornets to a 20-5 record and a berth in the Class 6A state semifinals before the season was cut short because of coronavirus concerns.
The 6-foot-5, 185-pound do-everything guard averaged 24.6 points, 5.9 rebounds and 2.8 assists.
Those numbers also earned him a spot on the 2020 McDonald's All-American roster.
"Bryce Thompson, in my opinion, is hands down the Oklahoma Gatorade Player of the Year," said Rickey Bruner, head coach at Sapulpa High in a news release announcing the award. "He embodies what coaches want in a kid, on and off the court. On the court, he is dynamic in every way, and the most special thing about him is every time we have played them, he has gotten better and added something to his game. He is unstoppable. He is a competitor. He is a leader. And he is respectful and humble. He makes everyone around him better."
The award, which recognizes athletic excellence, academic achievement and all-around character, was established in 1985.
Several former Jayhawks have earned the honor in their home states in the past, and Thompson is now eligible to win the National Boys Basketball Player of the Year award, which will be voted on later this year.
Thompson, who led Booker T. Washington to a state title as a junior, was ranked as the No. 19 player in the 2020 recruiting class by Rivals.com. He owns a 3.28 GPA and also recently took part in the 2019 Team USA Junior National Team minicamp.
He also possesses musical talents and has served as a volunteer at a food bank and various youth basketball programs.
Future series?
CBS Sports college insider Jon Rothstein on Thursday reported that Kansas and USC have agreed to a home-and-home basketball series during the upcoming seasons.
According to Rothstein's sources, KU will host USC on Dec. 19 of the 2020-21 season and then will travel to Southern California for the return game during the 2021-22 season at USC's Galen Center.
The Jayhawks have won seven in a row in the series and own an 11-5 all-time edge over the Trojans. The two programs have not faced each other since 2011.

Big 12 comings and goings
Multiple reports out of West Virginia have both Oscar Tshiebwe and Derek Culver returning to Morgantown for the 2020-21 college basketball season.
The two forwards teamed together to make the Mountaineers one of the best rebounding teams in the country this season. Tshiebwe, a freshman, ranked second in the Big 12 at 9.3 rebounds per game, and Culver, a sophomore, ranked fifth at 8.6 per game.
In other Big 12 news Tuesday, ESPN.com's Adrian Wojnarowski reported that Iowa State standout Tyrese Haliburton planned to enter the 2020 NBA Draft.
The 6-foot-5, 175-pound point guard from Oshkosh, Wis., is currently the No. 7 prospect in ESPN's Top 100.
Devon Dotson (31st) and Udoka Azubuike (32nd) also appear in the Top 100, with fellow Jayhawks Marcus Garrett (68th) and Ochai Agbaji (82nd) appearing a little farther down the list.