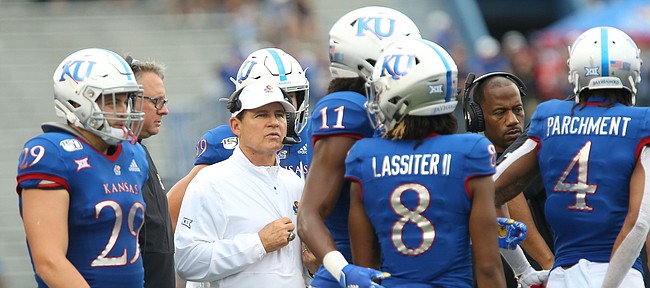 KU's athletic director says the university is already talking about contingency plans in case the coronavirus pandemic that canceled the NCAA's winter and spring championships affects the 2020 football season, too.
"Certainly there's some question about the September football season starting off," Athletic Director Jeff Long said during a video conference with local reporters earlier this week. "We'll have to adjust to that."
Although Long said "a lot" of possible contingency plans have already been discussed, he didn't give any details about what those plans might look like — whether it might involve eliminating games or pushing the schedule back.
"But we are working on multiple contingencies now and then we're working with the NCAA on various aspects of this," Long said. "Obviously the health and safety — the medical community — will weigh in heavily on this."
KU has already had to make some adjustments to its football operations because of the pandemic.
Thus far, the Jayhawks have been unable to hold their spring practices, which normally begin in March. Long said he was hopeful that some alternative practice schedule could be developed to make up for those lost days, but he stressed that "none of that has been decided."
In fact, amid the rapidly evolving health crisis, no one knows yet whether teams will be able to start preseason practices on time late this summer.
"It just depends on how the virus curve goes that we've heard so much about — if it flattens, and how far it flattens," Long said, "and when this country will resume kind of normal operations."
Administrators around the country will have more time to plan than they had with the winter and spring sports. Football is far enough away that a normal season hasn't been entirely ruled out. While a handful of FBS programs are currently scheduled to play on Aug. 29, most teams, including KU, hope to kick off their seasons on Labor Day weekend.
2020 KU football schedule
Sept. 5 - New Hampshire
Sept. 12 - at Baylor
Sept. 19 - Boston College
Sept. 26 - at Coastal Carolina
Oct. 3 - Iowa State
Oct. 10 - at Kansas State
Oct. 17 - Oklahoma State
Oct. 24 - at West Virginia
Oct. 31 - bye week
Nov. 7 - Texas
Nov. 14 - at Texas Tech
Nov. 21 - at Oklahoma
Nov. 28 - TCU