Wednesday, March 18, 2020
According to multiple reports Wednesday, including one from ESPN's Josina Anderson, former Kansas cornerback Chris Harris Jr., has agreed to a free agent deal with the Los Angeles Chargers.
Harris, who turns 31 in June, enjoyed nine standout seasons in Denver after entering the NFL as an undrafted free agent in 2011 following his four-year career at KU.
After starting as a freshman opposite Aqib Talib on the 2008 Orange Bowl team, Harris played multiple roles and positions throughout his next three years as a Jayhawk.
While moving around damaged his draft stock, it also allowed him to make an NFL roster on the strength of his versatility and ability to play multiple positions and schemes.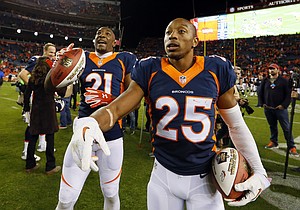 Harris started as a special teams player with the Broncos and quickly transformed himself into a player Denver simply could not keep off the field.
During his nine seasons with the Broncos, Harris made the Pro Bowl four times and also reconnected with Talib to create the "No Fly Zone" secondary that helped the Broncos win Super Bowl 50.
Harris has played at least 15 games in eight of his nine seasons and Denver was ranked among the league's top five in pass defense in 2015, 2016 and 2017.
In 2015 the Broncos' defense led the league in almost every major category, including pass defense.
Harris joins the AFC West-rival Chargers with 20 career interceptions, 86 passes defensed, 6 forced fumbles and 4.5 sacks.
In September of 2018, Harris had his name added into the Kansas football Ring of Honor at David Booth Kansas Memorial Stadium, and many in Denver believe he is a lock to one day be added to the Broncos' ring of honor, as well.
NFL analysts also have debated that he has put together the kind of career that could wind up earning him a spot in the Pro Football Hall of Fame in Canton, Ohio.