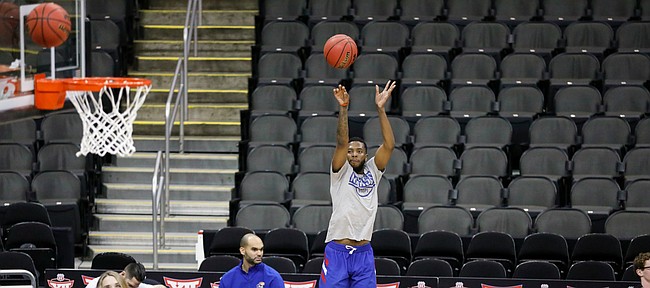 Kansas City, Mo. — At Sprint Center on Wednesday afternoon for a pre-Big 12 Tournament shootaround in front of thousands of empty seats, the No. 1-ranked Kansas Jayhawks got a little preview of what the unconventional version of March Madness that awaits them. At least in terms of the atmosphere.
The NCAA announced shortly before KU's players and coaches hit the court that all upcoming national tournament games would be played without fans, due to escalating concerns about the novel coronavirus. Before the night was over, Big 12 commissioner Bob Bowlsby said the same would be true for the remainder of the Big 12's men's and women's basketball championships.
Even before they learned about the conference's decision, the Jayhawks began bracing for their new abnormal basketball reality.
Bill Self broke the news about the NCAA Tournament to his team inside the mostly uninhabited arena. KU's head coach gauged from their body language that they seemed OK with all that would entail, because he explained to them the current circumstances in the country made it unavoidable.
"Nobody's picking on you. I mean, there's going to be a ton of things moving forward. It's going to impact the workplace, it's going to impact everybody in some way shape or form, and whatever their craft is or whatever they value as entertainment," Self shared of part of his conversation.
But the primary theme that Self would go on to hammer home, as the Jayhawks began adjusting to this unprecedented measure on the fly, was one of the "love of basketball," Christian Braun said.
"We obviously want to play in front of the fans," said Braun, a freshman guard. "But it's bigger than us. We play for the love of the game."
Following KU's shootaround, the three Jayhawks tasked with fielding COVID-19 adjacent questions when they typically respond to inquiries about 3-point shooting, defense and subjects that are in their wheelhouse, all appeared as prepared as anyone in their position could be for the bizarre basketball scenes to come.
"Having the fans' support around is always important. It's always a great feeling to have the crowd with you," sophomore forward David McCormack said. "But this situation is definitely bigger than basketball. It's more about health and well-being."
Added senior guard Isaiah Moss: "We know we've still got that fan base. We know we've still got supporters. We'll just try to go out and compete at a high level."
Though there had to be on a human level some sort of disappointment for KU's players, who won't get the typical Big Dance experience in the weeks ahead, they handled it with maturity and optimism. After all, it looks like their season will continue on, while elsewhere, for instance, the Ivy League cancelled its entire spring sports schedule.
"We still have to be grateful for and (feel) fortunate enough to play the sport that we love," McCormack said, "because that can be taken away as well. So we just have to count our blessings."
What's to come in basketball arenas around the country will be unlike anything any player has ever experienced. Sure, they've shot around and practiced in cavernous venues with no one watching. But now they'll be competing for conference and national titles in that setting.
With the situation changing by the minute, Moss was asked before the Big 12 reached its decision about the possibility of playing in a desolate Sprint Center for KU's quarterfinal. How do you mentally prepare for something like that on such a quick turnaround?
"Coach kind of talked about that a little bit. But we can't really control it," Moss said. "So if they do decide to not allow fans to come in, then we've still got to compete at a high level and still try to win a ball game."
The Jayhawks aim to win as many as nine more times in this strange new version of March Madness. And all they can do is seek out the good that could come from it.
As in most scenarios, the players are following Self's directive.
"It's unfortunate, but, you know, there's not gonna be an asterisk next to it — 'well they played without fans' in the record books," Self said. "I mean, you still have a chance to have a very similar type of legacy. And I did tell him this, it'll be the highest-rated television tournament that anybody's ever seen. So that's a positive, to be a part of that."