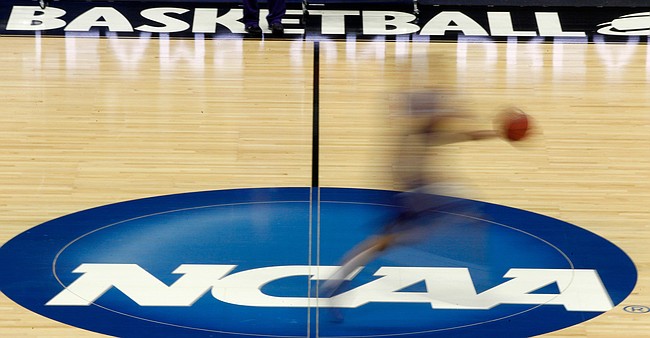 Updated at 9:36 p.m.
The University of Kansas on Thursday responded to NCAA allegations of recruiting violations by arguing that the organization's evidence in the case is not credible, and it did not acknowledge that any violations took place in its men's basketball program.
The university and its outside counsel wrote in a 149-page response, separate from individual responses by coach Bill Self and assistant coach Kurtis Townsend, that the NCAA's allegations rely on a "never before alleged theory" that employees of corporate partners are boosters to college athletic programs.
It took particular issue with NCAA enforcement staff alleging that former national championship-winning coach Larry Brown served as a booster to KU by informally helping to recruit athletes to the basketball program.
KU's response to NCAA notice of allegations
On Thursday, March 5, 2020, the University of Kansas made public its response to the NCAA's notice of allegations against the men's basketball program that came in the wake of a federal trial over corruption in college basketball recruiting.
Here is the landing page for KU's response, which includes a variety of PDF documents and an overview of KU's argument.
"The enforcement staff relies on casual and innocuous phone conversations between Brown and members of the University's men's basketball staff, all of whom he knows well. He was never asked to recruit on behalf of Kansas nor did he," KU wrote in its response to the NCAA.
The blistering response also sought to distance the university from its relationship with former Adidas consultant T.J. Gassnola, who the NCAA alleges was acting as a booster to the university when he made payments to family members and guardians of athletes to have them attend KU.
"The evidence however, based mainly on trial testimony, fails utterly to support a conclusion that Adidas or any Adidas employees acted as representatives of the University during the period in question," the response reads. "Individuals formally associated with Adidas acted in their own interests when they gave money to the family and guardians of student-athletes."
The response also argues that the NCAA's contention that employees of a corporate sponsor can be boosters would have "far reaching ramifications" among NCAA member universities and would make many college athletes ineligible because they participate in nonscholastic events and teams that are sponsored by athletic apparel companies, such as Nike and Adidas.
Much of the university response leans on previous federal court rulings that KU was a victim of Gassnola and of and Adidas' illicit efforts to influence college basketball recruiting across the country. KU goes as far as acknowledging that evidence presented at trial concludes the payments were, in fact, made. It maintains, though, that Self and his staff had no way of knowing what was going on.
"...The payments and promised payments were concealed from the University," the response argues. "Further, the credible and persuasive evidence establishes that Adidas, Gassnola, and Gatto were not representatives of the University's athletics interests at the times of the events."
Self's response
In a separate, strongly worded defense of Self, lawyers argue that NCAA officials have publicly prejudged the case in a way that would prevent Self from ever receiving a fair trial.
"It is difficult to see how Self can obtain the fair hearing to which he is entitled after the NCAA's executive administration has communicated to the public that rules have been violated, that there will be consequences, and that "top coaches" are a part of the violations," Self's response reads.
Furthermore, the 77-page document attempts to lay out Self's attempts to promote a program that complied with NCAA rules. A footnote in the response states that Self was actually the first to report to KU Compliance staff that players unidentified in the document may have taken impermissible benefits.
The response also argues that the NCAA is inappropriately using evidence from former Adidas executive James Gatto's criminal trial, which is under appeal, to charge Self with wrongdoing in violation of bylaws established in 2018. Those bylaws state that enforcement staff and the NCAA Committee on Infractions can consider information from criminal trials in deciding whether to issue an NOA or any subsequent punishments, but only if the legal process is complete.
"... By basing this public announcement of predetermined guilt on information under appellate review which the NCAA is prohibited from even considering, the NCAA has indicated that facts and rules matter less than appearances," Self's response states.
Self's text messages
During the federal trial, text messages between Self and Gassnola showed a vague discussion about the recruitment of current KU player Silvio De Sousa, appearing to show that Self knew Gassnola made a payment to Fenny Falmagne, De Sousa's guardian.
In August 2017, Gassnola sent a message to Self that said, "Hall of Fame. When you have 5 minutes and your [sic] alone call me."
Gassnola sent another message after Self did not respond that said, "I talked to Fenny."
Self responded asking, "We good?"
"Always," Gassnola said. "That's [sic] was light work. Ball is in his court now."
However, Self argues in his response the text messages have been subjected to "irresponsible media speculation" and the evidence actually shows the "light work" was a reference to obtaining used athletic gear for Angolan amateur athletes.
Self pointed to Gassnola's testimony in court, where he said the "light work" was not about paying Falmagne, but "uniforms, bags and stuff" for the Angolan national team.
"There is nothing about this exchange to suggest it is anything other than innocuous and benign," Self's response to the NCAA says.
Self also argued a conversation between Townsend and amateur league director Merl Code does not show any evidence of the KU program violating NCAA rules.
In a transcript of a wiretap that was not entered into the trial as evidence, Townsend and Code discussed the recruitment of top prospect Zion Williamson, who is now in the NBA. Code said, "I know what he's asking for. He's asking for opportunities from an occupational perspective, he's asking for cash in the pocket and he's asking for housing for him and his family."
In reply, Townsend said, "I've got to just try to work and figure out a way because if that's what it takes to get him here for 10 months, we're going to have to do it some way."
In Self's response to the NCAA, he argues Townsend's comments were about finding financial opportunities for Williamson that comply with NCAA rules, such as securing a Pell grant, earning money by teaching basketball lessons and helping out in basketball camps and having a stipend that all NCAA athletes are allowed. Self said Townsend explained those opportunities during a home visit with Williamson.
Self said Townsend's response to Code was worded specifically that way because another choice of words would either suggest KU was agreeing to commit an NCAA violation, or say "we're out" on the recruit and possibly hurt the program's ability to recruit highly touted athletes.
Booster questions
As the Journal-World reported in February 2019, the university's case against sanctions on the basketball program likely hinges on whether it can convince the NCAA that Gassnola is not a booster for the team.
A key contention by the NCAA is that Gassnola was acting as a booster of KU when he paid $90,000 to the mother of former KU team member Billy Preston and $2,500 to De Sousa's guardian, Falmagne. Gassnola admitted in federal court to those payments. The NCAA alleges he also paid $15,000 to the friend of a third player — that player ultimately attended another school.
In its response filed Thursday, KU is reversing a position it technically took last year, when KU agreed that Gassnola was a booster of the program. KU labeled Gassnola a booster as part of the school's efforts to win an appeal to have De Sousa cleared to play in games this season.
KU Athletic Director Jeff Long at the time said KU essentially was forced by the NCAA to declare Gassnola a booster in order to get the NCAA to consider clearing De Sousa for competition. Long said KU agreed that Gassnola was a booster only "hypothetically." Whether NCAA enforcement officials will see it that way is still unclear.
KU may also have to overcome some provisions in the NCAA rulebook. Josephine Potuto, a University of Nebraska College of Law professor and former chair of the NCAA committee on infractions, previously told the Journal-World that an employee for an apparel company could be considered a booster. Potuto pointed to the NCAA handbook, which shows under its guidelines for "Institutional Control" that universities can be held responsible for the actions of corporate entities and their employees that are working on their behalf, whether the universities are aware of their actions or not.
KU also is arguing the idea that Gassnola and Adidas could be considered KU boosters under NCAA rules is a "never before alleged theory."
However, as the Journal-World reported in October, KU's athletic department routinely has sent out compliance letters to area businesses reminding them of what constitutes a booster of the university. That letter makes it clear that companies like Adidas can be considered boosters.
The letter states: "A booster is an individual, independent agency, corporate entity (e.g. apparel or equipment manufacturer) or other organization that is known to ..."
Among the items included in the definition is if a corporate entity has ever held any season tickets for any sport with Kansas Athletics. KU's contract with Adidas calls for the company to have season tickets to both football and basketball games.
The definition also says a corporate entity can be declared a booster if it "promotes Kansas Athletics in any way." KU in its response argues that Adidas doesn't promote Kansas Athletics, but rather that Kansas Athletics promotes Adidas.
Timeline
KU received a Notice of Allegations, or NOA, from the NCAA in September. The organization alleged the university's men's basketball program committed five severe violations. The football program was also accused of some lower-level violations.
The spotlight on the basketball program comes during another successful season, as the team earned at least a share of the Big 12 regular season title on Wednesday and is currently ranked No. 1 in the nation.
KU had until Thursday to respond to the allegations, which carry potential punishments that could keep the basketball program from the NCAA tournament for the first time since 1989 and result in a long-term suspension for Self, among other possible penalties.
The NCAA enforcement staff will have 60 days to respond to KU's response. After that, a hearing will be scheduled with the NCAA Committee on Infractions, but the timing won't be made public, a NCAA spokesperson told the Journal-World.
The NCAA committee would then make a ruling, which could come months later, according to previous Journal-World reporting. If penalties are sanctioned, the university then has the opportunity to appeal the decision and the penalties. A ruling on an appeal does not have any specific timeline.
Mit Winter, a Kansas City-based sports law attorney, said it's reasonable to expect the case to be wrapped up sometime in the summer or early fall.
The NOA — the NCAA's equivalent of an indictment — charged the KU program with lack of institutional control, three Level 1 violations in the men's basketball program and Self with a "responsibility charge." Level 1 violations are deemed the most serious and can include penalties such as scholarship reductions, postseason bans and fines.
Additionally, the KU football program is charged with Level 2 violations, which include allowing an extra coach to work during practice under former coach David Beaty. The NCAA amended the NOA in February to add a Level 3 violation the football team self-reported.