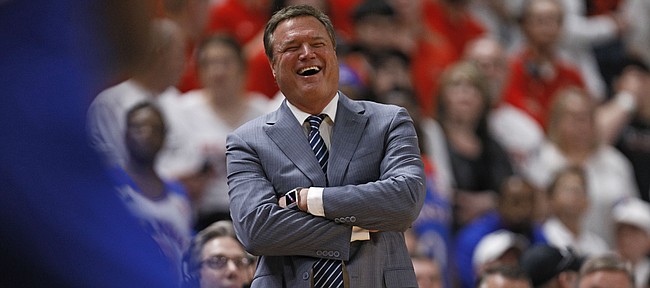 Kansas basketball coach Bill Self will tell you that no one knows at present day exactly what the 2020-21 college basketball season will look like.
But given that the KU coach has always had a hint of optimist in him, he'll also tell you that he feels confident that there will be a season.
On a special episode of his "Hawk Talk" radio show Tuesday night, Self explained his outlook for his 18th season at Kansas.
"Will we be playing basketball," Self asked. "I think the answer is, from a positive standpoint, 'Yes we will.' But it may not be as we know it. Of course, nobody knows that yet, but hopefully something will happen that will create some very positive things throughout our country health-wise."
Later in the show, Self and host Brian Hanni talked more about how the 2020-21 college basketball season might look in Lawrence.
"I think we're going to play," Self said. "I think there's a great chance fans will be in the stands. I think there'll be some nervous moments up until that point to know if you can (attend) or not, but with the assurance plans that are in place, what do you have to lose by buying your season tickets."
Self was referencing KU's recent ticket assurance plan announced by Kansas Athletics for all season ticket holders which ensures that tickets either will be good a year from now or refunded if games are canceled, postponed or played with restricted fan access.
Football remains at the forefront of most people's minds in college athletics these days since the 2020 season is just a couple of months away.
But Self said Tuesday that he was planning to talk with his players and their parents individually following Tuesday's "Hawk Talk" show to discuss the best plan for their return to campus.
A couple of weeks ago, the Big 12 Conference identified July 6 as the first day for men's and women's basketball players to return to campuses for voluntary workouts.
Football players were welcomed back on June 15 and other fall sports athletes are allowed to return July 1.
However, just because the conference has cleared the way for a July 6 arrival, Self said he was not certain that his players would all be here that early, adding that the program was "still figuring that out."
"I think there's still some concerns about bringing them back, but we're going to discuss that to see if the risks certainly are less than the rewards," Self said. "We can't work with them until July 20 now, so when our players come back it'll be a voluntary basis, and then we're limited on what we can do."
Regardless of what decisions are made — and it's possible that they may vary from player to player — Self said the health and safety of his players would be the top priority.
"It's a strategy that's unknown," Self said. "How do we limit exposure as much as possible and still get done what we want to do? We're going to talk about that tonight and hopefully have a decision soon."