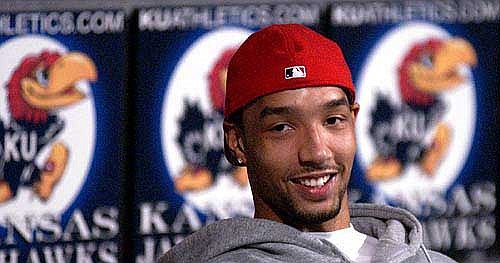 The happy-go-lucky forward from Richmond, Calif., is headed to the Kansas Sports Hall of Fame.
Former KU forward Drew Gooden, who helped lead the Jayhawks to the 2002 Final Four while earning consensus first-team All-American honors that same season, is one of 10 members of the 2020 class who will be inducted in October, the KSHOF announced Wednesday.
Drafted fourth overall in the 2002 NBA draft by Memphis, Gooden played 14 seasons in the NBA with the Grizzlies, Orlando, Cleveland, Chicago, Sacramento, San Antonio, Dallas, Milwaukee, Washington and the Los Angeles Clippers.
He ended his NBA career with 8,653 career points, 5,618 rebounds, 896 assists, 544 steals and 474 blocks in 790 games.
Gooden's KU jersey was retired in 2003, and he also previously was inducted in the Kansas Athletics Hall of Fame.
Joining Gooden in the KSHOF class of 2020 are: five-time NCAA track and field All-American and Olympic heptathlete Kym Carter Begel from Wichita, three-time Wichita State baseball All-American selection and 13-year MLB veteran Casey Blake, five-time shot put national champion at Emporia State and seven-time All-American Heather Leverington Dotterer from Rosalia, two-time K-State track All-American selection and Olympian in the decathlon Steve Fritz from Gypsum, two-time All-Big East basketball selection and nine-year NBA veteran Adrian Griffin from Wichita, champion skeet shooter and 1964 Olympic bronze medalist Bill Morris from Russell, K-State football All-American selection and 11-year NFL veteran Jordy Nelson from Leonardville, K-State football All-American selection and 15-year NFL veteran Terence Newman from Salina, and K-State football All-American selection and 14-year NFL veteran Darren Sproles from Olathe.
The induction ceremony is currently scheduled for Oct. 4 at the Kansas Star Casino in Mulvane, just south of Wichita.