One of the most unusual seasons in Kansas football history officially opens Friday, when the Jayhawks conduct their first official practice of 2020.

In addition to the typical football-related questions that surface each August, the upcoming season features a host of other unknowns related to the COVID-19 pandemic.
Here's a quick look of the five most pressing questions about Kansas football as the Jayhawks begin preparations for the Aug. 29 season opener against Southern Illinois at David Booth Kansas Memorial Stadium.
1 – Will there even be a season?
No one actually knows the answer to that question as of today, but the Jayhawks and the Big 12 Conference are determined to play.
In an email sent to donors on Wednesday, KU Athletic Director Jeff Long spelled out a number of different things that KU officials have done to get ready for the season.
In addition to tweaking the schedule, KU officials have developed plans for contactless ticket procedures, social distancing in public spaces, mandatory mask wearing and hand hygiene stations throughout concourses.
As far as attendance, Long said KU is planning models around 100% capacity, 50% capacity and less.
Long also said the new season opener, which is a week earlier than previously scheduled, provides KU with a chance for the team to "be in a controlled environment" while also building in an off week between games 1 and 2.
All of those signs, and more, point to Kansas fully planning to play football next month.
2 – Do the Jayhawks have a quarterback?
Technically, they have three or four. We just don't know how any of them will look when given the keys to the offense.
Returning backups Miles Kendrick and Thomas MacVittie are likely to open preseason camp as the top contenders to replace Carter Stanley. And there are things to like about both of them.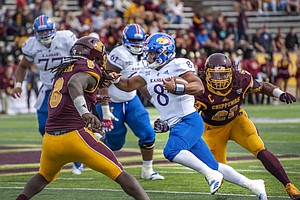 Experience, however, is not one of them, and it would behoove the Kansas coaching staff to settle on a starter sooner rather than later so the winner of the job can start to develop chemistry with the first-team offense.
Freshman Jalon Daniels remains an intriguing option at the position, but it's hard to imagine that Daniels has enough time to move to the top of the depth chart by the season opener.
There are plenty of questions about this team, but if KU can't answer the QB question, none of the others will matter.
3 – How will KU reshape its defense?
Five of KU's top pass rushers from 2019 are no longer on the roster, leaving a sizable hole on the D-Line depth chart.
Beyond that, the Jayhawks also will be fielding a mostly-new starting secondary, with safeties Mike Lee and Bryce Torneden and cornerback Hasan Defense all gone.
The transition will leave the KU coaching staff counting on several new players all over the field on defense, but a handful of those faces should be familiar.
Redshirt freshman Steven Parker is poised for a big season after taking over for Azur Kamara. And veteran defensive backs Kyle Mayberry, Davon Ferguson and Co Harris (if eligible) all have enough experience to keep KU's secondary on solid footing.
Each spot also features a handful of freshmen who could find their way onto the field sooner rather than later given the opportunity for early playing time that exists.
4 – Is there enough help for junior RB Pooka Williams Jr.?
The easy answer here is yes. KU has a lot of skill players to like who can help take some of the burden off of Williams and keep him from feeling like he has to deliver a highlight-reel run every time he touches the ball.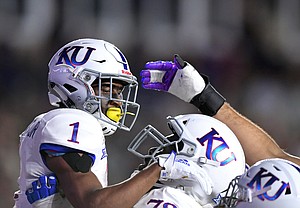 But as good as tailback Velton Gardner and wideouts Andrew Parchment, Stephon Robinson Jr., and Kwamie Lassiter II, have proven they can be, it still will come down to whether KU's offensive line and quarterback play can be good enough to keep teams from keying on Williams all game every game.
If they can, Williams could be in line to deliver his best season yet and offensive coordinator Brent Dearmon could open up his entire playbook in his first full season as KU's offensive boss.

5 – How can Les Miles build on 2019?
Most fans and critics are always going to base things off of wins and losses, which could put Miles and the Jayhawks in a tough spot in 2020, especially if the Big 12 makes any major scheduling changes and goes with conference-only season or allows for just one nonconference game.
Because of that, Miles' best chance at building on his 3-9 debut season is not by pushing the win total to four or five, but by continuing to improve the product on the field.
Adding a couple of classes worth of high school talent to the program has been key and now Miles is entering the stage where he can begin to develop those younger players in practices and games.
If the Jayhawks can be competitive in most games and can identify some young pieces that could help them win games in 2021 and beyond, Miles could still take a step forward this season even if the win total dips below last season's number.