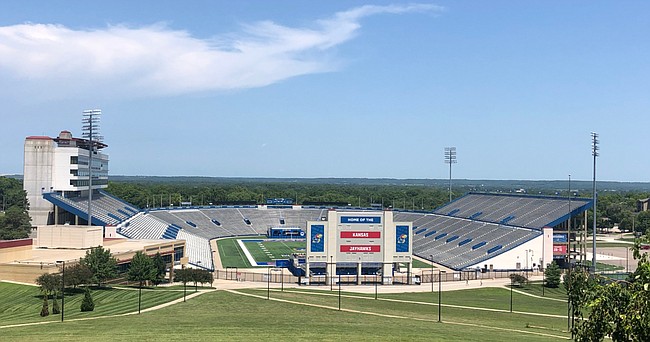 Although it took time to finalize the details, Kansas Athletic Director Jeff Long identified a replacement for New Hampshire on KU's 2020 football schedule the same day that UNH pulled out.
Mere hours after UNH AD Marty Scarano informed Long that the Wildcats would not be competing in any fall sports this year, Long placed a call to Southern Illinois AD Liz Jarnigan.
Jarnigan was on the other line with another college administrator at the time, trying to find a replacement game for SIU's Sept. 19 matchup with Wisconsin, which fell apart when the Big Ten canceled all nonconference games on July 9.
But she wasted no time in getting back to Long once she heard his message.
That sparked a week's worth of back-and-forth discussions between KU and SIU administrators and ultimately led to a new season opener for both teams on Aug. 29 at David Booth Kansas Memorial Stadium.
"We both decided rather quickly that we mutually had great interest in getting a game with each other," Jarnigan told the Journal-World during a Monday morning phone interview. "And we went to work fast and furious after that."
Jarnigan said the negotiations that led to SIU taking New Hampshire's place on KU's schedule — albeit a week earlier — were nearly non-stop. In fact, she said KU officials even apologized for reaching out on a Saturday, the day after the initial call. But Jarnigan didn't mind.
"There's no rest during COVID," she said, praising the work of both KU and SIU's compliance and sports information staffs for making the game possible.
While money was a motivating factor for both programs, Jarnigan said other elements created a sense of urgency.
"People talk about the finances and how important those buy games are to us," she said. "And there's no question about that. However, a more important reason for us to get this game back was for our kids. Our student-athletes deserve to have me work hard to try to find a replacement game for them."
According to SIU's news release announcing matchup, KU agreed to pay Southern Illinois $300,000 for the game. Once the two agreed on the financial terms, the rest of the time was spent ironing out the details.
"There was a lot of back and forth through the weekend, but we knew early on during the week that this is what we wanted to do," Jarnigan said.
According to Jarnigan, the only thing that delayed the announcement to last Saturday was the NCAA's approval of a waiver request — made by both schools — for a Week Zero game this season.
In the seven days between the Big Ten's decision to play conference games only in 2020 and Long's phone call, Jarnigan said SIU was "looking at all sorts of different options."
She acknowledged that the 390-mile distance between KU and SIU's campuses was beneficial, and added that playing on the road was not a concern.

"We lost a game that we were traveling to anyway, so that was not a bad thing for us," she said.
Although the correspondence with KU was random, Jarnigan said SIU has ties to the Sunflower State.
She and her husband coached volleyball and football, respectively, at Bethel College in North Newton for five years. And the father of KU track and field assistant coach Paul Thornton was Jarnigan's academic advisor at St. Olaf College in Minnesota when she was in school.
She also received her master's degree in athletic administration from Fort Hays State University.
In addition, the 2020 SIU roster includes Peyton Reeves, a freshman defensive tackle from Basehor who played high school football at St. Thomas Aquinas, and a handful of players from Kansas junior colleges.
"We do have a really fond connection to Kansas and the people there," she said.
With the KU-SIU game now on the docket — time and television details are still to come — the focus shifts to adhering to health and safety precautions so the two teams actually can play.
Practices for both programs are slated to begin Friday and Jarnigan classified her feelings about the chances of the Aug. 29 game happening as "100% hopeful."
"I would be crazy to say I'm 100% confident, given all the news and all the chatter that's out there right now," she said. "But I think moving the start of the season up a week may actually give us a better chance, and it gives us the opportunity to demonstrate that this can work."
Like the Big 12, the Missouri Valley Football Conference, which is slightly different from the Missouri Valley Conference in basketball, is taking a measured approach to analyzing the landscape for fall sports in 2020.
On Monday, the MVFC Presidents Council put out a statement saying, "patience is warranted regarding any decision to modify the 2020 fall season."
The statement added that conference officials see "merit in delaying as long as there remains a possibility to provide a safe competitive opportunity for MVFC student-athletes."