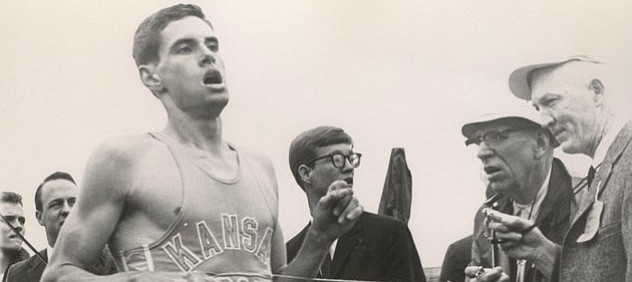 Olympian and former Republican congressman Jim Ryun doesn't know whether it was his athletic accomplishments or his years of political service to his country that earned him the Presidential Medal of Freedom, the nation's highest civilian honor.
But whichever one it was, he said he's honored by the gesture.
"I've had many people ask me the question of why now," the 73-year-old University of Kansas alumnus told the Journal-World during a phone interview from Washington, D.C., on Wednesday afternoon. "That'd be a good question to address the White House with. I just know I'm receiving it, I'm very honored and it's a great privilege."
On Friday, with his wife, Anne, their children and a dozen or so close friends in attendance, Ryun will become the most recent recipient of the medal, which, according to the White House, is given to "individuals who have made meritorious contributions to national interests of the United States."
"I think he's in a little bit of shock," Anne Ryun said. "But it's very exciting. Very, very exciting."
It is not uncommon for former athletes to receive the honor. In fact, another sports figure with Kansas ties — KU alumnus and legendary North Carolina basketball coach Dean Smith — received it in 2013. And in 2019, Bob Cousy, Roger Penske, Mariano Rivera, Jerry West and Tiger Woods joined the list of recipients.
• • •
Ryun wasn't always a success in the sports world. Long before the Wichita native became the first high school athlete to break the four-minute mark in the mile, he struggled to make a team.
"When you get cut from the church baseball team, there's not a real bright future there," he said.
Unable to catch on just about everywhere he tried, Ryun turned to his faith to help him through the tough times of wanting to play sports but continually being told he wasn't good enough to do so.
Soon enough, Ryun found his passion in running. And in 1964 — coincidentally, one year after President John F. Kennedy established the Presidential Medal of Freedom — Ryun entered the record books by becoming the first high school runner to break the four-minute-mile mark.
From there, Ryun took his talents to KU, where he ran for track coach Bob Timmons and set numerous school records. Before his athletic career was finished, he competed in three Olympics, winning a silver medal in 1968 in Mexico City, and was named Sports Illustrated's Sportsman of the Year in 1966.
"To have things unfold like they did is just hard to believe," Ryun said on Wednesday. "I know coach Timmons would sometimes say, 'You know, this isn't a fairy tale. It's a real story. And that's you.'"
• • •
Ryun kept adding chapters to that story long after the end of his athletic career. He represented Kansas' 2nd District in the U.S. House of Representatives from 1996 to 2007, and he now holds camps to help young runners realize their potential.
He and his family have known about the latest chapter in the story for a while — they found out in early March that Ryun would be awarded the Presidential Medal of Freedom.
The presentation had to be postponed because of the COVID-19 pandemic, but the longer wait hasn't taken any of the excitement away, the Ryuns said.
"This is a thrill," Anne Ryun said. "So many people have said that Jim is so deserving, but you still just go 'whoa' when you think about it actually happening."
Ryun said he did not anticipate being nervous during the ceremony, and he had some idea of what he wanted to convey while accepting the honor of a lifetime.
"These things don't happen without a lot of help from other people," Ryun said. "And I really just want to be able to express myself. That's the thing I'm most concerned about; to be able to give a real tribute to those things and people that made for such an opportune life."