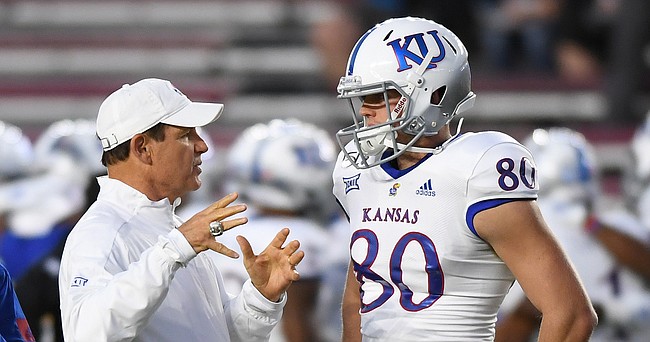 University of Kansas senior Kyle Thompson was one of 19 punters in the country named to the Ray Guy Award preseason watch list on Wednesday.
Three of the 19 do their kicking in the Big 12 Conference.
The 2020 watch list, which annually aims to identify the nation's best collegiate punter, includes a mixture of punters from the 2019 Ray Guy Award semifinalist list, the 2019 all-conference teams, the 2019 All-American teams and the 2020 preseason all-conference teams.
This season marks the second consecutive year that Thompson has been named to the list.
A native of El Cajon, Calif., Thompson also was named to the Ray Guy Award's midseason watch list in 2019, when he received honorable mention all-Big 12 honors.
During his time at Kansas, Thompson has punted 130 times for 5,671 yards, good for an average of 43.6 yards per punt In 2019, he punted 57 times and averaged 44.5 yards per kick.
He currently ranks third in KU history in career punting average and 10th in total punting yardage. His career-best boot of 76 yards against Texas in 2018 was the 11th longest punt in Kansas football history.
The Ray Guy watch list figures to grow in the months ahead, when nominations are taken from throughout the country for inclusion on the list.
The complete list will be released on Nov. 10 and it will be trimmed to 10 semifinalists on Nov. 24.

From there, a panel will pick three finalists before voting on the winner, who will be honored on Dec. 10.