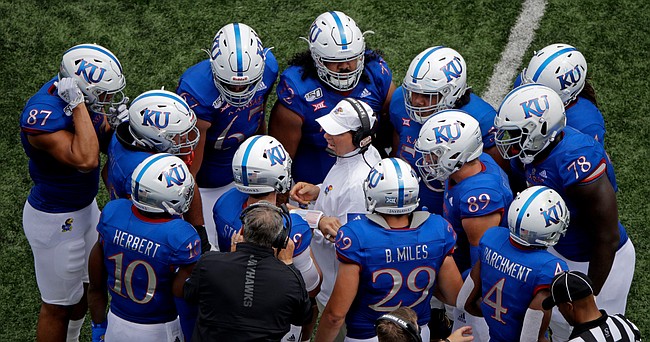 The Kansas football program found itself in the familiar position of last place when the 2020 preseason Big 12 Conference media poll was released Friday afternoon.
KU, which finished 3-9 during head coach Les Miles' first season in Lawrence in 2019, finished 10th in the 2020 preseason media poll by a wide margin.
Kansas picked up 100 points from the 90 voters who participated in the poll. Meanwhile, ninth-place Texas Tech finished with 267 points.
The math shows that not every ballot had Kansas in last place. But most did, just as most pegged Oklahoma as the preseason favorite for the fifth year in a row.
The Sooners picked up 80 of the 90 first-place votes available, with Oklahoma State grabbing six first-place votes and Texas snagging the final four.
Friday marked the 10th consecutive preseason poll in which the Jayhawks have been picked to finish last in the Big 12.
In eight of the previous nine seasons, under four head coaches, KU finished exactly where the Big 12 media believed it would in the final conference standings.
The lone exception was 2014, when KU, at 1-8 in Big 12 play, finished in ninth place, one game ahead of Iowa State, which finished 0-9 in Big 12 play in 2014.
Interim head coach Clint Bowen, who took over for Charlie Weis four games into the 2014 season, led the Jayhawks to the win over the Cyclones that temporarily lifted them out of the Big 12 cellar.
The last time KU was picked to finish somewhere other than 10th in the Big 12 preseason poll was 2010, when the conference still had two divisions and 12 teams.
KU was predicted to finish fourth in the six-team Big 12 North that season, but finished last in the division in Turner Gill's first season, going 1-7 against conference foes and 3-9 overall.
Kansas has not won more than three games in a single season since going 5-7 in the final season of Mark Mangino's tenure in 2009.
In the 10 seasons since Mangino departed, KU has won three games four times, two games three times, one game twice and gone winless once. All of it adds up to an average of two wins per season in the post-Mangino years.
Miles' arrival brought hope back to the KU fan base, and the Jayhawks won three games in Miles' first season. The Jayhawks won six games total in the past two seasons — one more game than they won in the four seasons before that combined — and some believe that Kansas could take yet another step forward during Miles' second year.
In order to do that, the Jayhawks will have to find a replacement for 2019 quarterback Carter Stanley, who delivered the best statistical season by a KU QB since Todd Reesing. KU also will need to find a way to replace nearly the entire secondary and a couple of key offensive and defensive linemen, all while doing it with a coaching staff that features five new faces among Miles' top 11 assistants.
Overcoming the COVID-19 pandemic could be KU's biggest challenge this season, but KU Athletic Director Jeff Long told the Journal-World on Wednesday that he was optimistic that there would be football this fall and that KU's upcoming season would be a good one.
"We're excited," Long told the Journa-World. "You know, we're building a program, and I'm confident we are going to take a step forward this year."
2020 Preseason Big 12 Media Poll
1 – Oklahoma, 888 (80)
2 – Oklahoma State, 742 (6)
3 – Texas, 727 (4)
4 – Iowa State, 607
5 – Baylor, 489
6 – TCU, 477
7 – Kansas State, 366
8 – West Virginia, 287
9 – Texas Tech, 267
10 – Kansas, 100