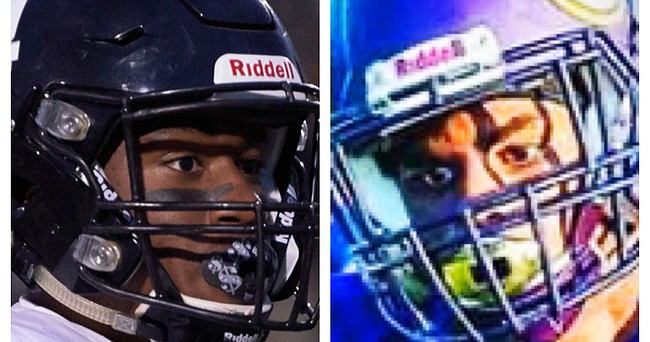 Lawrence High senior Devin Neal had a feeling that the Kansas football program would get good news last weekend, when four-star wide receiver Keon Coleman committed.
But Neal made sure to check in with Coleman before the announcement anyway.
During the past couple of weeks, the two future Jayhawks have spoken a few times on the phone to lay the foundation for a relationship they both hope will bring a lot of points and production to Lawrence in the years to come.
Beyond their obvious similarities — they're the same age, play offense and are two-sport stars — the two share a couple of recruiting connections, as well. Most notably, they're the two highest-ranked prospects, per 247 Sports, to commit to KU in the same class, and they both said they believed KU was the place for them all along.
"It wasn't a very hard decision for me," Coleman told the Journal-World of picking KU over Oklahoma and South Carolina. "My heart was with Kansas the whole way. They won me over."
"I knew from the get-go, on my first visit, that I had the complete love from the whole KU coaching staff," Neal said during a phone interview after Coleman's commitment. "Every single offensive staff member talked to me throughout the week at least three or four times. And I'm sure they do that for every single recruit. They want to make sure you feel the love and know that you're wanted."
The 6-foot-4, 188-pound Coleman, who hails from Opelousas, La., said a big reason for his connection with the Jayhawks was the bond he built with the coaching staff, specifically receivers coach Emmett Jones, head coach Les Miles and offensive coordinator Brent Dearmon.
Jones, who will be Coleman's position coach at Kansas, played a particularly important role.
"We connected on all different levels," said Coleman, who joked that Jones can't cook and eats "some nasty food." "We had all kinds of conversations. Some of them were football-related and some of them were about my life growing up. He could really relate to me."
Neal, a four-star running back who stands 5-foot-11 and weighs 208 pounds, also built a bond with Jones, first during KU's summer team camps a couple of years ago and more recently during his recruitment.
"He's just a phenomenal coach," Neal said. "He truly cares about his players and his job. He doesn't even consider it a job because he loves doing it.
"When you have a coach like that, the sky's the limit," he added. "You're going to pick up a lot of great recruits, great athletes and great people."
Most recruiting analysts say Neal and Coleman are just that. Both picked Kansas over heavy interest from other Power Five programs, and both have the potential to make an immediate impact when they arrive on campus next summer.
There's a reason the current KU coaching staff wants players like Neal and Coleman — they fit in well with the type of offense that Kansas wants to become. During the time he was in charge of the offense last season, Dearmon showed glimpses of that style and what it could mean for the Jayhawks on the scoreboard and in the win column.
"We're going to be a team that wants to play fast, and (Coleman is) that every-down wide receiver threat," Neal said. "Picking up those types of guys is what's going to take this thing to the next level. I'm super happy that he chose KU, and I'm just excited to see where KU goes."
The plan, Neal said, is to get KU back on track and competing for championships. But both he and Coleman said they were aware that reaching that destination takes more than quality recruiting and a buzz around the program.
"What it all comes down to is how hard are we going to work to achieve those goals," Neal said.
In addition to helping turn the football program around, both Coleman and Neal will be busy with other sports, too. Neal is slated play baseball, and Coleman plans to walk on to the KU basketball team.
Coleman said he had three or four conversations with KU basketball coach Bill Self during his recruitment. He said he promised Self that he would give basketball the same effort and commitment that he approaches football with.
"I can't pick between the two, so I decided to play both as long as I can," said Coleman, who did not start playing organized football full-time until ninth grade.
Asked to describe his game on the hardwood, Coleman classified himself as a team player.
"I make my teammates better," he said. "I can do pretty much anything you need me to do on the court, and I like to play defense and get rowdy and make some noise."
As for the message he got from Self about his opportunity as a walk-on?
"I'm going to contribute to the basketball team just as much as the football team," Coleman said. "I have a chance to go out there and compete and try to win a national championship in basketball, too, and I'm really looking forward to both opportunities."