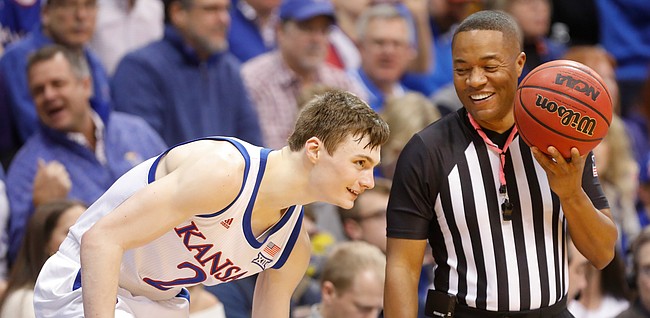 Stillwater, Okla. — Kansas freshman Christian Braun had the duration of Monday night's pregame routine to adjust to the idea of joining the Jayhawks' starting lineup at Oklahoma State.
Luckily for Kansas, he didn't need more time than that.
Making the first start of his suddenly soaring Kansas career, the 6-foot-6 guard from Blue Valley Northwest dropped 16 points on 5-of-11 shooting and added 9 rebounds in 33 minutes to help third-ranked Kansas top Oklahoma State 65-50 at Gallagher-Iba Arena.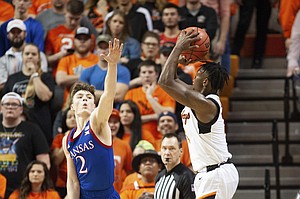 "Being in the starting lineup's not much different," Braun said after the victory. "You just have to be one of the guys to start it off right."
Braun did exactly that, knocking in two of his four 3-pointers in the game's opening minutes and playing with the kind of ferocious fire that got him the opportunity to start in the first place.
He grabbed loose balls, pressured and played passing lanes on defense and hit the offensive glass for three of his nine rebounds, including a crucial one in the final seconds of the first half that helped settle the Jayhawks' nerves after OSU had trimmed a 17-point Kansas lead to a single point late in the first half.
"Confidence" is the one word that keeps coming up most when Braun's recent surge is discussed around the Kansas basketball team.
Braun uses it to describe his own play. His teammates use it as an explanation for why he's on the rise and how he gets so hot. And coach Bill Self uses it as an example of exactly what he wants to see from all of his players — not just a young guy getting his first chance at a major impact.
"There's still some things that he's doing slow, maybe hesitating a little bit," Self said. "But he's just starting to figure it out."
Self always has loved Braun's grit and willingness to stick his nose in there and save or steal a possession. And even though that was virtually nonexistent as the freshman felt and thought his way through the first third of the season, it has arrived in force of late.
But it's Braun's ability as a shot-maker that has Self most excited about Braun's potential, at least for now and with this team.
"We just need to get some guys that can make some shots, and he certainly gives us a better opportunity to make them," Self said. "He's a good shooter. So if a guy goes under a ball screen, he shows confidence to jump up and shoot it."
Braun did that plenty on Monday night.
Asked what he was thinking before letting a particularly deep 3-point make fly along the far sideline across from the Kansas bench in the second half, Braun paused and smiled before answering.
"I don't know if I remember that one," he said. "I was probably just open. ... I don't really check where my feet are. If I'm open, I'm going to let it go."
Added junior guard Marcus Garrett, who assisted on one of Braun's four 3-pointers Monday and constantly has remained in Braun's ear about shooting when he's open: "He never believes he's deep. He just shoots it."
Now five weeks removed from his breakout at Villanova, where he filled in for an injured Garrett and showed the kind of fire and tenacity for which he always has been known, Braun appears more comfortable than ever.
Taking away his 4-minute outing at Texas, which definitely seems more like the exception than the rule at this point, Braun has averaged 28 minutes a game in January and is shooting 56% from 3-point range (14 of 25), including 11 3-point makes in his past three games.
His teammates and coaches always knew the sweet shooting stroke was there. And they always believed it would help this team this season.
Braun's comfort and maturity seem to grow each game, and those traits have the Jayhawks most excited about his progression. Now when he thinks the game, he looks like a veteran finding a way to deliver instead of a newcomer trying to find his way.
He also talks that way. Consider his explanation of the offensive rebound and short floater just before halftime on Monday night that gave Kansas a more-comfortable 5-point lead as his latest example.
"When it came off the rim, (the Oklahoma State defender) didn't box me out and I just went and got it," Braun began. "I knew we had to make a play. We went scoreless for a long time and they were coming back, so you have to make momentum-shifting plays like that. The ball came, so I just had to put it in."
It wasn't just Braun's presence and production out of the starting spot that Self was thrilled about after the victory. He also was pleased with the way senior guard Isaiah Moss handled the role of not starting.
Moss had started two previous games for the Jayhawks this season — the win at OU when Devon Dotson was injured and last Saturday's home win over Tennessee when David McCormack was suspended. He finished with 13 points on 4-of-9 shooting in 20 minutes in a reserve role on Monday night.
"I wanted to give Isaiah a chance to start (last week) and I didn't think it worked out too good Saturday," Self said after Monday's victory. "So (Braun) was the direction we decided to go and I'm glad we did. He was really good. Isaiah was good off the bench, too. So to get 29 points from that position, I think was a big bonus for us."
With forward David McCormack returning from a two-game suspension this weekend, the Jayhawks (17-3 overall, 6-1 Big 12) will not be as short-handed as they have been in their last two games.
But Self said Monday night that he likely would continue to start four guards, bringing McCormack off the bench to backup Udoka Azubuike. And Garrett said he knew all along that such a scenario eventually could include Braun.
"When he first got here and I saw him play, I told him he was going to play this year. I told him we were going to need him," Garrett said Monday. "And I always tell him, 'There ain't no pressure. Just go out there and compete.'"
After a few days off, the Jayhawks will head into another Saturday-Monday turnaround later this week, hosting Texas Tech at 3 p.m. Saturday and Texas at 8 p.m. Monday.