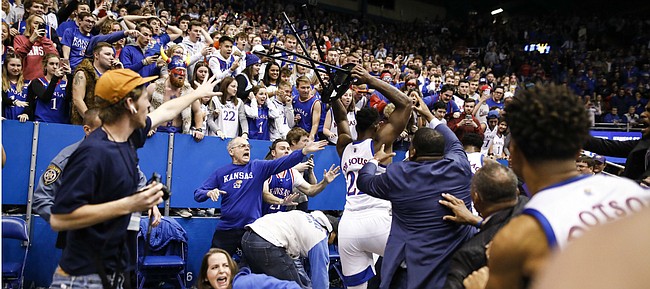 An otherwise uneventful Sunflower Showdown spiraled into chaos in the final seconds Tuesday night at Allen Fieldhouse, as a fracas surrounding Kansas big man Silvio De Sousa spilled into the courtside seats.
What began innocently enough, with Kansas State freshman guard DaJuan Gordon stealing the ball from De Sousa, turned into an all-out brawl involving players from both rival teams at the conclusion of Tuesday's 81-60 Kansas victory.
De Sousa raced to swat away Gordon's layup attempt, and after the substitute forward stood over his opponent, the confrontation didn't end with words being fired back and forth.
A few of the Wildcats who were on the court took umbrage with De Sousa's decision to show up Gordon, and in a matter of seconds, all hell broke loose.
Though some players from both teams tried to split up the heated scrum, it didn't do much good, as other players and coaches from the two programs escalated the altercation.
As bodies clashed and stumbled, De Sousa at one point found a stool and lifted it above his head, appearing ready to swing it at one of his opponents.
During the melee, assistant coach Jerrance Howard rushed to attempt to take the stool out of De Sousa's hands before the junior forward could swing it.
Photo Gallery
Kansas basketball v. Kansas State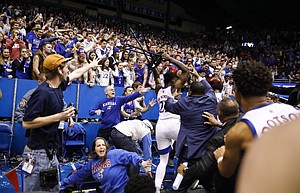 View a gallery of images from Tuesday night's game between the Jayhawks and Wildcats at Allen Fieldhouse.
"I actually saw that," said KU head coach Bill Self, who repeatedly called the skirmish embarrassing. "I was there when that happened. Regardless of what happened, it's a terrible image and there'll certainly be consequences for that."
Both teams, which left the floor thinking the game had ended, had to return to the court from the locker room as 1 second was put back on the clock, ejections were handed out and a technical foul was assessed.
Self explained that the only players who weren't ejected in the game's final seconds, per the officials, were the 10 who were on the floor when the fight went down. Every player from KU and K-State who was on the bench at that moment, with the game all but over, was ejected for leaving the bench area. De Sousa also picked up a technical foul for taunting.
Videos of the fight showed both De Sousa and K-State forward James Love III, who did not suit up for the game, throwing punches.
"I know that we were in the wrong," Self said of everything that transpired. "I'm not saying that both parties weren't in the wrong, but I know we were involved."
Self said he was in the middle of shaking hands with K-State coach Bruce Weber as the final play was going down on the other end.
"I did not see what transpired until everybody started running down there," Self said. "That was an embarrassment on our part. There will be consequences that I'm sure I'll announce (Wednesday)."
No players from either team were made available for postgame interviews.
Weber said he didn't see how the incident unfolded because his back was to the action.
"You win with class, you lose with class. Disappointing that anything happened at the end," Weber said.
K-State's coach explained he had told his players not to press or foul in the final seconds, but young players were on the court and they didn't follow his lead. "I had told them not to foul. I told them back off."
While Weber said during his press conference that he hadn't seen any video of the fight at that time, he added that the actions of K-State's players were his fault, because they were his players.
"They obviously just came here wanting to have a game and compete. Probably some frustration, especially from the young guys," Weber said, adding he hoped they would get "life lessons" from the experience. "Good fortune no one got hurt."
Because the confrontation mostly took place behind the baseline in the south end of the fieldhouse, there was some fear afterward that some fans might have been injured as a result. However, KU officials said after the game there were no reports of any such incidents.
"That was our first priority," Dan Beckler, associate athletic director for public relations, told the Journal-World. "The safety of our fans is the No. 1 priority of Kansas Athletics."
While fielding questions on the incident, Self looked disturbed by the fact that the scuffle took place where many KU fans in wheelchairs sit to watch home games.
"At least take it on the court or whatever," Self said. "It's ridiculous that they would go into the stands."
KU Athletic Director Jeff Long also released a statement about Tuesday's events.
"The conduct of a few of our student-athletes at the conclusion of tonight's game versus Kansas State was simply unacceptable and not reflective of who we are," Long said. "Coach Self and I will review the incident, along with the Big 12 Conference and Kansas State to determine appropriate consequences. There is no place for this conduct in college athletics or here at KU. I would like to apologize to the Big 12 Conference, Kansas State University, Gene Taylor (K-State athletic director), Bruce Weber and all fans for the lack of sportsmanship from members of our team this evening."
As for how it all began, with Gordon going for a steal and layup that would not impact the outcome, Self said he didn't think KU should take offense.
"I'm not going to place any blame on Gordon going and taking that ball," Self said, also calling De Sousa going up to block the shot "fair game."
Self called the whole ordeal "inexcusable."
"This doesn't have anything to do with competition," KU's coach said of the fight. "Those were selfish motives."