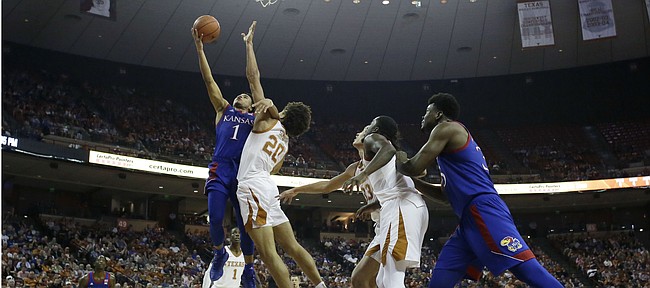 Austin, Texas — Returning from a one-game absence because of a hip pointer affecting his left hip, Kansas sophomore Devon Dotson was as good as ever on Saturday, playing 39 minutes, scoring 21 points and helping No. 6 Kansas hold off Texas 66-57 at Frank Erwin Center.
There was no minute restriction, no plan of action for how much he would be called on or how much he could handle.
But it wouldn't have mattered even if there were.
"I'm fine," Dotson insisted after Saturday's victory.
The decision to return to the floor against the guard-heavy Longhorns was entirely in Dotson's hands. But Kansas coach Bill Self said he thought his team's strong showing at Oklahoma earlier in the week may have inspired his point guard to be in uniform on Saturday.
"I think the fact that we played pretty well against Oklahoma was probably some motivation that we can play without him," Self noted after the KU victory. "But if we'd have played without him today, obviously, we would not have won. He was the difference."
Dotson's 21-point day, which came on 6-of-16 shooting and included an 8-of-9 showing at the free-throw line, marked the fifth 20-point game of the season for the sophomore from Charlotte, N.C., and the seventh such game of his KU career. He added three assists, six rebounds and a steal to his final line and drew five fouls in the process, constantly putting pressure on the Texas defense in the half court.
Two of his biggest moments came in the game's waning minutes with KU trying to close out the victory.
Up 5 with 3:38 to play, Dotson buried a deep 3-pointer from in front of the KU bench — his only 3-point make of the day — to give the Jayhawks (14-3 overall, 4-1 Big 12) their largest lead of the game to that point.
Self described the moment as "the right guy made a long 3," and Dotson said the defensive confusion by Texas in front of him inspired him to pull the trigger.
"It was like a little ball screen and they were deciding whether to switch and the big kind of backed up and I just tried to rise up and knock it down," he recalled. "It was big. Just trying to make a play. The shot clock was winding down and I was just trying to get a bucket."
A few possessions later, after UT (12-5, 2-3) had closed the gap to 5 and nearly cut it to 2 after a 3-point try from Courtney Ramey missed off the front of the rim, Dotson drained two clutch free throws with 39.4 seconds to play that ended any hopes the home team had of a comeback.
Dotson added two more free throws 13 seconds later to set the final margin and close out the game.
"It was just a matter of getting stops at the end and executing down the stretch," Dotson said.
Self agreed, saying that what his team showed defensively throughout the second half was the difference between winning and losing on Saturday.
Despite the way things finished, there was no guarantee this one would go that way most of the afternoon.
KU got off to a strong start and scored 12 of its first 17 points in the paint to take an early lead. But the Jayhawks' hit a serious drought from there.
KU was scoreless for 6:37 of the first half and did not make a field goal for 7:50, leaving room for Texas to erase the early deficit and build a 5-point halftime lead.
Senior Udoka Azubuike (17 points, nine rebounds and eight fouls drawn) said the emphasis at halftime was on KU's defense. But on the first possession of the second half, the Longhorns got a lob dunk from Jericho Sims (20 points, six rebounds) to push their lead to 7.
From there, the Jayhawks tightened the clamps, inside and out, limiting UT to just 9 points over the next 9:09 and holding Texas to 40.7% shooting in the second half, including a 1-of-9 clip from 3-point range.
Texas, which drained 15 of 32 3-point attempts in a midweek win over Oklahoma State, had hit 5 of 11 3-point tries against Kansas in the first half.
"They put those four guys out there that can all shoot it and in the first half we made some bad mistakes and over-helped off some of (their) guys that are their best catch-and-shoot guys," Self said. "I think we did a better job of that in the second half."
Added Dotson: "We tried to be more conscious of that in the second half, you know, don't help out too much, just making sure where the shooters are at all times."
It was not just improved play from KU's guards that turned around KU's 3-point defense in the second half.
"I think when you have Dok in there hedging ball screens and things like that, it does deter the perimeter from getting looks because he's so big," Self added.
Self was thrilled with how Azubuike played throughout Saturday's game.
"I thought Dok played great," Self said. "I did."
And it was the senior center's 10 points in the first 5 minutes of the second half that helped KU reclaim control.
Eight of Azubuike's 10 second-half points came during a 10-0 Kansas run, and Dotson and junior Marcus Garrett took the baton from there.
After leaving the game for a couple of minutes following a hard fall that sent him to the locker room, Garrett scored four driving baskets in a 5-minute stretch that helped the Jayhawks' reach the finish line first.
He scored in transition, tipped in his own miss and hit a tough floater in traffic. But his driving layup with 3:45 to play and KU leading 56-54 — just before Dotson's dagger 3-pointer — might have been Garrett's biggest play of the game.
Initially ruled a charge by the officials, the call was quickly reversed and turned into a 3-point play for Garrett that put the Jayhawks up 59-54.
"I think it was in the restricted area," Dotson said smiling. "I thought it was a good call. Marcus went in and made a great attacking play, got the and-one and knocked down the free throw."
As for how Dotson's hip responded to the heavy workload and return to action, the KU sophomore was hardly worried about that after the victory.
"I feel pretty good," a smiling Dotson said. "There are some times where you feel it a little bit. But I'm going to be steady getting treatment and it's going to be fine."
Next up, Kansas hosts Kansas State at 6 p.m. Tuesday at Allen Fieldhouse.