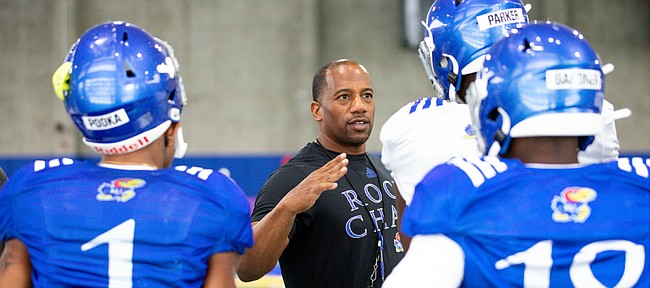 When the University of Kansas promoted the football team's receivers coach, Emmett Jones, to passing game coordinator and extended his contract, the administration also made sure to make it a little less appealing for other teams to hire him away.
Jones' new deal with Kansas Athletics, gave him a raise that will pay him $300,000 a year, for as many as six years, with the first two guaranteed.
But if another program tried to lure Jones away from Lawrence, it would cost that team a $600,000 buyout.
According to a recent report from 247Sports, Jones was a potential candidate for the formerly open receivers coach position at the University of Texas. Per Jones' new deal, signed on Dec. 13, 2019, it would have cost the Longhorns that $600,000 figure to bring in Jones.
What's more, per the contract, Jones would need to obtain permission from Kansas Athletics in order for him or his representation to speak with other schools about potential coaching opportunities.
The extension guarantees Jones' contract through the end of the 2021 season (it expires Feb. 28, 2022). He could potentially remain with the Jayhawks through the 2025 season, if Kansas Athletics exercises each of the final four optional years of his contract.
The new base salary will pay Jones $225,000 in every year he is under contract, as well as $75,000 in personal services payments every year.
His original deal with KU was for four years, with only the 2019 and 2020 seasons guaranteed. Kansas Athletics had options for the third and fourth years. His initial contract with KU paid him $240,000 in total salary the first year he worked at KU.
The extension for Jones included a number of incentives tied to the team's success each season. Jones would not be eligible to receive any of the postseason incentives if he left KU to take another job and didn't participate in a given postseason game.
He could receive the highest possible of the following noncumulative bonuses, with the amount coming as a percentage of his total yearly salary figure ($300,000):
• 5% if selected for any bowl game
• 7.5% for any bowl game win
• 10% if selected for a New Year's Six bowl game
• 15% for a New Year's Six bowl win
• 15% for making the College Football Playoff
• 20% for one College Football Playoff win
• 25% for winning the national championship
There's also a separate 5% bonus for KU making the Big 12 Championship Game, regardless of the result.