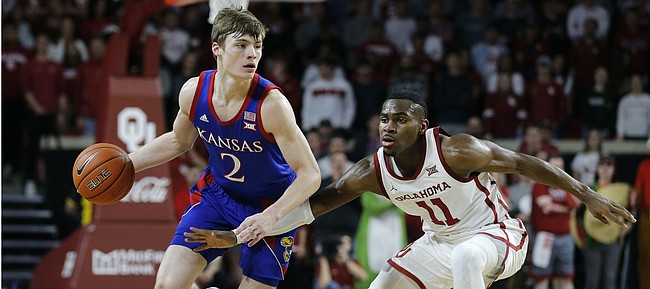 Norman, Okla. — Deep as it is at full strength, take away one of this Kansas basketball team's most important players and it starts to look a lot more beatable.
The Jayhawks didn't need to play a game without Devon Dotson to understand just how critical the starting point guard is to their success. They had to experience it, though, Tuesday night at Lloyd Noble Center, when Dotson's lingering hip injury kept him out of the KU lineup for the first time in his two seasons on campus.
Losing your team's leading scorer (18 points per game) and distributor (4.4 assists) is never ideal, particularly on the road. And while you can talk yourself into the idea that KU found some positives in its circumstances — see: Christian Braun and Isaiah Moss getting repetitions in more prominent roles — the overwhelming takeaway is that the Jayhawks will be in trouble if Dotson were to miss an extended period of time.
Sure, No. 6 KU got out of Oklahoma with a 66-52 win, but the odds of repeated victories without one of its best two-way players are slim.
Document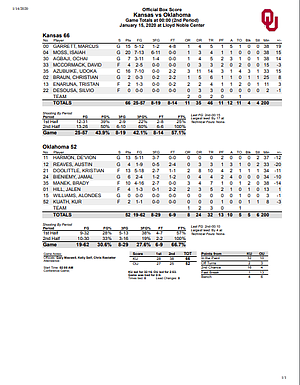 The evidence piled up against the Sooners. KU, before losing its standout sophomore, only had two consistent drivers on offense, with Dotson being one of them. Once the point guard was ruled out, that left junior Marcus Garrett as the only trustworthy attacker off the bounce. Ochai Agbaji tried his hand at it, and it worked sometimes, proved unreliable at others. Moss might be able to do a little bit of it with the help of a ball screen, but when he goes to the paint he's only impactful as a scorer, not a passer.
No one on the roster, including Garrett, is as deft a finisher off the dribble as Dotson. The KU offense, which scored 28 first-half points on 12-for-31 shooting (38.7%), lost a crucial dimension of its offense with Dotson sidelined.
The chances at fast-break points fall off a cliff as well without the speedy Dotson, who so often singlehandedly creates those by jetting through a passing lane and turning a swipe into a transition layup for himself or a teammate.
Then there's that little matter of running the offense. Garrett could actually play point guard for 30-plus minutes easily — he's a better passer than Dotson anyway.
The issues arise when Garrett comes off the floor. At one point in the first half at OU, freshman Braun became the point guard, when Bill Self had to get Garrett a breather. That first experiment lasted all of 1:19 on the clock. But Self had to go with the Garrett-Agbaji ball handler lineup again, even if briefly, because it was inevitable.
It wasn't long ago that Self mentioned he only really feels comfortable with at least two of his three starting guards — Dotson, Garrett and Agbaji — on the court. The uncomfortable zone obviously is unavoidable at times as long as Dotson's out.
The uneasiness, no doubt, rises when the Jayhawks are trying to get stops as well.
In a guard-driven league, KU needs all three of its best perimeter stoppers cutting off drives, creating deflections and harassing opposing guards in order to peak defensively and show off its true strength, its team defense.
Kansas typically has the luxury of sending out a trio of guards who can put together strings of stops, with their instincts, footwork and ability to switch. The defensive flow and rotations just don't look the same without Dotson. There's a chemistry to KU's defense when it's thriving, and Dotson is a major part of that.
Look, this team remains talented and still has Self as its coach, so you won't find the Jayhawks complaining about their current situation or feeling doomed just because one player is out of the lineup.
Still, even though they proved they can find ways to function on both ends without Dotson, the longer they have to do that the more unsustainable it becomes. Getting by without him for a night is one thing. Keeping that up much longer will ask a lot of KU's healthy guards.
And now that there's extended footage of a Dotson-less KU for opposing coaches to dissect, it will become less complicated for foes to prepare for those lineups. Once that happens, the rest of the Big 12 should be able to further slow a KU offense that already has experienced its fair share of limitations when at full strength — especially against strong defensive teams such as Duke, Baylor and West Virginia.
There are three Jayhawks this Kansas basketball team can't afford to be without long term: Dotson, Garrett and Udoka Azubuike.
It was unclear Tuesday night how long KU will have to navigate the Big 12 without its speedy scorer and defender. The Jayhawks definitely need Dotson back as soon as possible to maximize their chances of surpassing Baylor and winning that conference championship that alluded them a year ago.