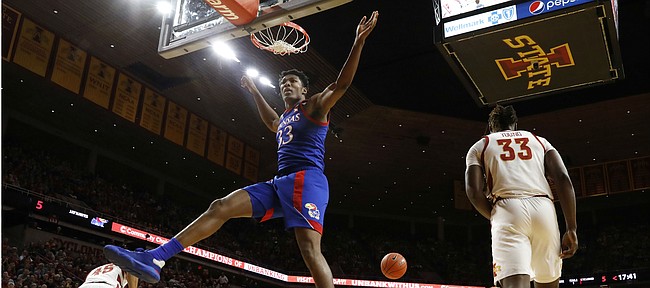 Ames, Iowa — Anyone wondering just how well things went for third-ranked Kansas during Wednesday's Big 12 road opener at Iowa State need look no further than the first-half free throw shooting of KU senior Udoka Azubuike.
Capping off a 21-3 KU run that turned a 2-point game into a 20-point halftime lead for Kansas, Azubuike hit 3 of 4 free throws in the final 45 seconds of the first half and 4 of 5 total in the half to help pace the Jayhawks to a 79-53 victory.
There were, of course, plenty of other things that went right for the Jayhawks (12-2 overall, 2-0 Big 12) on Wednesday night. And a few that went wrong — particularly early. But Azubuike's deft shooting at the free throw line, where he had hit just 35% of his shots heading into Wednesday's game, was the perfect example of how complete KU's latest victory was.
"This was the only time that I can ever remember where we left out of here and we weren't sweating until the last second, or maybe they were celebrating with four minutes left," KU coach Bill Self said after the victory. "... We'll continue to have great games with them. Today wasn't a true indication of Iowa State or how hard it is to play here."
Wednesday's 26-point win was the largest by Kansas in Ames in the Self era and the largest by any KU team inside Hilton Coliseum since a 29-point victory in 2003.
Kansas is now 12-5 in Ames during Self's time in charge, and six of those wins were decided by single digits.
And to think, the Jayhawks played more than nine minutes of Wednesday's first half without junior guard Marcus Garrett.
Garrett injured his left ankle after landing on a teammate's foot following a missed 3-pointer by the Cyclones. Writhing in pain, Garrett was helped off the floor and then taken back to the locker room for further examination on his left ankle.
The 6-foot-5 junior from Dallas, who missed the entire second half of KU's loss at Villanova earlier this season with an injury to his right ankle, returned to the KU lineup with 1:54 to play in the first half and played the first 10 minutes of the second half before calling it a night.
"The middle 20 minutes of the game, I thought we defended pretty well, and it was especially nice for us to see that because Marcus wasn't in the game," Self said. "I thought we played pretty well for the most part without one of our best players."
Self said he thought Garrett was "going to be OK," and that Garrett would likely make "a speedy recovery before Baylor on Saturday."
On most nights, whether Garrett's on the floor is a big deal for the Jayhawks. But on this night, his steady influence and veteran presence were not as critical.
That's because the Jayhawks got quality production from several players in their lineup, using crisp passing and superior size and athleticism to bury the Cyclones (7-7, 0-2) early.
It did not take the Jayhawks long to capitalize on their size advantage down low.
While the Cyclones double-teamed Azubuike on pretty much every catch in the post, the KU big man handled it with plenty of poise.
Three times in the game's first five minutes, Azubuike flipped quick passes to sophomore forward David McCormack diving through the lane. On the first such sequence, McCormack got four cracks at the rim — two off of his own offensive rebounding efforts — and the Cyclones were powerless to stop him.
The sophomore forward scored six points in the early going for Kansas, two of them coming off of a precision pass from Garrett from well above the 3-point line, and finished the night with 16 points and 7 rebounds in 18 minutes.
Sophomore guard Ochai Agbaji also provided an early look at what would become a big night, drilling a corner 3-pointer to kick off KU's scoring and finishing the night with 16 points on 6-of-7 shooting, including 4 of 5 from 3-point range.
The Jayhawks, as a team, connected on 10 of 19 from 3-point range — their highest percentage of the season from behind the arc.
"You prep for Dok, you prep for Dok, you prep for Dok and you prep for (Devon) Dotson and continuous penetration and, man, they killed us from 3 in the first half," Iowa State coach Steve Prohm said after the game. "When they're making (3-pointers) at that pace, they're a tough out."
After leading 46-26 at the half, the Jayhawks needed just eight points in the second half to score enough to win. They got that in the first 3:45 of the second half and then finished the game with some all-time highlights.
McCormack's one-handed hammer dunk on a missed shot with 4:39 to play sent the rest of KU's starters on the bench into a frenzy. And he added a strong flex toward his teammates for good measure.
"Nobody was boxing me out, so I told myself, 'Just go follow it,' and the question was just 'why not?'" McCormack said after the win. "I followed it, I had one hand on it, tried to get a forceful dunk and, if not, put that back and kind of just do what I did in the first half as much as I can."
McCormack's highlight was followed up by an alley-oop finish by Silvio De Sousa on a lob pass from Dotson (20 points, 6 assists). But De Sousa was not about to pretend his slam was anywhere near as impressive as McCormack's.
"Oh, Jesus," said De Sousa when asked about McCormack's monster follow dunk. "That was ridiculous. He's athletic, as you guys know, and just seeing him do things like that makes me happy. You guys could see I was hype. That was just terrific."
So was his flush an attempt to try to one-up McCormack's that came 26 seconds earlier?
"Yeah, yeah, yeah, I tried to do it," he said. "But that wasn't my day."
Those two plays, and the media timeout that followed, sent the ISU fans to the exits in droves. But even that did not stop the Jayhawks from pouring it on.
Christian Braun's crossover 3-pointer at the top of the key accounted for a third of his point total and sent the KU bench into full-on celebration mode.
And De Sousa's drive down the lane that led to nothing but looked like it might have the makings of another highlight also brought the bench to its feet.
"We came ready to play this game," De Sousa said. "We came with the mindset that the crowd was going to be great like last year was. But it wasn't like that today, and we just took advantage of it."
KU's win, along with No. 4 Baylor's victory at Texas Tech on Tuesday night, sets up a Top 5 showdown at noon on Saturday at Allen Fieldhouse.