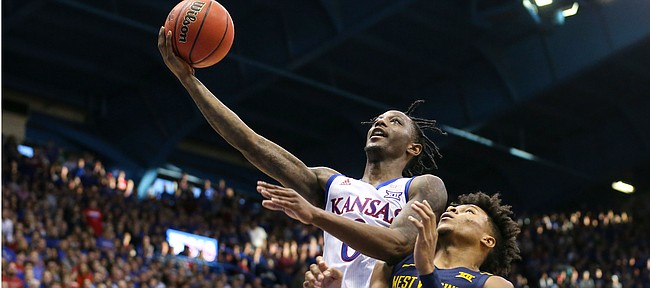 Marcus Garrett tried to warn them.
In the practices leading up to the Kansas basketball team's Big 12 opener, the veteran guard did all he could to prepare his teammates for the type of physicality visiting West Virginia would bring to the conference opener inside Allen Fieldhouse. Garrett spoke of how tough Bob Huggins-coached teams are, how their relentless defense has smothered Jayhawks in the past.
"I think the guys didn't get that at first," Garrett said after a ferocious 60-53 victory for the No. 3 Jayhawks. "I think that's why we started off kind of slow."
Eventually the 6-foot-5 junior guard from Dallas had to go show his KU teammates what it would take against No. 16 West Virginia's stifling half-court defense.
For much of the hard-fought win, Garrett looked like the only Jayhawk hard nosed enough to take on Mountaineer perimeter defenders with confidence, believing he was tougher as a driver than the man in front of him was as a stopper.
It was fitting on a day that even the most trustworthy offensive actions in KU's arsenal resulted in a whole lot of nothing that the toughest player on the roster found ways to create shots for his teammates.
The constant clash for points was enough to erode a lesser player's trust in his own skills. Garrett, though, kept attacking. And KU had to get that type of effort out of one of its best ball-handlers, because more times than not, especially in the first half, when the Jayhawks were 8-for-22 from the floor, Garrett was the only one capable of facilitating some offense in the half court.
Photo Gallery
Kansas basketball v. West Virginia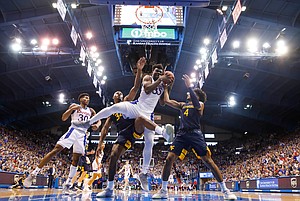 View a gallery of images from Saturday's game between the Jayhawks and Mountaineers at Allen Fieldhouse.
The Jayhawks only assisted on 11 of their 19 field goals against WVU's thwarting defense, and Garrett got credit for six of them. When some of his teammates didn't have a counter for WVU's defense in the first half, the junior kept seeking out driving lanes. Garrett set up Devon Dotson for a layup and a 3-pointer, and later gave Udoka Azubuike the big man's first bucket, a slam with 2:13 left in the first half.
After the break, when KU trailed 30-24, Garrett kept doing what he does best offensively. He set up Ochai Agbaji for a wide-open 3-pointer in the right corner by driving, found Azubuike for another bucket inside and late in the game threw a lob for David McCormack's one-handed jam for a 52-44 lead that felt like a 20-point cushion in a game so wanting in the scoring department.
"Knowing that we've got plays to make, I just want to go make them," Garrett said of setting up shots when they were so hard to come by.
The Jayhawks (11-2 overall, 1-0 Big 12) eventually adjusted to West Virginia's style, and it took Garrett pointing out to his teammates how the Mountaineers weren't helping with perimeter defenders when a KU guard was able to penetrate.
"Usually when you get by your man the help's going to come and you just kick. But they weren't helping," Garrett explained, saying the WVU bigs were the only helpers in the scheme. "So what we started doing was having Dok come out and set high ball screens and just try to get downhill."
After what Garrett called the most physical game the Jayhawks have played this season, he said those droughts and repeated empty possessions in the first half became mentally tasking, too.
"Sometimes they can speed you up and you can forget plays, you can forget scouting reports and things like that," Garrett said of the suffocating defense shown by WVU (11-2, 0-1). "So I feel like you've got to just stay calm and still know what we're doing."
Garrett, who finished with 12 points, six assists and two turnovers in nearly 35 minutes of playing time, thought the turning point offensively came when head coach Bill Self inserted Christian Braun into the lineup to open the second half.
"He helped us out a lot with just being able to drive downhill," Garrett said of Braun, the freshman. "When the space is spread like that it's easier for us to drive and hit Dok on lobs."
That move, of course, allowed Garrett to play as a small-ball power forward for KU.
Said Huggins of Garrett: "He's a hard cover when they play him at four, because he can bounce it so well."
Self shared afterward he felt "sorry" for both Garrett and Dotson in the first half, because they were the only Jayhawks asserting themselves off the dribble.
"I know that's frustrating to him," the KU coach said of Garrett. "But the second half, he got downhill a couple of times. And, you know, even when he shot the threes and missed them, I thought they were good looks and (he was) confident enough to shoot them. And (Garrett) made a couple of big free throws late (with 44 seconds left) — those were big free throws up three and going to shoot the front end late."
Of course, Self loved Garrett's defense even more, pointing not only to when Garrett swiped the ball from WVU big Derek Culver up top and took off for a layup in the second half, but the way Garrett turned the 6-10 forward into a non-factor.
"The guy didn't score in the second half, did he?" Self said of Culver's 0-for-1 line from the floor in 15 second-half minutes, noting the big's only points came at the foul line (3-for-5) as KU rallied to win.
Growing as a leader, Garrett always gives the Jayhawks toughness. And against West Virginia that example proved critical. KU had to play with grit on both ends of the court. No one did so better than Garrett.
"That's what I try to do," Garrett said. "I just try to make plays."