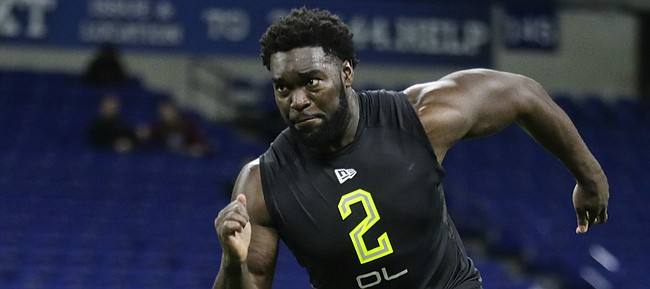 Hakeem Adeniji had four seasons worth of starts at the University of Kansas to prove himself as a pro football prospect. Finally, on Friday at the NFL Scouting Combine in Indianapolis, the offensive lineman got to display his strength, speed and athleticism in front of dozens of NFL coaches, scouts and decision-makers all at once.
The Jayhawks' former starting left tackle, who measured at 6-foot-4 and 3/8 inches and weighed 302 pounds, sprinted to a 40-yard dash time of 5.17 seconds, bench pressed 225 pounds 26 times, leapt 34 inches vertically and registered a broad jump of 115 inches.
Regardless of which NFL team ultimately decides to add Adeniji to its roster, it remains to be seen whether he will remain a tackle at the next level, or move inside on the O-line.
Adeniji, a Garland, Texas, native, told USA Today's Draft Wire earlier this week even he doesn't know which position he'll ultimately play, or whether he might get a chance to keep playing left tackle, like he did at KU the majority of his college career.
"Some NFL teams have told me that they like me on the left, but they think that right tackle is also a possibility for me," Adeniji told Draft Wire. "I've even heard a little about me moving inside to play guard. I played some guard at the Senior Bowl. I know that I'd be a great left tackle, but it's not really up to me. I'm gonna play wherever they put me. I have a lot of experience playing left tackle but I know that I'm gonna excel wherever."
NFL.com draft analyst Lance Zierlein described the four-year KU starter as "durable," and projected that Adeniji could be moved inside to guard for an NFL team.
"Adeniji understands and displays technique, but it tends to get sloppy when his footwork gets him behind in the rep," Zierlein wrote at NFL.com. "He was an imperfect fit in Kansas' move-oriented running game, but could compete for a roster spot in a man blocking scheme where he should be able to play with better control, consistency and push at the point of attack."
Zierlein also noted Adeniji's experience playing tackle could benefit him in pass protection if he's moved inside at the next level.
Earlier in the week, during his media session at the combine, Adeniji said KU head coach Les Miles had conversations with the O-lineman that prepared him for this week and the entire pre-draft process.
"That's my guy. Ever since he got to the program, we were like attached," Adeniji said of Miles, a former O-lineman in his playing days at Michigan. "It's been a big help, having him by my side and in my corner."
CBS Sports' composite prospect rankings, before Adeniji performed at the combine at Lucas Oil Stadium, rated Adeniji as the 118th-best player in the draft, and the 25th-best offensive lineman.
In the 32-team, seven-round draft, if franchises also have Adeniji graded somewhere in that range, it would mean the former KU O-lineman could get selected somewhere around the middle of the fourth round.
The 2020 NFL Draft runs from April 23-25, in Las Vegas.
Former KU linebacker Azur Kamara will go through drills on Saturday at the combine.
KU's annual pro day is set for Thursday, at the Jayhawks' indoor practice facility.