Five players reached double figures, propelling the Kansas women's basketball team to a 83-80 road win over Oklahoma on Wednesday night inside the Lloyd Noble Center.
It was a back-and-forth battle from the start, as KU fell into a 21-19 hole in the first quarter. Kansas (14-12, 3-12 Big 12) then scored 23 points in the second period and 23 more in the fourth quarter to net its second win in the last three games.
The largest lead of the night for either team was 6 points. The Sooners (12-15, 5-10 Big 12), who won the first meeting with the Jayhawks on a 94-82 overtime victory on Feb. 2 in Allen Fieldhouse, have now lost five in a row.
Sophomore guard Aniya Thomas led Kansas with 21 points on 5 of 14 shooting, posting a 9-for-10 effort at the free-throw line. Senior Mariane De Carvalho registered 16 points, while freshman Zakiyah Franklin finished with 15 points. Junior Tina Stephens and freshman Holly Kersgieter added 11 and 10 points, respectively.
Document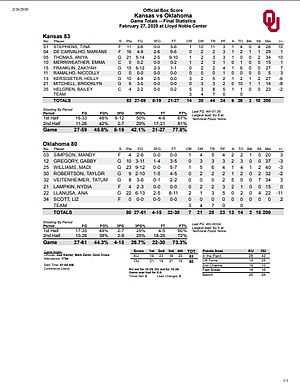 Oklahoma was led by a 23-point effort from Madi Williams, who went 9-for-12 from the field. Ana Llanusa tallied 22 points in the loss, while Gabby Gregory added 10 points. But the key to KU's win in the rematch was holding sophomore Taylor Robertson to just 9 points on the night.
Robertson, a McPherson native who poured in 31 points against KU last time out, didn't hit her lone triple until the final minute of the contest.
Kansas will play host to Oklahoma State at 5 p.m. Saturday.