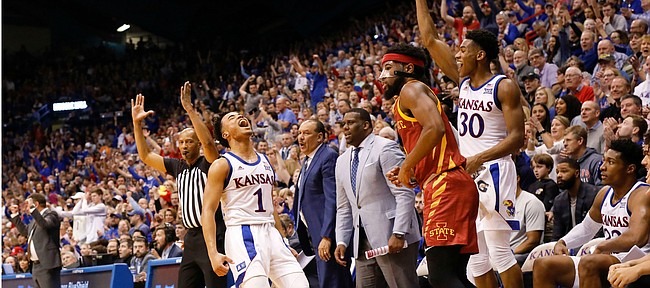 For more than a month, one Kansas player has been in the No. 1 spot of the KenPom.com Player of the Year standings: Devon Dotson.
My colleagues will argue about the importance of Marcus Garrett and Udoka Azubuike, and how the Jayhawks (25-3, 14-1 Big 12) wouldn't be No. 1 in the nation without either one of them. Don't get me wrong, both players are immensely crucial to KU's success this season.
But Dotson is this team's most valuable player for a number of reasons, the biggest of which is that he simply doesn't have an off night. Take away the player with the best chance of earning the highest individual honor in college basketball, and this Kansas team would have no shot of making a deep run in the NCAA Tournament.
Having an elite point guard has long been the biggest key to a team having success in March. So once Dotson decided to return for his sophomore season, KU's chances of capturing a national title were greatly improved.
Dotson even added the hashtag #UnfinishedBusiness to his Twitter post, when he announced he was returning to KU on May 29. It proved to be prophetic, as Dotson has managed to reach another level throughout his sophomore campaign.
After averaging 12.3 points per game as a freshman, Dotson is now shouldering more of the scoring load this year. He is leading the team — and the Big 12 conference — with an average of 17.9 points per contest, while shooting 46% on 351 total shots from the floor. No other KU player has more than 242 attempts from the field this season.
More than that, though, Dotson has provided an unmatched level of consistent production for KU on a nightly basis. Dotson, who has scored at least 15 points in 21 of his 27 contests this season, has also reached double figures in every game except one.
The lone exception? When Dotson scored 9 points in 28 minutes in a 67-55 loss to Baylor on Jan. 11. Dotson sustained a hip injury in that contest, and proceeded to miss the next game as a result. Had Dotson been fully healthy, it is not hard to envision a scenario where that first meeting with the Bears might have gone differently.
Dotson and the Jayhawks both got their revenge, of course, securing a 64-61 win in the rematch with Baylor this past weekend. Dotson played all but three minutes in that game, which helped Kansas reclaim the No. 1 ranking in the AP Poll.
Since the first meeting with Baylor, Kansas has won 13 games in a row. Dotson has been a big reason why, too.
He missed the win over Oklahoma, but Dotson has played in each of the previous 12 games. Over that span, Dotson has averaged 17.8 points per game to go along with 3.8 assists and 1.8 steals per contest.
According to KenPom, Dotson has been considered the team's MVP in five of those 12 games. Azubuike has three MVP performances over that same stretch, while Garrett only has two. For the season, Dotson has 11 such showings to lead both Azubuike (six) and Garrett (two) combined.
It is so easy to focus on what Dotson can't do and why he's back in the college basketball world after testing the waters during the NBA Draft process this past offseason. Dotson still hasn't been very efficient from deep this season, a necessary skill set for a guard hoping to have a prolonged professional career.
However, at this level, Dotson has the traits to be one of the premier players in the sport. He's absurdly quick and great at getting to the rim. Despite his smaller stature, Dotson is able to finish at the rim at a high level.
According to barttorvik.com, Dotson has converted on 109 of his 172 attempts (63.4%) at the rim. Dotson was 103-for-168 (61.3%) at the rim as a freshman. For comparison, Frank Mason made 107 of his 191 shots (56%) at the rim when he won National Player of the Year as a senior in 2017.
Dotson also hardly ever comes off the floor, averaging 34.6 minutes per game. He even leads the team with 56 steals, though Azubuike and Garrett typically get most of the credit for Kansas having an elite defense.
All three players are certainly responsible for what the Jayhawks have done so far this season. But make no mistake, Dotson is KU's most valuable player with three games remaining in the regular season.
And I'm guessing whether or not KU cuts down the nets in Atlanta in April, will ultimately fall on Dotson's reliable shoulders.
More MVP chatter from KUsports.com
— Vote here to make your choice known.