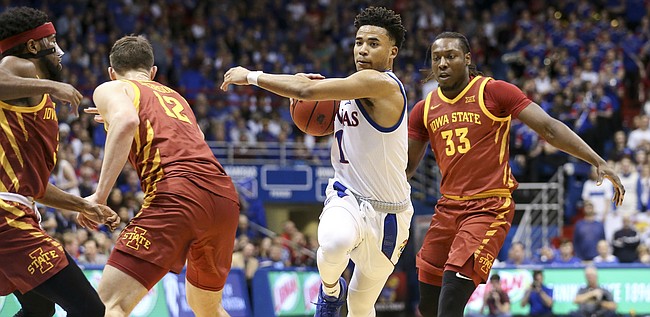 Roughly 30 minutes after Monday's 91-71 victory over Iowa State had gone final, Kansas point guard Devon Dotson was asked his first question of the week about third-ranked KU's looming matchup with No. 1 Baylor this weekend.
The question was simple: Did Dotson think the outcome of KU's 67-55 home loss to Baylor in January would have been different if he had been at full strength for the entire game?
"I don't get into that stuff," Dotson said. "I don't try to look too much to that. I know we lost and we need to improve and look to see what we need to do better from that game and learn from it."
One of the clearest signs that Dotson is close to full speed again came late in Monday's second half, when he replaced wincing and painful grimaces with a celebration that even he was not expecting.
With Kansas leading 72-55 with 10:30 to play, Dotson picked the pocket of ISU guard Prentiss Nixon and raced the other way with Nixon and Iowa State's Tre Jackson giving chase. As Dotson elevated toward the basket for the lay-in, he was hit by both players, drawing a foul on Nixon and receiving an opportunity at an old-fashioned three-point play.
As Dotson landed and turned back toward his teammates, he flexed his muscles and kissed his right biceps.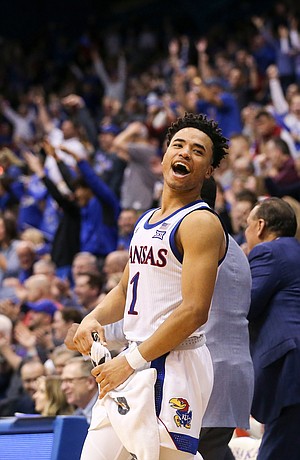 "It was an and-one and every time I get an and-one you've got to flex a little bit," Dotson said, laughing. "I don't know what I did. It was just in the moment and I just felt something to do and I just did it. … I feel good right now."
Said ESPN broadcaster Fran Fraschilla after Dotson's flex and finish: "There's about four or five guys that need to be considered for national player of the year. Throw this guy in the mix."
Dotson entered Tuesday as the only player on the NCAA Division I men's basketball circuit with 450 points, 100 rebounds, 100 assists and 50 steals this season.
Even with that, all Dotson wants to think about now is the next challenge and the chance at redemption on Saturday.
"We know the business we've got to take care of," Dotson said Monday night. "And it should be a good one."
It was in that Baylor loss, on Jan. 11, that Dotson suffered a hip pointer to his left side. The injury came late in the first half and sent the Kansas point guard to the locker room in search of a way to manage the pain. After receiving treatment throughout the halftime break, Dotson emerged from the locker room ready to give it a try, but just seconds into the second half he buckled under the pain and returned to the locker room.
That left the Jayhawks (23-3 overall, 12-1 Big 12) forced to play all but eight minutes of the second half without their leading scorer and primary ball handler. And even though Kansas initially cut a 13-point halftime deficit down to five early in the second half, the speed and skill of the Baylor guards proved to be too much to handle without Dotson and Kansas dropped its third game of the season.
Dotson checked back into that game with just under 9 minutes to play and gave it all he could. But he was visibly slower and he finished the game with 9 points on 4-of-10 shooting to go along with 3 assists and 2 turnovers in 28 minutes.
Known throughout his career for his explosiveness and speed, Dotson looked full strength in both areas on Monday night.
The KU point guard led the Jayhawks with 29 points on 11-of-14 shooting, and, for the first time in a couple of weeks, showed no signs of the lingering hip and knee injuries that have plagued him this season.
"Yeah, I feel probably close to 100% right now," a smiling Dotson said after the victory. "Just getting back in the rhythm and swing of things helps out a lot."
Despite the ailments, Dotson has continued to handle his regular load of 30-35 minutes per game.
The 6-foot-2 lead guard enters this weekend's showdown with Baylor averaging 34.8 minutes per game and leading the Big 12 Conference in scoring at 18.4 points per outing.
He has not played fewer 34 minutes in six consecutive games and has failed to reach at least 30 minutes in a game just five times all season.
That type of consistency, while playing the fast and physical attacking style that Dotson plays, has impressed his teammates and coaches all season. But it was also enough to inspire Kansas coach Bill Self to give Dotson and the rest of his roster some rest leading up to this weekend's game of the year in Waco, Texas.
"We'll (practice) Wednesday, but we may go really light Wednesday," said Self after revealing that KU would take Tuesday off completely. "I mean really light because we can't be off again until (next) Tuesday. So I really think that Wednesday will be probably light shooting and a lot of scout work, you know, preliminary scout work to familiarize guys again. The way Baylor guarded us the first time, we need to really study that to try to figure out a way to improve our ball and body movement because obviously they did a great job scouting us and we were pretty easy to guard so we've got to do some things to correct that."
Kansas and Baylor will square off at 11 a.m. Saturday on ESPN at the Ferrell Center in Waco, Texas. ESPN's College GameDay will be on site for just the second time in BU history.