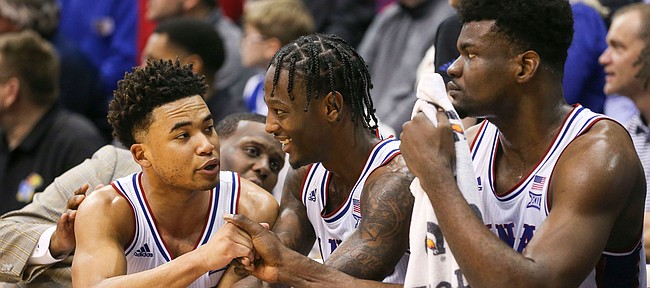 On Saturday afternoon at Allen Fieldhouse, the zone that Kansas junior Marcus Garrett has been in on defense spilled over to his offense during an 87-70 KU victory over Oklahoma.
For the second time this week, the junior from Dallas sparked a Kansas run with a series of steals that flipped the momentum and paved the way for KU to take control.
This time, however, Garrett did not limit his impact to defense. Instead, he took advantage of Oklahoma's game plan to let him shoot and did not stop until he had shattered his previous career-high of three 3-pointers by doubling it in the drubbing of the Sooners.
A career 26.4% 3-point shooter entering Saturday's game, Garrett knocked in 6 of 9 from downtown against the Sooners and led third-ranked Kansas (22-3 overall, 11-1 Big 12) to the easy victory with a career-high 24 points, seven assists and four steals to go along with just one turnover.
"Coach has been saying for probably about two weeks now, that when I'm open I just need to take them," said Garrett, who has been much maligned throughout his career for his inconsistency as a jump shooter. "Give the defense something to look at that's different than me just driving."
From the outset, the Sooners made it clear that they were not going to guard Garrett tightly on the perimeter, giving him as much room as he wanted to look at the 3-point opportunities in front of him.
After hesitating on the game's opening possession and firing up a wild miss on a drive to the rim, Garrett changed his approach and started firing away from the outside.
He hit 3 of 4 in the first half and made three more, on five attempts, in KU's 46-point second half.
"I don't really care about how the defense is playing," he said. "I know what we're trying to do offensively, and I just took the shots that were there."
Photo Gallery
Kansas basketball v. Oklahoma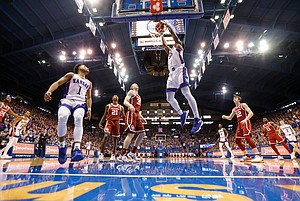 View a gallery of images from Saturday's game between the Jayhawks and Sooners at Allen Fieldhouse.
Asked how sweet Saturday's showing was, Garrett, true to his team-first, no-frills style, answered with a single word.
"Nice," he said.
Others were happy to say more.
"He was great defensively the first half," Kansas coach Bill Self said after the win. "But, offensively, that was probably the best offensive game he's had since he's been here."
Added sophomore point guard Devon Dotson of Garrett's knack for taking the ball away from KU's opponents: "I'll look up and the ball's stolen and he's down the court. It's great to see. It just gets everybody going, makes us lock in a little more, gets the juices going. Great defender."
The two biggest defensive plays of Garrett's game came midway through the first half, with OU leading 27-24. Back-to-back steals that led to KU layups put the Jayhawks ahead 28-27 and ignited the Allen Fieldhouse crowd.
"The game was turned at that moment," Self said. "Not that it was over, but momentum was turned at that moment and the same thing happened at West Virginia."
Against the Mountaineers on Wednesday night, Garrett recorded three steals in a row to help KU steal the road win at West Virginia.
In this one, his steals merely set the table. Garrett followed up that sequence with his third 3-pointer of the first half and added to his impact by ripping the ball away from OU's Kur Kuath, who had just grabbed a one-handed offensive rebound for the Sooners with a little more than a minute to play in the first half.
That was Garrett's fourth steal of the first half, and it helped Kansas take a 41-32 lead into the locker room at halftime.
In the second half, the Sooners (16-9, 6-6) altered their offensive approach to keep the man Garrett was guarding from handling the ball as much as possible.
"Like Darrelle Revis," joked Dotson, comparing his teammate to the former NFL All-Pro cornerback nicknamed Revis Island for his ability to take away an entire half of the field with his coverage skills. "He shut down the side."
Added Self, when asked if he noticed OU staying away from Garrett: "I didn't sense it. But it would be no surprise to me that people say, 'When you catch the ball, be careful dribbling it.'"
Said Garrett, when asked if he saw the Sooners trying to stay away from his stifling defense in the second half: "Yeah, that's what I was telling (my teammates). I felt I was just standing in the corner on some possessions, not playing any defense."
Not to worry. The amount of ways that Garrett impacts games is just not quantifiable on a stat sheet or highlight film.
Sure the four steals and career-high six 3-pointers will get most of the attention. But Self and many of Garrett's teammates will look to other plays with equal importance.
Take, for example, his extra effort late in the second half that kept a possession alive and led to 2 points for Ochai Agbaji (10 points, six rebounds, three assists in 30 minutes).
Garrett did not get the steal or the rebound. But he should get the credit.
With Udoka Azubuike (15 points, 17 rebounds) repeatedly tipping the ball in the air after a pass he threw found Sooner hands, Garrett came flying in from the baseline, like a volleyball player going for a kill, to bat the ball out to midcourt.
The intentional tap landed right in Agbaji's hands, and, with Self encouraging him to go from the sideline, Agbaji drove hard to the left side of the rim to lay it in and put Kansas ahead 71-55 with 7:39 to play.
Self said it was common, while watching film, to see those types of plays by Garrett stand out even though they don't always show up on the stat sheet.
"When we watch film, we try to point those little subtle things out to players to try to get them to understand there's a lot of things that go into making a winning play," Self said.
An early 12-2 run by Kansas to open the second half put the game out of reach for the Sooners and allowed Kansas, and its adoring fans, to thoroughly enjoy most of the final 20 minutes of one of the final few home games of the 2019-20 season.
Never was that more evident or easier for folks to do than in the final two minutes, when Garrett and Azubuike connected for the highlight of the game in their final act.
Perhaps sensing that KU's starters soon were headed to the bench, Garrett drove right and slowly inched closer to the basket. As he did, he flipped a lob over to Azubuike on the left side of the lane.
The KU big man knew what to do from there. He caught it and flushed in in one motion from a few feet out and fired it through for an alley-oop that brought the Allen Fieldhouse crowd to its feet.
In the aftermath, Garrett danced and smiled with his mouth open and eyes wide the whole time. Azubuike, meanwhile, walked toward the bench and gestured with his right hand for the crowd to get louder on his way over there.
"I think I had just gotten my shot blocked," said Garrett of the play. "So I knew when I drove that (the OU defender) was coming over to help. Once I threw it and Dok slammed it, I was thinking, 'Damn, that was a big time dunk right there.'"
Be that as it may, the thing that seemed to be most prevalent on Self's mind at the end of this one had nothing to do with Garrett's defense, play-making ability or the home crowd.
Instead, the KU coach was still marveling on the career shooting day from one of his favorite all-time players.
"He was good," Self said of Garrett. "Obviously, if Marc makes six 3s, we'd be hard to deal with."
Kansas returns to action on Monday night, when Iowa State comes to Allen Fieldhouse for an 8 p.m. tipoff on ESPN's Big Monday.