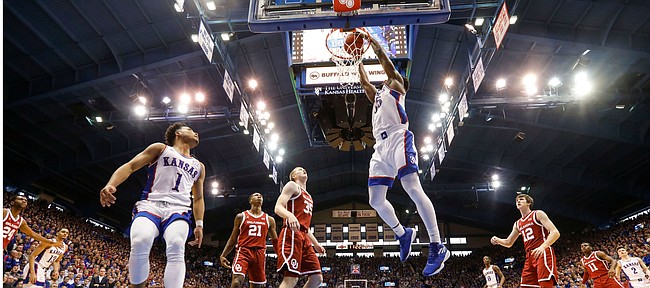 After spending so much of Saturday's matchup with Oklahoma dealing with two or three defenders when the ball made its way to his massive hands, Udoka Azubuike wouldn't be bottled up physically or emotionally any longer.
The Kansas center's patience and persistent energy in spite of a challenging day had already assured the Jayhawks of a victory by the time Marcus Garrett set up Azubuike to unleash his frustrations above the rim.
Garrett drove to the paint and drew OU big man Kur Kuath away from Azubuike, just so Garrett could toss a lob high for his teammate on the opposite side of the rim.
After rifling the ball through the net without even touching the rim, Azubuike yanked at his jersey and screamed toward the Allen Fieldhouse crowd as jaws dropped in the wake of his electric finish.
"You've just got to let it loose at some point," Azubuike said following KU's 87-70 romp.
The reaction wasn't from the senior big man doing something extraordinary — it was his 80th dunk of the season and 251st of his career. Rather he desired to provide KU with even more than his 15 points, 17 rebounds and four blocks.
Photo Gallery
Kansas basketball v. Oklahoma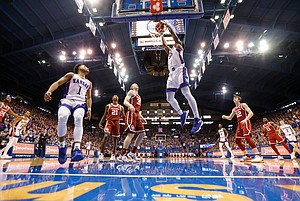 View a gallery of images from Saturday's game between the Jayhawks and Sooners at Allen Fieldhouse.
"I wanted the ball for a stretch and I didn't really get the ball because they were denying me," Azubuike said of OU's defensive game plan before Garrett helped him put an exclamation point on the win. "Marcus just came in and destroyed it and knew that was going to be there."
The frustrating challenges that come with drawing the focus of every opposing defender on the court at basically all times, would have led to an emotional reaction in the opposite direction when Azubuike was younger. He would've stopped trying as hard or caring as much. Now the opposite is true.
It was just 12 days earlier when KU coach Bill Self stripped the senior center of his starting job against Texas, after Azubuike did or said something that his head coach kept "in house."
Azubuike has proven that incident was just a blip for him. He's mature and thriving and dominating on both ends of the court.
His 6-for-12 shooting numbers versus the Sooners (16-9 overall, 6-6 Big 12) would be considered an inefficient day by Azubuike's ludicrous standards.
Even when he had difficulty outmaneuvering OU's active double-teams inside, though, Azubuike remained engaged on both ends and active.
Self thinks both Garrett and Azubuike are elite defenders. But the coach also wants people to know that his 255-pound center does more than what shows up in the box score.
"Dok is the best at covering bad defense, and that happens a lot," Self said. "People say we really guard. Well, no, he really guards and covers up for a lot of guys' mistakes."
Self, predictably, was more critical of his big man's first half, saying Azubuike missed some "easy ones" and wondering why he hesitated on some of his post touches, referencing the center's 2-for-7 shooting in the first half.
His coach, of course, wants the absolute best out of Azubuike, so will always ask for more. Self wanted to see Azubuike attacking OU's smaller post defenders and going "through" Kuath, who doesn't possess the bulk of KU's star big.
"But he hesitated too much in the first half. I think he was trying too hard," Self said, noting the host family with whom Azubuike lived as a high schooler attended the game, and he may have been pressing as a result.
Even through those hurried first-half shots and misfires, Azubuike thrived on the offensive glass, collecting five before halftime. Those types of plays kept fueling his efforts.
"Yeah, I'm not worried about how many points I scored," Azubuike said. "I'm just worrying about different ways to help my team win. If I go out there and block a shot for my team and get a rebound or give my team a second-chance opportunity, I'm winning. I'm doing my job. So that's all that matters."
He's enjoying every moment, too, after he spent so much time when he was younger looking more solemn. And when Self sees Azubuike screaming or wagging his finger after a blocked shot or motioning to the crowd, he considers that encouraging. This version of "Dok," as everyone calls him, has more personality.
"He's a grown man. He's 20 years old now," Self said of the center's evolution. "You think about Dok. He visits here when he's 15 and he hasn't matured into his body. Like people look at Dok, and they think big man. And it's big kid."
Self pointed out Azubuike arrived in Lawrence as a 16-year-old freshman.
"He wasn't very worldly and all those things. And can you imagine a 14- or 15-year-old going to college, and just being amongst college kids, and that's all you have and no support," Self said. "So, I think that he was a little bit guarded, kind of kept himself away from conversation or confrontation. And he's grown into now, he doesn't care, which is a great thing to see. He really grown up a lot."
Azubuike's comfort level is at an all-time high now, and KU has one of the most impactful college players around as a result.
"It's just me being more aggressive," Azubuike said. "This year I'm really aggressive on the defensive end. I want people to know that I'm out there, I'm a defensive presence. I'm in the paint. I just try to be aggressive for my team. I kind of give my team momentum and stuff."
The grown-up version of the still-young Dok has the No. 3 Jayhawks (22-3, 11-1) on a 10-game winning streak, and trending in the direction of being one of the NCAA Tournament's most difficult outs.