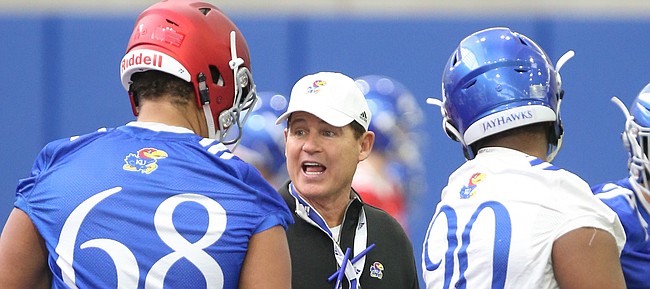 For anyone wondering why the Kansas football team's 2020 signing class had so many receivers, allow Les Miles to explain.
Actually, while recapping this past week the Jayhawks' list of incoming freshmen, Miles was happy to share his opinion that KU filled specific needs at a few other positions, too.
Some planning ahead inspired the KU coaching staff to load up on receivers, and this class brought in six of them — seven if you count a walk-on.
"We're going to lose a ton of receivers this year," Miles said, projecting what the roster will look like once his second season in charge of the program comes to an end.
To his point, three of KU's best receivers — Andrew Parchment, Stephon Robinson Jr. and Kwamie Lassiter II — all will be seniors this coming season. Ezra Naylor and Kameron McQueen will be, too.
Plus, receivers Evan Fairs and Quan Hampton announced recently their plans to enter the transfer portal and leave KU. This coming year would've been Fairs' final season with the Jayhawks, but Hampton could've played in 2020 and 2021.
"And then having a good seven-man receiving class brings them in, allows them to improve and puts them in position," Miles said of the freshmen joining KU, "so that when we go to the field a year from now these guys will play and play big roles."
Receivers coach and passing game coordinator Emmett Jones will have, according to Rivals' ratings, five three-star prospects joining his group from the 2020 class: Steven McBride, Tristan Golightly, Lawrence Arnold Jr., Malik Johnson and Luke Grimm. A two-star slot receiver, Kyler Pearson, will add to the group, too, and Quentin Skinner is a preferred walk-on.
Elsewhere on offense, KU signed nearly as many linemen as it did receivers, with five scholarship players and one walk-on.
"The guys were athletic and what we needed," Miles said of the young offensive linemen. "We're going to have to have big classes at the offensive line, and that is a big class."
For now, the Jayhawks' O-line group comprises mostly veterans, such as seniors Api Mane, Malik Clark, Adagio Lopeti, Antione Frazier, Chris Hughes and Earl Bostick Jr., as well as junior Joey Gilbertson.
But soon KU will need younger blockers up front to replace them. Three of the Jayhawks' newest O-linemen are three-star prospects: Garrett Jones, Nicholas Martinez and Jackson Satterwhite. They're also adding two-star O-line prospects Armaj Adams-Reed and Bryce Cabeldue, while Danny Robinson is walking on.
Miles didn't hide the fact that he thinks the cornerbacks might be the most talented position group from KU's 2020 class. And the Jayhawks definitely could use that type of haul, considering the number of senior defensive backs they lost from their 2019 roster: Hasan Defense, Mike Lee, Bryce Torneden, Jeremiah McCullough, Elmore Hempstead Jr., Shaq Richmond and DeAnte Ford.
KU's head coach said some of the incoming freshmen listed as cornerbacks could end up playing safety.
"The need there certainly is met. We were very fortunate to get Karon Prunty and JaCobee Bryant and really the entire group," Miles said. "They're all very talented corners."
Bryant, Johnquai Lewis and Duece Mayberry are three-star prospects, while Prunty and Ra'Mello Dotson are considered two-star defensive backs by Rivals.
While KU didn't bring in as many defensive linemen as it did at other important spots for this particular recruiting cycle, Miles emphasized the program signed a "quality three" to, again, fill needs.
Kenean Caldwell, Clinton Anokwuru and Caleb Taylor all received three-star grades.
"Caldwell's going to be a nose tackle," Miles said. "The rest of those lads are going to be defensive ends that can move."
The defensive line wasn't a strength for KU in 2019, and the group remains unproven heading into next season. The Jayhawks' most experienced defensive linemen on the current roster are seniors Sam Burt and Caleb Sampson, juniors Jelani Arnold and Malcolm Lee and sophomore DaJon Terry.
KU football 2020 recruiting class
(Rivals recruiting rankings listed)
February signees
√ Kenean Caldwell - 3-star DT from Louisiana; 6-2, 295 pounds
√ Clinton Anokwuru - 3-star DE from Texas; 6-3, 235
√ JaCobee Bryant - 3-star CB from Alabama; 6-0, 170
√ Jackson Satterwhite - 3-star OL from Oklahoma; 6-5, 285 pounds
√ Ra'Mello Dotson - 2-star CB from Florida; 6-1, 170
√ Bryce Cabeldue - 2-star OL from New Mexico; 6-6, 245 pounds
√ Kyler Pearson - 2-star WR from Oklahoma; 5-8, 170 pounds
December signees
√ Garrett Jones - 3-star OL from Michigan; 6-4, 285 pounds
√ Will Huggins - 3-star TE from Kansas; 6-7, 235 pounds
√ Caleb Taylor - 3-star DE from Missouri; 6-2, 255 pounds
√ Trevor Kardell - 3-star TE from Lee's Missouri; 6-5, 225 pounds
√ Krishawn Brown - 3-star LB from Oklahoma; 6-1, 200 pounds
√ Taiwan Berryhill - 3-star LB from Louisiana; 6-2, 200 pounds
√ Steven McBride - 3-star WR from Louisiana; 6-0, 160 pounds
√ Johnquai Lewis - 3-star CB from Florida; 6-0, 185 pounds
√ Tristan Golightly - 3-star WR/TE from Texas; 6-4, 200 pounds
√ Lawrence Arnold Jr. - 3-star WR from Texas; 6-3, 185 pounds
√ Malik Johnson - 3-star WR from Texas; 5-9, 180 pounds
√ Nicholas Martinez - 3-star OL from California; 6-5, 285 pounds
√ Duece Mayberry - 3-star CB from Oklahoma; 6-0, 185 pounds
√ Alonso Person - 3-star LB from California; 6-3, 200 pounds
√ Luke Grimm - 3-star WR from Missouri; 6-0, 170 pounds
√ Daniel Hishaw Jr. - 2-star athlete from Oklahoma; 5-10, 200 pounds
√ Armaj Adams-Reed - 2-star OL from Texas; 6-5, 350 pounds
√ Karon Prunty - 2-star CB from Virginia; 6-1, 190 pounds
√ Jalon Daniels - 2-star QB from California; 6-0, 207 pounds
KU's announced preferred walk-ons
√ Jared Casey - FB from Plainville
√ Quentin Skinner - WR from Claremore, Okla.
√ Reis Vernon - P from Bixby, Okla.
√ Danny Robinson - OL from Overland Park