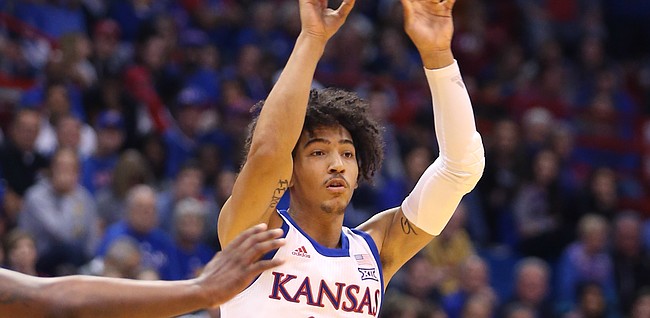 Bill Self didn't want to completely rule out a possible return to action for injured freshman Jalen Wilson, but as of Thursday the Kansas basketball coach considered that scenario unlikely at best.
"It's looking less and less like there is a potential to return this year," Self said, while giving an update on Wilson during his weekly press conference.
The setback Wilson suffered with back spasms roughly two weeks ago has more to do with Self's thinking on the matter than the left ankle the 6-foot-8 forward broke back on Nov. 8, during KU's second game of the season.
"We wanted to check out his foot, and we thought he was making really positive progress and he still is," Self said of Wilson. "The thing is he hurt his back and got those back spasms and missed a week. And he's just now back to where he can probably attempt to try and go 100%, or be close to it."
With only nine games left in the regular season, there wouldn't be much time for Wilson to reintegrate should the Jayhawks (19-3 overall, 8-1 Big 12) try to fit him back into the rotation.
Self said Wilson's limited reps over the course of the past few months will play some factor in the ultimate decision.
At this point in time, though, Self said neither he nor Wilson want to officially say the freshman wing will sit the rest of the season, because something unforeseen could happen to another player that could change the rotation. Basically, if one of KU's regular contributors had to miss time, due to an injury or some other issue, the Jayhawks might need Wilson to fill that void.
"We should have a definite decision on it hopefully within the next week or so," Self said. "But I told him and he told me, there's no reason to make it definite right now because something could happen that could change this. But the way things are today I don't see him playing."
Wilson only played two minutes in KU's season opener against Duke and had just checked in off the bench on Nov. 8 versus UNC Greensboro when he broke his left ankle.
He was ranked the No. 47 player in the class of 2019 by Rivals.
Jayhawks overcoming 'fatigue'
There's rarely any letup in the Big 12 basketball schedule, but Self is glad his players got a bit of a break in between games this week, ahead of their trip to TCU (11 a.m. Saturday, ESPN2)
"Well, without dwelling on negatives, we've had a lot happen the last two weeks," Self said, referencing the brawl that concluded KU's game against Kansas State on Jan. 21, leading to suspensions for Silvio De Sousa (12 games) and David McCormack (two).
"And with that, I think, comes a mental fatigue that makes physical fatigue more draining," Self said. "When your mind's sharp and fresh and those sorts of things, usually your body has a better chance to follow."
This time of the season, Self elaborated, tends to be the "dog days" of the schedule anyway.
"Certainly you can kind of feel run down and tired," he said. "But I think this week was good for us."
KU's coach had first referenced that fatigue following the Jayhawks' home win over Texas earlier in the week.
"The good thing about playing on Monday, if you get the win, you've got some time to regroup a little bit," he said, "and we've had a chance to do that."
Wiggins to Warriors
Moments before Self spoke to reporters Thursday at Allen Fieldhouse, news broke that one of his former players, Andrew Wiggins, had been moved to Golden State, in one of the biggest moves of the NBA's trade deadline day.
"I think it's great," Self said of the transaction, which sent Wiggins away from Minnesota, the team that selected him No. 1 overall in the 2014 NBA Draft.
"It's not going to, obviously, pay dividends for him this year, as far as getting the chance to play deep into the playoffs and things like that," Self added of the Warriors, who entered the day with a 12-40 record, the worst mark in the entire league.
However, Self thinks Wiggins will benefit during the 2020-21 season by teaming up with Warriors stars Steph Curry, Klay Thompson and Draymond Green. Thompson has missed the entirety of this season due to injury, while Curry has only played in four games, contributing to Golden State's poor record this year, coming off five consecutive Finals appearances.
"To me that looks like a pretty good quartet to play with," Self said of the Warriors, "so I'm really excited for him."
During Wiggins' first five years with Minnesota, the team finished with a winning record and reached the playoffs just once. The Timberwolves are currently on a 13-game losing streak and again expected to miss the playoffs.
"So I'm sure it'll be nice for probably a scene change," Self said of Wiggins, who is averaging 22.4 points, 5.2 rebounds and 3.7 assists in his sixth season, "even though he told me he really liked Minneapolis."