Wednesday, February 5, 2020
The Kansas women's basketball team never really had a shot.
Kansas, which was down by 21 points after the first period, was buried from the start in a 97-44 loss to No. 2 Baylor on Wednesday at the Ferrell Center in Waco, Texas. The Bears now hold a 33-8 advantage over the Jayhawks in the all-time series.
The Jayhawks (12-9, 1-9 Big 12) have now lost five games in a row since their 67-50 victory over Texas Tech on Jan. 18. Baylor (20-1, 9-0 Big 12) led by a 28-7 after the opening period before scoring 18 points in the second quarter and 32 in the third period. BU also scored 19 points in the final frame to close things out.
For comparison, KU was held to 17 total points in the first half and didn't score more than 12 points in a quarter until the final period. Baylor shot 56% as a team for the game, while also holding Kansas to a 27% effort from the floor.
Document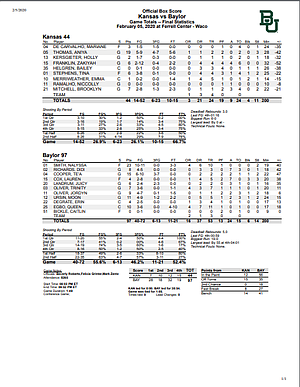 The Bears were superior inside all night, recording a 56-12 advantage on points in the paint. Baylor scored 18 second-chance points, while Kansas didn't net a single such point. The hosts also had a 41-14 advantage on bench points in the win.
Sophomore Aniya Thomas, who entered the game averaging 11.4 points per game, was the only Jayhawk to finish in double figures. Thomas tallied 19 points on 5-of-9 shooting, including a 4-for-7 effort from beyond the arc. No other KU player scored more than 7 points in the loss.
Baylor had four players reach double figures in the win, led by a 23-point performance from sophomore NaLyssa Smith. Te'a Cooper scored 15 points in 19 minutes of action for the Bears as well.
Kansas will play host to TCU at 5 p.m. Saturday.