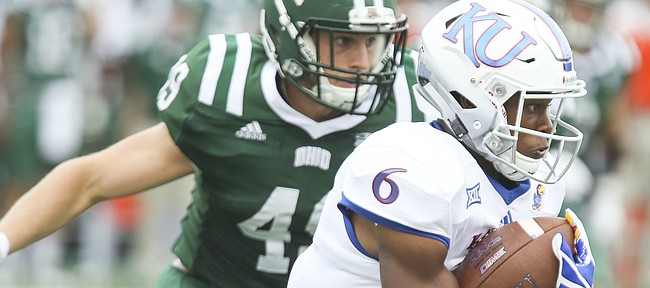 Two more Kansas football skill players have entered the NCAA's transfer portal.
A day after running back Dom Williams announced his decision to play out the remainder of his college career elsewhere, 247Sports reported KU receivers Quan Hampton and Evan Fairs also have put their names in the portal.
Both Hampton and Fairs redshirted in 2018 and then played sparingly this past season, after head coach Les Miles and his staff took over the program.
On Tuesday Hampton posted a note to his Twitter account to share his thoughts on his decision. He thanked both head coaches he played for at KU over the past three years, David Beaty and Miles, as well as his teammates.
"Thank you to the University of Kansas, and all the athletic and academic support staff that have helped me along the way during my time here," Hampton wrote.
Not long after that, Fairs shared a note of his own, in which he thanked KU for giving him the opportunity to "live out my dream."
"Can't wait to see what my future has to offer," Fairs added.
Hampton appeared in seven games in 2019, mostly in the second half of the season. The 5-foot-8 slot receiver from Texarkana, Texas, caught two passes for 19 yards and one touchdown during his redshirt sophomore season. Both catches came late in KU's road loss at Oklahoma State.
Fairs only played in two games this past season, which was his redshirt junior year. The 6-3 target from Fulshear, Texas, caught one pass for 21 yards at OSU, which went down as his total statistical production for the year.
Hampton was rated as a three-star prospect in the Class of 2017 by Rivals, while Fairs was a three-star prospect in 2016.
Fairs' best season at KU by far came as a sophomore in 2017, when he appeared in nine games, started twice and caught 24 passes for 335 yards and a TD.
That same year, as a true freshman, Hampton played in just six games due to injury, but caught 21 passes for 145 yards.
Over the past year a handful of KU football players have utilized the transfer portal.
Running back Khalil Herbert transferred to Virginia Tech after leaving the program during the 2019 season.
Linebacker Drew Harvey entered the portal and then played the 2019 season at Fort Hays State.
Some KU walk-ons also made use of the portal. Quarterback Billy Maples transferred to Drake, while offensive lineman Jack Williams and linebacker Jerek Butcher have inserted their names this offseason.