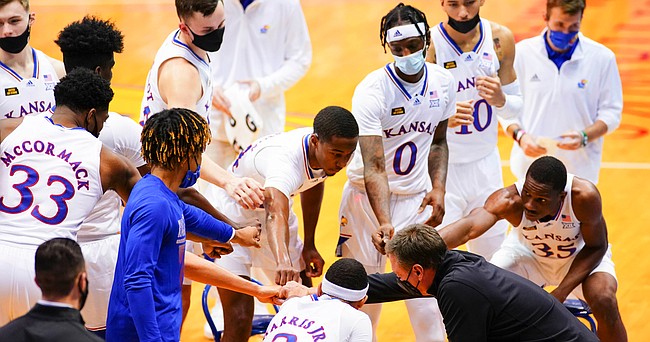 Kansas basketball coach Bill Self said Thursday that the initial COVID-19 tests taken by the Jayhawks after winter break revealed no issues, but he added that he was not ready to exhale just yet.
"I think every coach in America is probably a little bit nervous right now," Self said during a Zoom call with reporters. "Because if the Christmas vacation was negative for you from a COVID standpoint, we're probably going to find out in the next couple of days, three to four days, something like that."
Self referred to the good news from the first round of testing since returning from winter break with their families on Sunday as KU having "dodged a bullet."
"We're taking more tests," he added. "So we're hopeful we're good, because as of right now everything's good to go."
The only bit of injury news currently plaguing the Jayhawks involves freshman Bryce Thompson.
Self said the combo guard "dinged his back up a little bit" during a recent practice.
"He's been kind of half speed," Self said, adding that he hoped Thompson would be 100% by Saturday. "They anticipate him being full go by (Friday)."
The third-ranked Jayhawks (8-1 overall, 2-0 Big 12) are slated to take on No. 8 Texas at 11 a.m. Saturday at Allen Fieldhouse, in what already will be KU's third top-10 showdown of the season.
Self said the showdown with Shaka Smart's Longhorns would be "as hard a game as we've played so far," and praised UT's roster, which includes six or seven of the Longhorns' top players from a season ago.
"I love their personnel," Self said. "And I liked it last year. They're impressive team to watch. They've got a nice team. Shaka has had some good teams since he's been there, but I believe this has a chance to be a special team for him."
While a lot of the past few days has been spent preparing for Texas, the Jayhawks stepped away from the court and their scouting reports for a little bowling adventure earlier in the week.
The idea was to give the Jayhawks a break from the grind and let them cut loose a little, which Self said last week was something his team needed.
Bowling appeared to do the trick.
Self, who did not bowl because he wanted to give his guys some time away from the head coach, heard after the fact that senior guard Chris Teahan rolled a 259.
Junior big man David McCormack said he was in the 180 range and gave the nod to Teahan as the best bowler on the team.
"It was an off day, so we couldn't do anything basketball related," Self noted. "So, yeah, it was, good for the guys to get out of the dormitory and guys to go eat a meal somewhere else, even though it was in a private room, and guys to go bowling, even though it was private lanes and nobody else was really in there. I think it was good for them."
McCormack agreed and said the team outing was a great opportunity for the Jayhawks to "finish the year off on a fun note."
"I definitely think there's importance to it," he added. "Because usually our schedule is to practice and back to the dorm and that's just kind of a routine thing. So we were fortunate enough (Wednesday) to actually go bowling with the team. We had some social distancing. I think it was two to a lane. We ate separately but we were able to get out, enjoy it and have some fun in the midst of everything going on."