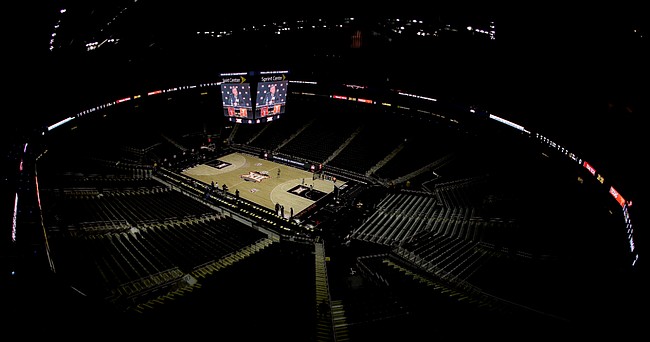 For four months this spring and summer, fans of University of Kansas' sports teams toiled along without games and events, limiting the number of big wins and mind-blowing plays that normally light up the calendar.
But before that, and in the months since, there were still enough big moments — good and bad — to make the past 12 months worth remembering.
Here's a quick look back at the biggest such events and happenings in the world of KU sports in 2020.
1 – NCAA Tournament canceled
There's little doubt that this is the one that most KU fans will remember first when they think back on the year 2020. At 28-3 and with a couple of All-Americans and the national defensive player of the year on their side, the Jayhawks were poised to enter the NCAA Tournament as the No. 1 overall seed and many people's pick to win it all.
But then the COVID-19 virus wrecked all plans, first forcing the cancelation of the Big 12 tournament, then eliminating the ability to have fans during March Madness before finally shutting down the sport for good in mid-March.
Heartbroken KU fans made shirts crowning KU the 2020 national champs and most Jayhawk fans — and many Jayhawks themselves — will forever believe that this was KU's year.
Spring sports were canceled soon thereafter and several current and former Jayhawks who had their hearts set on competing in the 2020 Tokyo Olympics also saw that dream dashed.
Although the games eventually returned and new seasons were started, both the 2020 KU football season and the 2020-21 men's and women's basketball seasons opened without fans in the stands, adding another eerie chapter to an already strange year in sports.
2 – All-athlete march across campus
With unrest and cries for social justice spreading like wildfire across the country, the Kansas women's basketball team organized a march in August that grew far bigger than they ever could have hoped.
Born from a conversation with head women's basketball coach Brandon Schneider after a summer practice, the KU women threw together, in less than 48 hours, a march that attracted nearly 1,000 athletes, coaches, faculty members and Kansas Athletics staff members, including Chancellor Douglas Girod and Athletic Director Jeff Long.
Starting just south of Allen Fieldhouse, those involved carried signs, chanted for peace and walked together in the name of the Black Lives Matter movement.
After marching north up the hill and crossing campus, down Jayhawk Boulevard, the rally ended on the field at David Booth Kansas Memorial Stadium, with student-athletes, coaches and administrators sharing their thoughts and emotions on a loudspeaker to the applause and delight of all of those who attended.
The march was just one of the many initiatives taken this year by KU's athletes, coaches and administrators in the name of equality.
3 – Significant year for college athletes
Years from now, when things like college athletes making money or memories of athletes staying in school for six seasons are thought of as second nature, we'll look back at 2020 as the year it all began.
After decades-long battles to monetize their name, image and likeness, college athletes heard the news they had been waiting for when the NCAA agreed that it was time to explore student-athlete compensation in the years ahead.
A formal vote, which is expected in January, will merely be the next step in a process that probably won't come to fruition until the 2021-22 school year at the earliest.
But the wheels were put in motion in April and college athletes appear to be well on their way to getting their share of the millions of dollars they help generate each year.
In addition to the NLI victory, college athletes in all sports received a blanket waiver for a free year of eligibility because of the pandemic and also saw the passage of a one-time transfer rule that will allow athletes to transfer to new schools and be immediately eligible to play easier than ever before.
4 – KU-KSU brawl an ugly memory
It was one of the quietest, most uneventful Sunflower Showdown games in recent memory for more than 39 minutes.
But things turned ugly in a hurry, when, in the game's closing seconds, KU forward Silvio De Sousa had the ball stolen from him while dribbling out the clock.
De Sousa, who wound up leaving the program for good in 2020, recovered, blocked the shot and then stood over the K-State player who stole the ball. That set off a brawl unlike any Allen Fieldhouse had seen.
K-State players left the bench and surrounded De Sousa. Players from both teams mixed it up behind the south basket, with De Sousa momentarily picking up a stool that he never used. Coaches and staff members from both programs quickly intervened and fans sitting in the section behind the basket had to scurry out of harm's way.

For a program already facing potentially severe sanctions from the NCAA for its involvement in college basketball's corruption scandal, the incident proved to be another blow to KU's image.
De Sousa and teammate David McCormack were suspended 12 and two games, respectively, and Kansas coach Bill Self said there was no excuse for the behavior of anyone on his team.
"I'm embarrassed," Self said a couple of days after the incident. "I think it's bad for our sport. I think there's so many things that are negative with it. … This happened under my watch. That's disappointing and hard to deal with."
As for KU's NCAA sanctions case, it remains ongoing and was sent in 2020 to the newly formed Independent Accountability Resolution Process (IARP) path for a ruling.
5 – Jayhawks winless in 2nd year under Les Miles
After a 3-9 debut during Year 1, during which the program was competitive in two or three other games that they lost, the Kansas football team took a step backwards in 2020.
They played just nine games instead of 12, and their schedule was almost completely redone because of the pandemic. But none of that mattered in terms of the outcome of KU's games.
As had been the case for much of the past decade, week after week the Jayhawks showed up to play on Saturdays in the fall only to watch things go woefully wrong.
In addition to suffering a season-opening home loss to Coastal Carolina in Week 1, the Jayhawks surrendered 47 or more points during six of their nine games and lost by an average score of 46-16.
Several true freshmen and first-year starters played throughout the season for the Jayhawks, providing Miles and company with a glimmer of hope that the lessons those players learned while on the field in Year 1 would pay off down the road.
But that group, along with KU's veterans, struggled to field a competitive team throughout a rough 2020 season, KU's second winless season in the past six years.
KU's football program has now gone 21-108 in the 11 seasons since the end of the Mark Mangino era.

6 – Marcus Garrett named national defensive player of the year
The hardware they all wanted and believed they were going to win was never handed out, so the Jayhawks had to find comfort in celebrating a bunch of individual awards as a consolation.
None was bigger than the one picked up by junior guard Marcus Garrett, who was named the Naismith Award's defensive player of the year after turning in one of the best defensive seasons in recent KU memory.
Garrett ranked among the Big 12 leaders in steals per game (fifth at 1.8) and also averaged 4.5 deflections per game, including 6.9 per game during KU's final nine games.
Those numbers and his general presence and ability to guard all five positions on the floor earned him the national award as well as the Big 12's defensive player of the year honor and a spot on the Big 12's all-defense squad.
Joining Garrett in collecting some meaningful individual awards were senior Udoka Azubuike, who was named the Big 12 player of the year, NABC defensive player of the year and a first- and second-team All-American by various outlets, and sophomore point guard Devon Dotson, who also earned several first- and second-team All-American nods and was a unanimous all-Big 12 selection.
As if that were not enough, Self won both his 700th career game and 500th game at Kansas during 2020.
7 – Major departures from KU football program
It started with Pooka Williams leaving the program after just four games to return to his native Louisiana to be closer to his ailing mother.
And it was still going weeks after the Jayhawks played their final snap of the 2020 season.
By year's end, 14 Jayhawks had entered the transfer portal in search of a different school to finish their college careers.
Ten of the 14 were seniors, who chose not to use the NCAA's extra year of eligibility to play another season at Kansas and the list included some big names, including all-conference wide receivers Andrew Parchment and Stephon Robinson Jr., and one-time starters Davon Ferguson, Denzel Feaster, Api Mane and all-Big 12 punter Kyle Thompson.
This came after more than half a dozen high school seniors in the 2021 recruiting class had backed out of their commitments to KU as the 2020 season unfolded.
Despite the departures and changes of heart, the Jayhawks were able to put together one of their strongest recruiting classes of the past decade.
The 2020 class, which featured 20 players signing letters of intent during the early signing period in early December, wound up ranked No. 46 nationally by Rivals.com and registered as the fifth best class in the Big 12 according to the recruiting service.
8 – Gale Sayers' passing
Late September brought one final goodbye to one of the best players in KU football history.
A speedy running back for the Jayhawks from 1962-64 who was known as "The Kansas Comet," Sayers was considered among the best open-field runners the game has ever seen.
At KU, Sayers accounted for 3,917 all-purpose yards in just three seasons for the Jayhawks before going on to star for the Chicago Bears on his way to the Pro Football Hall of Fame.
The Wichita native who grew up in Omaha, Neb., led the Big Eight Conference and ranked third nationally during his debut season of 1962, with 1,125 rushing yards and a nation-leading 7.1 yards per carry. In both his second and third seasons at KU (freshmen couldn't play at the time), Sayers was a consensus All-American.
Sayers left Lawrence with 2,675 career rushing yards, 19 rushing touchdowns and an eventual spot for his No. 48 jersey in Memorial Stadium's ring of honor.
"Gale was great player, but he was so much more," former KU head coach Mark Mangino shared on Twitter after Sayers died. "He carried himself with class and always encouraged our players to earn their degrees. He talked more about life than football. KU lost a legend."
9 – KU settles lawsuit with David Beaty
A 15-month legal battle with former football coach David Beaty finally came to an end in June, with the University of Kansas and Beaty reaching a $2.55 million settlement over a dispute about the former coach's buyout.
Beaty was fired in November 2018, and he sued the university in March 2019, accusing KU of improperly firing him for cause and "concocting" alleged NCAA violations in order to withhold a $3 million buyout included in his contract.
A long, drawn-out legal battle ensued and occasionally spilled over into media reports from both sides.
The settlement was about half a million dollars less than the original buyout that Beaty was seeking, but the Journal-World reported in April that KU's legal costs in the matter had already exceeded $350,000 and appeared to be on pace to offset the savings on the original buyout.
In a statement announcing the settlement, KU officials maintained that the facts and principles behind the school's decision to fire Beaty for cause remained intact, but that they had reached the point where they felt it was better to put the matter behind them, "for the betterment of KU."
10 – Memorable year for Morris twins
In February, the twins from Philadelphia returned to Lawrence to watch Marcus Morris' name and number go into the Allen Fieldhouse rafters.
Eight months later, Markieff Morris brought the family its first NBA championship ring after helping the Los Angeles Lakers win it all in the NBA's bubble in Orlando after a couple of months off and a restart to the season.
The Morris twins, who were stars for three seasons at Kansas before becoming lottery picks who were drafted back-to-back in the 2011 NBA draft, had dreams of facing each other in an all-Los Angeles Western Conference Finals. But Marcus Morris' Clippers fell in the semis and Markieff's Lakers defeated the Denver Nuggets en route to winning it all.