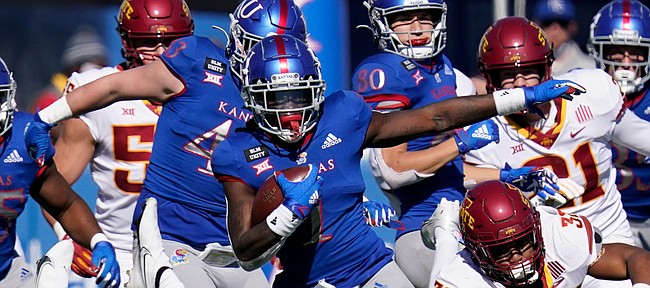 Brandon James was headed toward one of the open concession stands on the west concourse at David Booth Kansas Memorial Stadium on a Saturday afternoon this fall when he thought better of it.
The public address announcer for KU football's home game against Iowa State had just said Kenny Logan Jr., James' younger brother, was back to receive an Iowa State kickoff. So James, a special teams star in his heyday, stopped in his tracks and turned around to see what his sibling and protégé had in store.
"When I saw him bring it out," James recalled during a phone interview with the Journal-World, "I was like, 'Oh, he's being aggressive.'"
That was exactly the approach James, a consensus All-American as a returner for Florida in 2008, would have taken. And it worked for Logan, too.
The KU sophomore took off out of the north end zone, racing through and past the Cyclones en route to a 100-yard special teams touchdown.
As Logan headed back toward KU's sideline, he was excited to share the moment with James. Logan looked for his brother and mother, Coretta Blount, in the nearby bleachers.
"He came down yelling my name after I had made that play," Logan remembered during a recent video interview with the Journal-World. "I was looking for him anyway, because I was so used to seeing him do that I was trying to find him and let him know I've got some of that, too."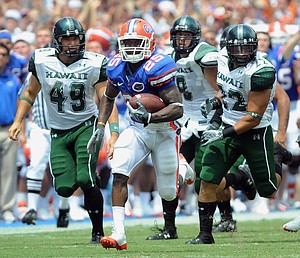 When he was a child, Logan regularly attended James' college games in "The Swamp," at Ben Hill Griffin Stadium. But this was a rare chance for James to get up to Lawrence from St. Augustine, Fla., for one of Logan's KU games — and it was the first time Blount made it to Lawrence for a game.
James considered it a "blessing" that both of them saw Logan's big moment live and in person, because their flight didn't even land that morning until right around the time the game kicked off, and they didn't make it to the stadium until the second quarter was under way.
They both got to see Logan race to a TD in the third quarter. James said it was a rare occasion in which he could find a positive with the COVID-19 pandemic, because there was spacing and limited attendance for the game, giving their mother ample room to celebrate.
"She was running up and down the stands," James shared, calling it a special moment for the family.
When James headed down the stadium steps to congratulate Logan from afar, he told his brother something along the lines of, "Make sure they know who you are." James said with him being Logan's big brother, he is always trying to fuel his sibling's competitive drive.
"And he definitely has it," James added.
According to Logan, he learned a lot about football from James at a young age. And one of those lessons had to do with what it takes to return kicks and punts on special teams.
"Play with no fear back there," Logan said his brother taught him, "and just be you and be a guy."
Logan's football education as a youngster involved more than direct tutelage from his older brother. Logan and his mother attended James' games at Florida, and many times Logan got to go with James afterwards into the locker room, where the brothers would joke and converse with other Gators, such as star linebacker Brandon Spikes and receiver Riley Cooper.
James remembers Logan attending UF practices, as well. In the offseasons sometimes Logan would stay with James for extended periods of time.
"With me being the oldest of my mom's kids and him being the youngest, it was kind of like my duty to help out," James said.
When Logan was young, James said he stepped in and did what he could to help out financially, while also trying to be a role model, which included having talks with his young brother when Logan was struggling with something in his life.
Logan looked up to James, and when he went to watch Florida games as a child, Logan began envisioning himself following in James' footsteps.
"Seeing my brother play," Logan shared, "I was always thinking like, 'That's going to be me one day. That's going to be me making those plays and exciting the crowd.'"
James wanted to help Logan achieve such goals. As a young adult in the SEC, James watched his young brother begin to shine athletically when Logan was just in elementary school. So when the brothers, separated by more than 12 years in age, did anything competitive together, James said he wanted to prepare Logan for high stakes games in the future, which were not going to be easy.
"I would always be tougher on him and be that big brother, just because I knew he had a special skill set," James said. "That he had something in him that he just needed a little push to get it out of him."
The college athlete took it "super hard" on his outsized brother, James recalled, when they played basketball together more than a decade ago.
"I think that's why he's the dog he is now as a player," James said.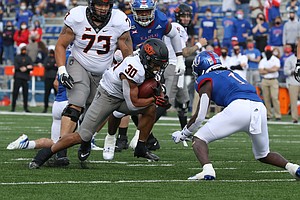 Logan already was in the midst of emerging as a sophomore, becoming a key member of KU's defense as a starting safety, when he delivered a special teams TD reminiscent of James' college days at Florida.
From 2006-09 with the Gators, James averaged 24.3 yards on 112 kickoff returns and 11.7 yards on 117 punt returns, scoring five total return touchdowns.
James said their biggest similarities as returners lies in each brother's confidence. When James played for Florida he was rarely used as a running back, so he had to make a name for himself as a returner. When Logan joined KU, his older brother told him the return game would be another way to make people remember him as an impact player.
With Logan, who led the Jayhawks in 2020 with 58 total tackles and two interceptions, already established after two seasons as a crucial member of the KU secondary, it's possible he could spend less time as a returner for the remainder of his college career.
Either way, Logan said the competitive drive he picked up from James doesn't have him chasing his older brother's career mark of five special teams touchdowns.
"Nah," a grinning Logan said. "I'm gonna let him keep that one."
Currently, James said Logan is home in St. Augustine, Fla., with his family for KU's winter break. James said they are training together and Logan should return to campus in a few weeks "in tip-top shape."
As Logan heads into the 2021 season with KU football, he'll have his big brother's advice in mind.
"There's still more plays to be made," Logan said of what James told him. "Keep grinding and stay humble."