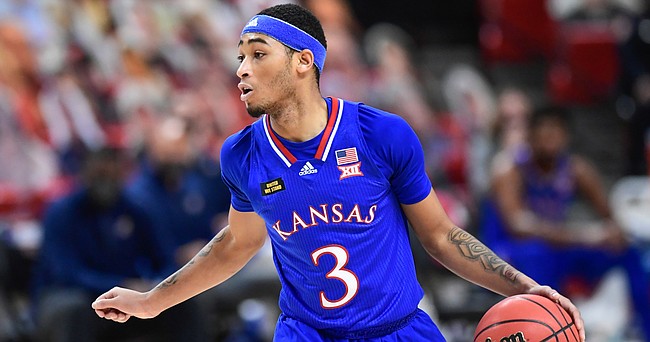 Despite averaging just 14.8 minutes per game in nine appearances for the Jayhawks so far this season, redshirt freshman Dajuan Harris has locked up a key role for the Jayhawks.
After playing just three minutes in KU's season-opening loss to top-ranked Gonzaga, Harris has settled in as Marcus Garrett's backup at point guard.
According to KenPom.com's data from the past five games, Harris has been KU's point guard 36% of the time while also appearing in three of the eight most popular KU lineups during that same stretch.
In two of those, Harris was the team's primary point guard, teaming with reserves Bryce Thompson, Tyon Grant-Foster, Tristan Enaruna and Mitch Lightfoot some of the time and with starters Ochai Agbaji, Christian Braun, Jalen Wilson and David McCormack at other times.
In the other most popular lineup that included Harris, he and Garrett were on the floor together, playing a part in KU's small-ball lineup that also included Agbaji, Braun and Wilson.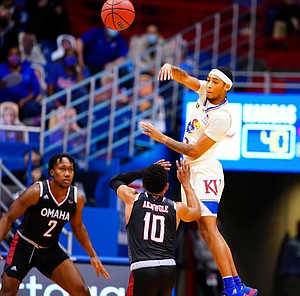 Kansas coach Bill Self has not been shy about expressing his appreciation for Harris' game, saying, in no uncertain terms and on more than one occasion already this season, that the offense often flows better when Harris is on the floor.
Self said it again after KU's recent win at Texas Tech to open Big 12 Conference play.
"I love his game," the coach said of his backup point guard. "I know that he's got to become more aggressive and do some things better. But he's definitely getting better."
Although he is not yet saddled with the same type of responsibility — or opportunity — as KU's starters, Harris' numbers illustrate his importance.
His 20 assists in 132 minutes rank fourth on the team, just one assist behind of Agbaji and Braun, who have played twice as many minutes, and 12 behind Garrett's team-leading 32.
The Columbia, Mo., native's ability to set teammates up for easy baskets has him ranked ninth in the Big 12 in assist rate, at 21.9%, overall and 22.5% in Big 12 play. Assist rate measures assists divided by teammates made field goals and is scaled for playing time, and Harris' assist rate is by far the best on the team, ahead of Garrett (17.9), Agbaji (15.5), Braun (13.9), Wilson (13.0) and Thompson (10.4).
What that essentially says is that Harris knows his job and does it well.
His success as a facilitator, even in limited minutes, has positively impacted his overall offensive rating, as well.
The three-game stretch after the opener that put Harris on the map included offensive rating numbers of 173 (vs. Saint Joseph's), 160 (vs. Kentucky) and 134 (vs. Washburn).
His 173 mark against St. Joe's stands as the fourth best individual game by a Jayhawk this season, behind Agbaji's marks of 203 against Omaha and 189 against Washburn and Wilson's 182 in the Omaha game.
Harris had five assists in 15 minutes in KU's win over Saint Joseph's, and Self said after that victory that his 6-foot-1, 160-pound point guard should have been given two more assists because two of his passes that led to buckets came after the teammate who scored dribbled just once.
"The ball never stuck with him," Self said after that game. "When he got it, it was in and out of his hands so fast (and) that makes a defense go from strong to weak faster. … We can certainly show our guys how much better we were offensively when the ball moved. And, of course, Dajuan was a big part of that."
Harris already has three games of four or more assists this season and is averaging 2.2 assists per game. That's an average that could grow to 4.4 assists per game if he doubled his play time and nearly 6 assists per game per 40 minutes.