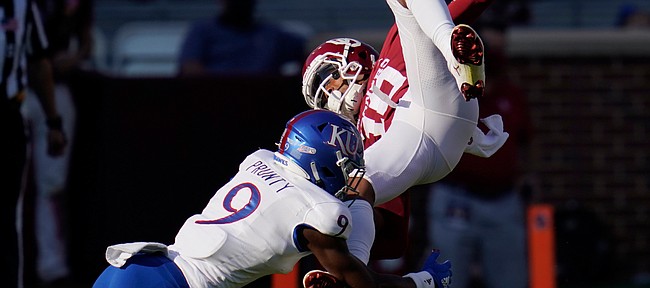 The rise of Kansas cornerback Karon Prunty proved to be one of the few bright spots for KU's football program in 2020, a year that wrapped up with the Jayhawks' young defensive standout being named to 247 Sports' True Freshman All-American team.
Prunty was one just five first-year defensive backs named to the team by 247 Sports this week, following a season in which he started all nine games at corner for KU.
The 6-foot-1, 189-pound freshman from Portsmouth, Va., broke up 10 passes on the year, a mark that currently ranks him tied for 10th-best among all FBS players and tied for the most breakups by a freshman.
Prunty played 525 total snaps for KU's defense, made one interception and didn't allow any touchdowns on passes thrown his direction.
"I had confidence that I was going to start this year," Prunty said recently, during a video conference with reporters. "The older guys really helped me out, like (KU teammates) Kyle Mayberry and Elijah Jones. They really fed me knowledge during fall camp and stuff. That really helped me at the start of the year."
Prunty's final stat line included 26 total tackles (22 solo), a tackle for loss and one forced fumble, too. But the 38.5% completion percentage for quarterbacks who threw at Prunty — per Pro Football Focus — was one of the most impressive numbers associated with his breakthrough season.
What made Prunty so effective and ready to start from the opening week?
"He just stepped up," KU head coach Les Miles said recently, "and competed and made plays. I think he's the starter that he is today because of that."
The Big 12's coaches gave Prunty honorable mention on their postseason all-conference teams, but this was the first national honor for Prunty.
Only three players on the entire KU roster started all nine games in 2020: Prunty, junior defensive lineman Caleb Sampson and senior offensive lineman Malik Clark. Prunty was one of 11 true freshman for the Jayhawks who started at least one game this year.