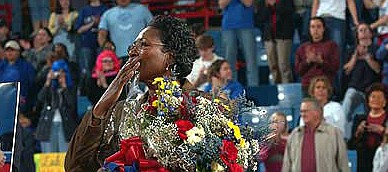 Former Kansas women's basketball coach Marian Washington recently was named a nominee for the Naismith Memorial Basketball Hall of Fame's 2021 class.
Washington, 74, led the Jayhawks to 560 wins from 1973-2004.
By the time her coaching career had ended, she was the recipient of various coaching honors and accolades, including multiple conference and national coach of the year awards and a lifetime achievement honor from the Black Coaches Association in 2003.
Washington was inducted into the Women's Basketball Hall of Fame in 2004 and was one of three coaches nominated by the Naismith Hall of Fame's Women's Committee for inclusion in the class of 2021.
The 2021 class, which also includes former KU men's All-American Paul Pierce among its nominees, will be revealed at the Final Four next April and enshrined in Springfield, Mass., in September of 2021.
Washington aims to become the second Hall of Famer associated with the KU women's basketball program. Former KU All-American Lynette Woodard, who Washington coached at KU from 1977-81, was inducted into the Hall of Fame in 2004.
During her 31 seasons leading the Jayhawks, which followed a one-year stint as an assistant coach at KU, Washington posted 17 20-win seasons and won seven conference titles and six conference tournament championships.
She also guided the Jayhawks to 11 NCAA Tournament appearances and twice reached the Sweet 16.
Washington's achievements as a coach went beyond her 560 victories at Kansas.
In 1982 she became the first Black woman to coach a United States basketball team in international competition, leading the U.S. Select team to a 7-1 record and silver medal at the Jones Cup in Taiwan. And in 1996, she became the first Black woman to coach on a U.S. Olympic women's basketball staff and helped lead Team USA to a gold medal.
She also served as the KU's Athletics Director for women's athletics from 1974-79.
Earlier this year, KU announced the creation of the Marian E. Washington Trailblazer Series, which plans to celebrate four current or former Jayhawks of color each February through a series of interviews, videos, highlights and more.
"We are proud to create this new series honoring the trailblazers who were paramount in furthering the African-American student-athlete advancement here at KU and beyond," KU Athletic Director Jeff Long said when the series was announced. "Marian Washington's impact is evident when you read and hear stories from those she influenced and how it extends far beyond sports."