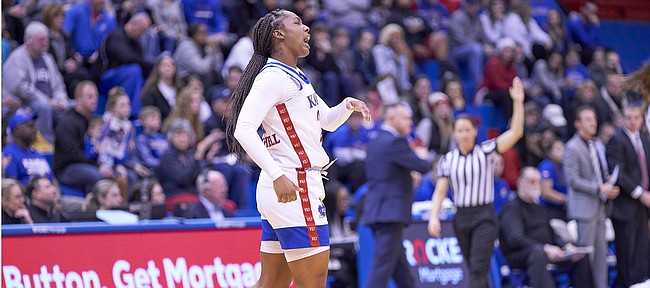 One week after dropping a 72-69 decision to North Dakota State, the Kansas women's basketball team will look to get back in the win column with an afternoon matchup against New Mexico State. Tipoff is slated for 12 p.m. and the game will be televised on ESPN+.
The Aggies are 2-4 entering this matchup, including three losses in their four games this month. The Jayhawks, meanwhile, are 4-2 on the year and have only fallen to Ole Miss and North Dakota State.
KU's loss to NDSU is somewhat explainable, however.
In that nonconference tilt on Dec. 21, Kansas had just one day of practice before that game due to COVID-19 protocols. Along with such little preparation, the Jayhawks were without leading scorer Holly Kersgieter against North Dakota State. She is averaging 17.4 points per game this year.
"We missed her, obviously, significantly," KU coach Brandon Schneider said on his radio interview with Jimmy Chavez after the game. "Our depth was really impacted on the perimeter. Not taking anything away from North Dakota State, I thought they played terrific for three quarters."
Yet it was a game that still came down to the final possession, as Brooklyn Mitchell missed a layup in the final seconds of regulation. Kansas missed its final 10 shot attempts from the floor during a span that lasted four minutes and 32 seconds.
What: Kansas vs. New Mexico State
When: 12 p.m. Tuesday
Where: Allen Fieldhouse
Quick Note: KU had two games canceled or postponed due to COVID-19 protocols. Because of that, along with the scheduled winter break, Tuesday's tilt marks just the second game for Kansas in nearly 20 days. Not only that, though, the Jayhawks haven't had much of a chance to practice over that span. KU will have had three practices leading up to this matchup with New Mexico State, meaning Kansas will have had four total practices from Dec. 12 through Dec. 28.
"Because of the lack of practice for the last eight days, we need to get back and really try to improve on," Schneider said during his postgame press conference after the loss to NDSU.
Streaking: Although she missed the final shot, Mitchell has arguably her best game of the season against North Dakota State. She scored a career-high 15 points on 4-for-9 shooting from the floor. Mitchell also netted a career-best three steals in the loss. For the season, Mitchell is averaging 6.2 points per game. Scoring isn't what she is asked to do, but Mitchell delivered in the absence of Kersgieter.
"She was aggressive and she played to the scouting report," Schneider said in his radio interview. "Brooklyn has struggled shooting the ball this year, but that's not what we count on her for. We are not looking for her to score 15 or 16 points a game. We are looking for great defense (and to) get us in our stuff."
Slumping: The starting backcourt of Aniya Thomas, Zakiyah Franklin and Julie Brosseau had a rough shooting performance against the Bison. That trio went a combined 6-for-21 from the floor in the loss. Thomas made three of those shot attempts, while Brosseau recorded two buckets. Franklin, who is averaging 5.7 points per outing, went 1-of-7 from the field.
Probable starters
Kansas (4-2)
G — Aniya Thomas, 5-7, jr.
G — Zakiyah Franklin, 5-7, so.
G — Holly Kersgieter, 5-10, so.
F — Tina Stephens, 6-2, sr.
F — Ioanna Chatzileonti, 6-2, fr.
New Mexico State (2-4)
G — Aaliyah Prince, 5-8, r-sr.
G — Soufia Inoussa, 5-7, so.
G — Rodrea Echols, 5-9, r-sr.
G — Kalei Atkinson, 6-0, r-jr
F — Deja Terrell, 6-1, gr.