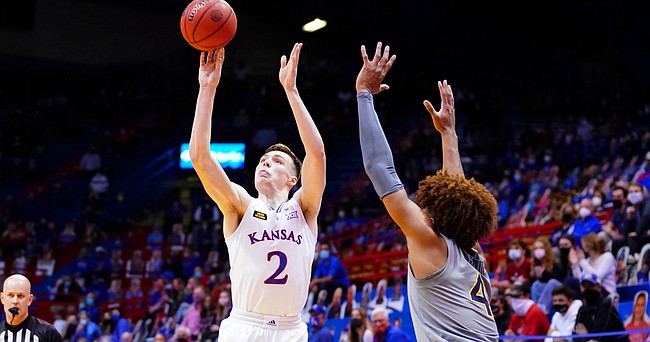 KU sophomore Christian Braun earned Big 12 Player of the Week honors on Monday, for his strong showing against West Virginia in the Jayhawks' 79-65 win on Dec. 22.
Braun, who has started all nine games for the Jayhawks this season, scored 22 points and knocked in six of 12 shots from 3-point range in helping KU move to 2-0 in Big 12 play.
Fourteen of Braun's 22 points — and four of his 3-pointers — came in the second half, and Braun added a career-high seven assists as well as four rebounds in 35 minutes. The six 3-point makes tied his career high.
Braun enters 2021 third on the team in scoring at 11.9 points per game and third in minutes played, averaging 29.9 per game.
He also is second in 3-point shooting at 43.1% (22 of 51), just behind leading scorer and top outside marksman Ochai Agbaji, who has hit 44.4% of his 3-point tries (24 of 54).
Braun's 2.4 3-point makes per game rank fifth in the Big 12 and his 5.9 rebounds per game put him at 15th in the conference. He also ranks 11th at 1.3 steals per game.
Braun's scoring outburst against West Virginia followed a 2-point outing at Texas Tech in which he missed all five shot attempts — 0-of-3 from 3-point range — and looked out of sorts and hesitant offensively.
Despite the rough outing, Kansas coach Bill Self said he did not spend a single second worrying about whether Braun would bounce back.
"He's a pretty confident kid," Self said. "So if there was going to be somebody that I would worry the least about because maybe he's missed shots or something like that, it'd probably be him because I don't think his memory is very long. I don't think he'll remember tomorrow what happened today, when it comes to shooting the basketball."