Another battle with West Virginia at Allen Fieldhouse ended with the third-ranked Jayhawks running away from the visitors, 79-65, to move to 8-1 on the season, 2-0 in Big 12 play and 9-0 all-time at home against the Mountaineers.
On a night when even a seven-point lead didn't seem like much of a cushion most of the way, the Jayhawks surged ahead by outdoing the Mountaineers on the glass and out-shooting Bob Huggins' team from behind the 3-point line.
The Jayhawks set a school record for 3-point attempts in a conference game, with 37, and knocked in 16 of them, one shy of tying the record for makes from long range in a conference game.
"We were open," somewhat-surprised sophomore guard Christian Braun said after dropping 22 points to lead the Jayhawks. "I know you all saw it. We were letting it fly, me Jalen and O, for sure."
Photo Gallery
Kansas basketball v. West Virginia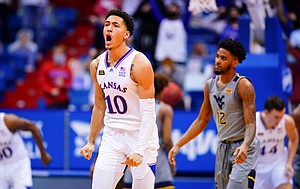 View a gallery of images from Tuesday night's game between the Jayhawks and Mountaineers at Allen Fieldhouse.
The free-flowing, let-it-rip performance was exactly what Kansas coach Bill Self was looking for from this team. Earlier this week, Self said he felt his team needed to shoot roughly 35-37% of its shots in each game from 3-point range.
On Tuesday, the Jayhawks' 37 3-point attempts represented 59% of their shots. More importantly, they made 43% of them and the shots came from the right places.

"I actually think Ochai (Agbaji) and Christian and Jalen (Wilson) need to shoot it whenever they're open," Self said earlier this week.
The trio did just that on Tuesday night, combining to make 13 of 32 attempts from 3-point range to offset a first-half performance by WVU junior Sean McNeil that looked like it might be the story of the night from long distance.
Braun (22 points) made six of 12, Wilson (17) hit four of 10 and Agbaji (11 points and 10 rebounds) made three of 10. Braun and Wilson tied their career-highs for 3-point makes in a game.
"It just worked out that way," Braun said noting that West Virginia's zone defense and willingness to lay off of shooters, along with KU's ball movement, helped KU get so many open looks. "Going into it, we didn't think they would they would let us catch, you know that's how they normally guard; they're really aggressive, really tough on the perimeter. So we actually didn't think they were gonna let us get shots up."
McNeil made his first seven shots on Tuesday night — six of them from 3-point range — and had 11 points by the 12-minute mark, 20 by halftime and finished with 24 for the game.
The WVU junior who had made just 12 3-pointers all season entering Tuesday night, had 20 points on the break on a 6-for-6 clip from 3-point range. The six makes from 3-point range in the first half set a new record against the Jayhawks. And his sixth came at the halftime buzzer, as he threw up a desperation shot from around 30 feet that banged off the backboard before falling through.
That shot gave the Mountaineers a 36-35 halftime lead, their first since 2-0 on the game's first possession.
McNeil's first miss came at the 13:54 mark of the second half, when he clanged a 3-pointer off the back iron with WVU trailing by five.
His first miss signaled go time for the KU shooters.
Document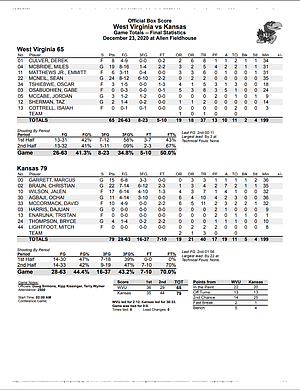 Three of Wilson's four 3-pointers came during an 11-0 second-half run that turned a 49-47 KU lead into a 60-47 run-away.
The run grew to 17-4 after Braun got hot and reminded his teammate that he, too, could let it fly from anywhere on the floor.
Braun's sixth 3-pointer of the night, which put the Jayhawks ahead 66-51 with 8:46 to play, came from at least 25 feet and sent the building into a momentary frenzy.
"You guys have seen me and Jalen play," Braun said. "If they're not guarding us, we're going to let it go."
Although the 59% share was a little higher than he expected or would like, Self said his trust in his shooters has grown as the season has progressed.
"We've got good shooters," he said. "And we've got shooters that can get hot and become great shooters. Everybody was aggressive, but nobody was thirsty."
One of the big storylines heading into this one was whether KU junior David McCormack would be able to match up with West Virginia big men Derek Culver and Oscar Tshiebwe, who entered the game leading the Big 12 in offensive rebounds.
McCormack showed early on that he was up for the challenge.
The Jayhawks went to McCormack in the post on their first two possessions. After scoring on the first trip, he missed a short hook on the second but battled for the loose ball under the basket after the miss to save the possession for Kansas.
McCormack scored his second bucket on the Jayhawks' fifth possession and that seemed to loosen up everything for the Kansas offense.
"Dave was great today," Braun said. "He played great defense down low. They're really big, so it's hard to keep them off the boards and Dave did a really good job of getting his man out of there. And he scored down low today. Dave was great."
Added Self: "One thing about Dave that (made it) easier for him tonight, was that was the first time in a long time he's played against a big."
In addition to forcing the Mountaineers to focus on guarding the paint, McCormack's strong start injected a little swagger into the Jayhawks. Never was that more clear than when Jalen Wilson dropped a behind-the-back pass on the wing to Christian Braun, who made sure the pass became an assist by burying a 25-foot 3-pointer to put Kansas up 13-4.
The pass drew a "woo" and Braun's triple an eruption from the 2,500 fans who watched this one.
No stranger to trying to calm down crowds seven times as large in the same building, West Virginia (7-2 overall, 1-1 Big 12) promptly called timeout and then quickly got back into the game, where they stayed until that knockout run by Kansas midway through the second half.
McCormack's confidence spilled over to his defense, where he registered his entry for a KU block of the year on a Derek Culver shot late in the first half.
After Culver made his move on the left side of the lane, McCormack left his man to help and swatted the four-footer into the Kansas bench, where KU assistant Jerrance Howard calmly caught the ball and returned it to the official.
McCormack finished the first half with six points, five rebounds, two assists and a block in just over 14 minutes. For the game, he finished with a double-double of 10 points and 11 rebounds in 32 minutes.
Kansas is now off for the next 10 days and will return to action on Jan. 2, when they welcome No. 10 Texas to Allen Fieldhouse for another top-10 Big 12 showdown.
"I'm happy with our guys," Self said. "It's a great way to go into Christmas and, of course, it doesn't mean anything now, but certainly it puts us in a position to feel good about ourselves and have some momentum. ... Our team tonight wasn't perfect by any stretch, but we did a lot of things well."