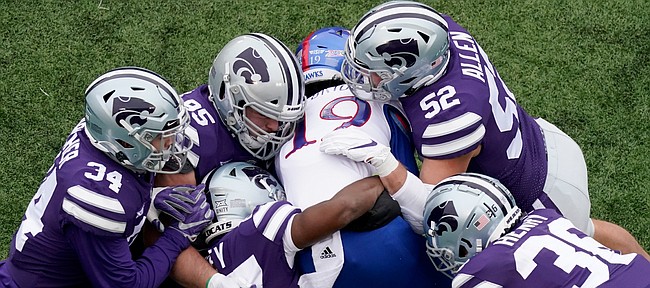 With a winless 2020 Kansas football season still fresh in his mind, KU Athletic Director Jeff Long said Thursday he thinks the program's fans should expect "improvement" in 2021, but hesitated to quantify that term.
"I honestly believe we're going to be better," Long said during a video press conference with media members. "I think how much better remains to be seen."
While Long described the recently completed 0-9 campaign for the Jayhawks in head coach Les Miles' second season as not what he had hoped for, the man who hired Miles to take over the perpetually rebuilding program said both of them understood getting KU football on track would be a process.
"We were not pleased with the success on the field. Again, at times didn't see the kind of progress that we had hoped. But there have been so many things impacting this year, not only for Kansas but for every college football team," Long said. "I am really comfortable with Coach Miles and his continuing to build the program."
The Jayhawks haven't won a game since Oct. 26, 2019, their lone Big 12 victory of Miles' first season, when they finished 3-9 overall and 1-8 in league play. They will enter Miles' third year in charge next fall on a 13-game losing streak.
How much better KU looks more than eight months from now, of course, will have a lot to do with how Miles and his staff utilize the offseason. Long noted he thinks the experience several of the youngest players in the program picked up this year will be helpful.
"What's the record? I don't have a record in my mind," Long said of 2021. "We have to improve. We need to win. I think we'll benefit from spring practice, we'll benefit from strength and conditioning in the winter and the summer. I think we'll benefit from a nonconfernce schedule. Hopefully we'll be able to have a regular nonconfernce schedule (unlike in 2020, when KU played only one non-league game). And then we'll go in better prepared to compete in the Big 12."
On the same week that KU signed 19 high school seniors for its 2021 recruiting class, Long said he thinks many of them will come in and play, just as the Jayhawks' 2020 recruits did.
Over the course of its nine-loss season, KU played 27 true freshmen in total. Eleven started at least one game: offensive linemen Armaj Adams-Reed, Bryce Cabeldue and Garrett Jones, receivers Lawrence Arnold, Luke Grimm and Steven McBride, running backs Daniel Hishaw Jr. and Amauri Pesek-Hickson, linebacker Taiwan Berryhill, cornerback Karon Prunty and quarterback Jalon Daniels.
While Long saw the involvement of those and other freshmen as a positive for the program's future, he admitted in some cases it was a negative for the present. He said some of the youngest Jayhawks looked overmatched at times, "just because of the physical maturation of football players."
Long again hammered home a point he and Miles have referenced often in the past several months, that they want to bolster the program with recruiting classes filled with high school players, an approach Miles and his staff took with the entire 2020 class and have so far with the 2021 class, which won't be completed until February.
"In any Power Five league you've got to compete with third, fourth and fifth year players," Long said. "The process is continuing. It is a process. We didn't get in our condition overnight and we won't build out of it overnight."
Long referenced the program's recent string of losing seasons on more than one occasion during the interview session. It has now been 12 years since the Jayhawks finished with a winning record and made a bowl game (the 2009 Insight Bowl). KU has won three or fewer games 11 years in a row, a span that now includes two winless seasons.
During the most recent dozen years of losing football, KU went 26-115 (.184). Since Mark Mangino was forced out following the 2009 season, the Jayhawks are 21-108 (.163) under four different head coaches.
The completion of the latest season filled with defeats happened to coincide with the Knight Commission recommending removing FBS teams from the NCAA, making the highest level of college football its own entity.
Long was asked whether such possibilities for the future of the sport created some uneasiness at KU.
"We've recognized and we're very aware not only in athletics but as an institution that our football program needs to be better," Long said. "It needs to be better and be able to compete and be a part of the Power Five."