Amid a pandemic, approximately 50 people — all of whom were wearing masks — made their way into 23rd Street Brewery Wednesday afternoon. That's what the moment meant for the entire city of Lawrence.
Lawrence High's multi-sport standout Devin Neal officially signed his national letter of intent to the University of Kansas. He is staying in town to play both football and baseball at the collegiate level for the Jayhawks.
"It's like a dream come true," said Neal—decked out in KU gear, including a new Jayhawk mask that he got on Wednesday. "You look forward to these things. As a young kid, I was always dreaming about possibly being in this situation. To have it come true is just absolutely surreal and I'm blessed to be in this position."
While the day was a long time coming for Neal, the 20-minute signing ceremony was really an indication of how important the moment was for the community.
Lawrence High's interim principal Cynthia Johnson, head football coach Steve Rampy and head baseball coach Brad Stoll all took turns speaking to those in attendance prior to Neal signing his letter of intent. They spoke about what type of player, and more importantly what kind of person KU was getting after leaving a major impact both on and off the field during his four years at LHS.
Neal, a three-star running back on Rivals, is considered the top prospect in the state in the Class of 2021. He's also lauded for his character by those who know him best.
"The town of Lawrence is very excited about that caliber of recruit going to Kansas," Rampy said in an interview after the ceremony. "He's going to have a great career there. He's a good player. As good as he's been for us, his best days are ahead of him."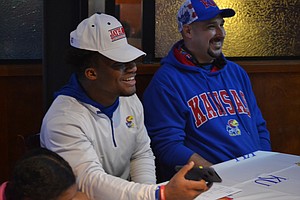 That's saying something because Neal put up monster numbers and several highlight-worthy plays throughout his career. The 5-foot-11, 205-pound running back ran for 1,370 yards and 20 touchdowns during his senior season with the Lions.
Neal was a part of a talented senior class that fueled an impressive turnaround for the LHS football program. Lawrence went 1-8 in 2018, which was Rampy's first season at the helm. The Lions posted a 17-3 record over the previous two seasons, including a 9-1 clip during the 2020 campaign.
Because of that, Neal never had a thought about wavering from his commitment after he announced his verbal pledge on March 20. Not even when the Jayhawks went winless in Year 2 of the Les Miles era this fall.
"I've been through it," Neal said. "I look more towards the future. What they are building, what pieces they have are really good players and what they are going to be in the future as well."
The Jayhawks, who haven't won more than three games in a season since 2009, are just 3-18 in two seasons under Miles. During his press conference, Miles said that Neal was "probably the number one prospect that we signed" out of a 18-person 2021 class that is currently ranked No. 46 overall in the FBS on Rivals.
"It can be an exciting time in Lawrence if Devin Neal can be a big reason the Jayhawks come back," Rampy said.
That is really what made the signing ceremony so significant, because KU has let some quality local prospects get away in the past. In fact, Free State offensive lineman Turner Corcoran was the top-ranked recruit in the Class of 2020 before he ultimately ended up at Nebraska.
"You grow up watching them," Neal said of KU. "In 2008, I was still really young so I didn't know what it was really about. You see them go through some spurts that are not successful, but for me that makes it all the better to go up and change things for the better."
The local connection is obviously why there were so many people that wanted to be there for Neal on his big day. He actually had to cut his list down due to COVID-19, but still managed to have most of teammates, coaches and family in attendance. Neal also had the event streamed online for those who weren't able to make it.
Neal admitted that the support he received was the best part of an eventful day.
"It means the world to have all these people that support me go through this in the time that we are in," Neal said.
Neal will still have to figure out how exactly he is going to balance playing both football for Miles and baseball for Ritch Price. Fortunately for Neal, Trevor Kardell of the 2020 class is a member of both programs and the two multi-sports athletes have already formed a bond.
Neal chose Kansas over Iowa, Kansas State, Nebraska and Oklahoma State.
"I am just blessed to be in this position where I can make decisions on where I'm going to go for the next four or five years," Neal said. "I think I made the perfect choice going to KU to play football and baseball."
https://twitter.com/KU_Football/status/1339305068982636546?s=20
https://twitter.com/KU_Football/status/1339305600245772288?s=20