A 17-0 run to open the game paved the way for both the Kansas starters and KU's reserves to roll over Omaha on Friday night, 95-50, at Allen Fieldhouse.
The opening five minutes went about as well as the fifth-ranked Jayhawks could possibly have asked, with KU's starting five sharing the ball, spreading the wealth and attacking the Mavericks inside and out.
All five starters scored. Three Jayhawks hit 3-pointers. Junior forward David McCormack got going early. And the visitors had no answer for any of it.
"The way that those starters played to start the game, even when we missed, we ran it just the way we want to do it," Kansas coach Bill Self said after his team's sixth victory of the season.
The way it looked, it was almost as if KU's five starters knew they were only going to be in the game for half the time. So while they were out there, they made sure to take full advantage.
No one illustrated that better than junior guard Ochai Agbaji, who bounced back from a scoreless showing against Creighton on Tuesday night to score 18 points on 7-of-10 shooting, including a 4-of-6 clip from 3-point range.
Photo Gallery
Kansas basketball v. Omaha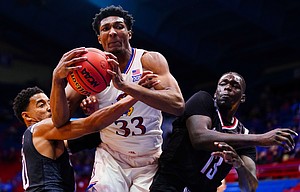 View a gallery of images from Friday's game between the Jayhawks and Mavericks at Allen Fieldhouse.
That opening surge, which finally ended when Omaha's Matt Pile scored a put-back at the 14:36 mark of the first half, allowed Self to play his bench more than in any game this season.
KU's starters played just 91 minutes in this one, with none of them logging more than the 21 minutes Agbaji played.
That left 109 minutes for the KU bench. And for a team that has played its bench for just 29.9% of the available minutes so far this season, that was a welcome sight to both the starters and the reserves.
"Just playing comfortably is where we want them once we get into conference play," Agbaji said.
Added senior forward Mitch Lightfoot, who topped his career high with 12 points in the first half alone and finished with 14 points and seven rebounds in 14 minutes: "Everybody out there wanted to give coach a look at how we can play and the ability we have, so I think it's good that we played well tonight."
The performance took on greater importance given the fact that Sunday's scheduled game against Tarleton State was canceled just before tipoff after a positive COVID-19 test surfaced in the Tarleton State program.
Knowing it was their last chance to play before the Big 12 opener next Thursday, Lightfoot and McCormack provided the perfect picture of reserves complementing starters.
The two combined for 25 points and 18 rebounds in just over 28 minutes, and their energy and attacking mindset made them too much to handle.
"Me and Dave locked in and scouting report and we had a good couple of days of practice leading up to this and it showed," Lightfoot said.
It wasn't just those two who were clicking.
All 13 Jayhawks who played scored, including walk-on Chris Teahan. Deep reserves Gethro Muscadin and Latrell Jossell entered the game with 7:56 and 4:41 to play, respectively.
And Self was happy to let his reserves bring this one home while his starters soaked up a little extra rest on the bench. So happy, in fact, that he subbed out all five starters at once at the 13:48 mark of the first half.
The 3:08 that Dajuan Harris, Bryce Thompson, Tyon Grant-Foster, Tristan Enaruna and Lightfoot played during that stretch led to Omaha (2-5) narrowing the gap to 19-9 despite the 17-point hole early.
"It's really not fair to those five to sub them five at a time and expect them to maintain a 17-point lead," Self said. "They didn't play well, I didn't think, the first three or four minutes, and then after that I thought everybody played pretty well, so I thought it was good. I thought guys played the right way even if we didn't make shots, and so it was good."
Document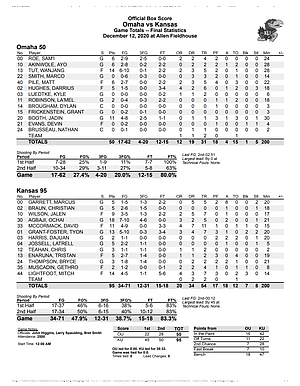 There were individual miscues in this one. A turnover here. A missed hammer dunk there. Or a bad close-out or two on the wing.
But, teamwise, the Jayhawks got enough quality contributions from all of their pieces to view Friday's victory as a rousing success.
Harris stepped in to take a charge in transition while his team was up by 31 points in the second half.
Grant-Foster (13 points and seven rebounds in 20 minutes) attacked the rim driving to his right against the Mavericks when the game was well in hand with the same intensity he had against North Dakota State last weekend when the game was on the line.
And, together, the Jayhawks picked up one of those true team victories in their final test heading into the stretch of the season that Self says "really matters."
"This is the first time this year that we've had a true (opportunity) to get the other guys involved and get them some minutes," Agbaji said after the victory. "So it was good watching them play. They worked the ball together and (we saw) different squads in there. Going into conference, it was good to get them in rhythm."
Next up, Kansas will take on Texas Tech (5-1) at United Supermarkets Arena in Lubbock, Texas.
Tipoff for that one is set for 6 p.m., and the game will be televised by ESPN.
https://www.youtube.com/watch?v=AqpKt0-1iNU
https://www.youtube.com/watch?v=dMdWyHXK15o
https://www.youtube.com/watch?v=-kzyfdv3jjg