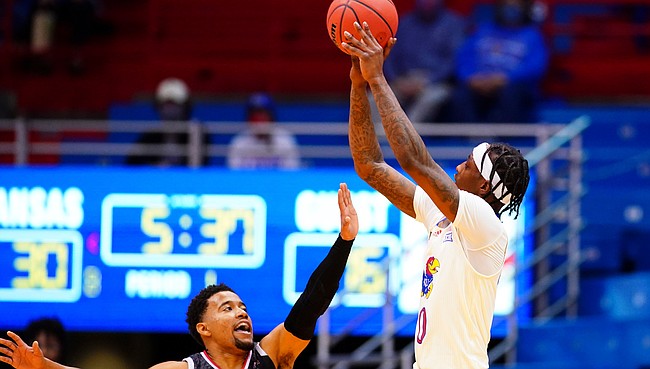 There was no drama in KU's final game before the start of Big 12 play, as Kansas cruised to a 95-50 win over Omaha Friday night in Allen Fieldhouse.
Coming off back-to-back narrow victories over North Dakota State and Creighton, the fifth-ranked Jayhawks (6-1) were in complete control from the opening tip. They jumped out to a 17-0 lead out of the gate and never trailed en route to the lopsided win.
It took Omaha (2-5) five minutes to even score a single point.
Moments before the start of Friday's contest, KU announced that its matchup with Tarleton State had been canceled. The two teams were slated to square off in Lawrence on Sunday, but there was a positive COVID-19 case within the Tarleton State program. The game will not be rescheduled.
So unless KU adds another nonconference tilt within the next week, that means that this win over Omaha was the team's last tuneup opportunity before the start of conference play. Kansas is slated to travel to Texas Tech next Thursday in the Big 12 opener.
Document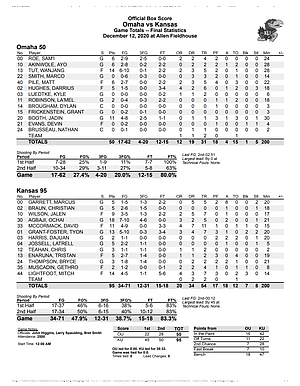 Everybody got involved for the Jayhawks in a convincing victory over the Mavericks. Eight different players ended up scoring in the first half, helping Kansas jump out to a 45-22 lead at the intermission.
KU ended up having double-digit players score against Omaha. Ochai Agbaji led the way with 18 points, but was one of four KU players to reach double figures. Mitch Lightfoot finished with 14 points. Tyon Grant-Foster and David McCormack added 13 and 11 points, respectively.
Here's a quick look back at some of the action:
• Offensive highlight: David McCormack did what he's supposed to do against inferior opponents.
McCormack powered his way to a double-double in the win. While he missed a dunk — which was one of the few blunders of the night by the hosts — McCormack also delivered a strong slam early in the second half. It was a really nice move by him in transition to finish the play with authority.
He even had a strong flex in celebration, too.
• Defensive highlight: KU's other big man, Mitch Lightfoot, is worth highlighting in this quick recap as well.
Lightfoot made the most of his minutes on Friday, and actually probably made a case for an extended role during league action. Especially when Kansas is using smaller lineups, it is easy to make the argument that Lightfoot should get more playing time.
Lightfoot was strong on both ends of the floor, taking charges on the defensive end and reaching double figures on the offensive end. Lightfoot's block late in the first half was perhaps the best defensive play of the game.
• Up next: Kansas will travel to Texas Tech at 6 p.m. Thursday.