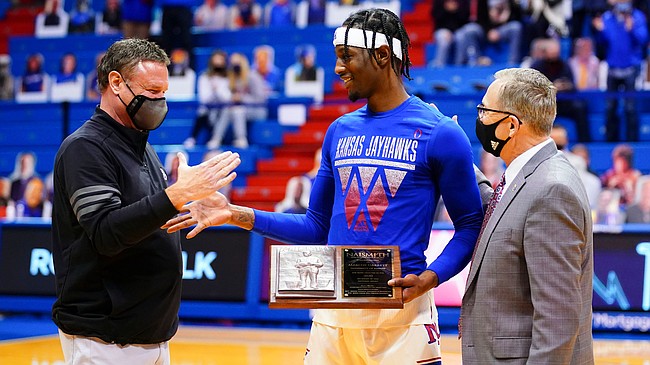 The Kansas basketball program announced just before Friday's tipoff with Omaha that Sunday's game against Tarleton State had been called off.
Friday's 95-50 victory was supposed to be the first of two non-conference games for the Jayhawks this weekend, but KU will now be off until Thursday, when they will travel to Lubbock, Texas, to take on Texas Tech in the Big 12 Conference opener for both teams.
Friday's game was the seventh of the season for No. 5 Kansas, which had been able to play every game as scheduled up to that point.
KU's announcement Friday indicated that the Tarleton State game will not be rescheduled, dropping KU's number of total possible games during the 2020-21 regular season to 26. That leaves 18 Big 12 contests and a late-January non-conference game at Tennessee as the only games remaining on KU's pandemic-altered schedule this season.
KU coach Bill Self said throughout the preseason that he and his team were expecting interruptions to the season. Sunday's cancelation is the first such stoppage for KU this season.
Photo Gallery
Kansas basketball v. Omaha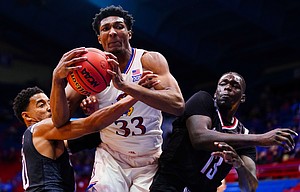 View a gallery of images from Friday's game between the Jayhawks and Mavericks at Allen Fieldhouse.
"I'm thankful that we're just playing games," Self said earlier this week. "There's a lot of schools out there not playing games right now, so we're thankful that we've been able to do so."
The cancellation puts on hold the reunion between Self and Tarleton State coach Billy Gillispie, who worked under Self at Tulsa and Illinois and was a head coach in the Big 12 at Texas A&M; and Texas Tech.
Despite Tarleton State's status as the No. 335-ranked team (of 357) in the KenPom.com rankings, Self said Thursday that he was looking forward to the challenge because of Gillispie.
"I know he'll give us some things to have to go against that will help prepare us for our league," Self said prior to the game being called off.
Self said he viewed the suddenly open Sunday as both good and bad for the program. He acknowledged that he would've liked to play the game to get another chance to give KU's reserves extended minutes. But he also said not playing will mean more rest before the Big 12 opener.
"I'll spin it into a positive that we'll have fresher legs, even though we won't play the game," Self said. "But maybe we can work on some things that we haven't been very good at the next couple of days."
Hardware for Garrett
Kansas senior Marcus Garrett was presented with the 2020 Naismith Defensive Player of the Year Award prior to Friday's tipoff.
KU Athletic Director Jeff Long and KU coach Bill Self handed Garrett the hardware, and, as they did, Self put both of his hands above his head and clapped wildly, inspiring a similar reaction from the Allen Fieldhouse crowd.
Friday's game also featured a special pregame nod to Thursday's 10th anniversary of the day KU alum David Booth purchased James Naismith's original rules of basketball to bring to the KU campus.
Booth paid $3.8 million at an auction to be able to bring the rules back to Lawrence, where they are displayed at the DeBruce Center adjacent to Allen Fieldhouse.
Document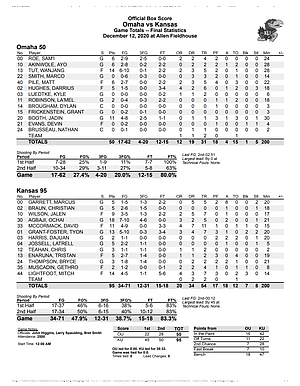 Poll royalty
The Jayhawks are one of just two programs in all of college basketball that has been ranked in the Top 10 of the Associated Press Top 25 for each of the past 22 weeks.
Only No. 1 Gonzaga, which beat Kansas in the season opener in Fort Myers, Fla., can make the same claim.
The Jayhawks and Zags are on another exclusive list relating to the top of the AP poll.
KU and Gonzaga, along with Baylor and Duke, are the only four teams to be ranked No. 1 in the country in three of the past five seasons.
The Jayhawks were preseason No. 1 to start the 2019-20 season and were there again at the end. And they also were No. 1 for four weeks during the 2016-17 season and four weeks during the 2015-16 season.
This and that...
Friday's victory improved Kansas to 6-1 or better for the ninth consecutive season and gave the Jayhawks a 2-0 edge in the all-time series with Omaha... The Jayhawks now have won 12 consecutive games inside Allen Fieldhouse dating back to the 2019-20 season... Kansas coach Bill Self is now 268-14 in KU's home venue, where the Jayhawks are 805-114 all-time... Next up is a 1 p.m. Sunday tipoff against Tarleton State. The game will close out the early portion of KU's non-conference schedule. The only other non-Big 12 game currently on KU's schedule is a trip to Tennessee in late January for the annual Big 12/SEC Challenge.